In Memoriam
Dr.Harold Bergen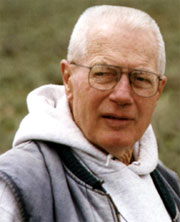 Dr. Harold Bergen, an obstetrician and avocational archaeologist, passed away on August 1, 2007, at the age of 96. He was the inspiration for creating OsteoEd, our educational web site on osteoporosis.
He met his wife Marjory while attending Columbia Medical School and they married the year of his graduation, 1939. He spent his internship year at King County Hospital in Seattle, followed by residency at Sloan Hospital for Women.
In 1941 he was inducted into the Army, where he provided obstetrical care for wives of B-17 crew members. He was transferred to England and landed shortly after the D-Day invasion, serving as a field surgeon with General George Patton's 3rd Army.
Following the war, Dr. and Mrs. Bergen moved to Yakima, Washington, where he was the first trained obstetrician in the Yakima Valley. He practiced there for over 40 years and retired in 1985. The Bergens were actively interested in the archaeology and history of the area and were important contributors to the Burke Museum's collection of pre-Columbian artifacts. They donated a well documented collection of over 14,000 artifacts primarily from the Columbia river plateau. He established the Burke Archaeology Endowment in 1989 and provided support for the Burke Archaeology Public Outreach Program. He encouraged the Burke museum to create innovative public programs, including the traveling exhibit and web site about Kennewick Man.
In 1976, Mrs. Bergen began to suffer from the first stages of osteoporosis. Over the next 10 years, her condition progressed, ultimately leading to her death in 1987. Dr. Bergen donated $762,752 to the Yakima Valley Memorial Hospital's Memorial Foundation to be used for women's health care.
Dr. Bergen dedicated himself to increasing awareness of osteoporosis in his community through lectures and other activities. He provided an education grant to the UW Medical School to increase knowledge of osteoporosis among medical students and residents. Activities generated through this gift include OsteoEd, an osteoporosis education website, the ROSE project (Rural/Underserved Osteoporosis Student Educator project), and lectures by UW and outside experts in osteoporosis.
Warning
: date(): It is not safe to rely on the system's timezone settings. You are *required* to use the date.timezone setting or the date_default_timezone_set() function. In case you used any of those methods and you are still getting this warning, you most likely misspelled the timezone identifier. We selected the timezone 'UTC' for now, but please set date.timezone to select your timezone. in
/nfs/bronfs/uwfs/hw00/d65/osteoed/inc/functions.php
on line
179