Practice Cases
Corticosteroid-Induced Osteoporosis: Question Four
Your answer is incorrect. The correct answer is C.
You appropriately order a DEXA scan to help in your determine this patient's fracture- risk category with long-term oral glucocorticoid (1). Her femoral neck T-score is -2.0. What is her FRAX - calculated 10 year risk of major osteoporotic fracture? (2). Recall that she is 63 years of age, weight 140 pounds, height 61 inches and her mother had a hip fracture.
Option A

10%

Option B

20%

Option C

30%

Option D

40%
What is this patient's fracture risk based on the clinical risk factors provided in the case?
Using the FRAX calculation tool, make sure you choose "North America," "US" and "US (Caucasian)." Enter her clinical data as demonstrated below: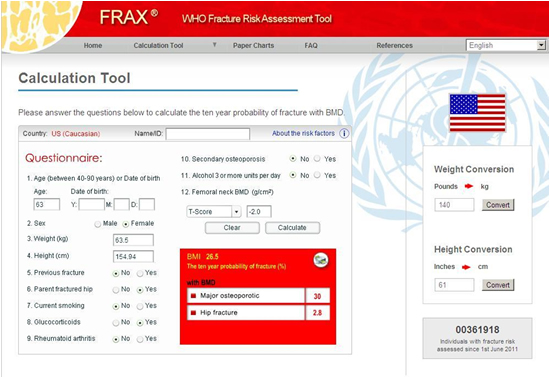 In this patient, her 10-yr risk for major osteoporotic fracture is 30%. This places her in the high risk category for fracture risk with a prolonged course of oral glucocorticoids.
Grossman J, Gordon R, Ranganath V, et al. American College of Rheumatology Recommendations for the Prevention and Treatment of Glucocorticoid-Induced Osteoporosis. Arthritis Care and Research 2010; 62: 1515-1526. Available online.
FRAX. WHO Fracture Risk Assessment Tool. 0000. Available online.