Current News & Announcements
Older news articles can be found here.
2014-04-01
Announcing new UW Institute for Neuroengineering (UWIN)
Adrienne Fairhall and Tom Daniel (Biology) are to co-direct a new UW Institute for Neuroengineering (UWIN), thanks to a recent multimillion dollar award from the Washington Research Foundation. One of four new centers to be established on UW campus, the Washington Research Foundation's mission is to redistribute funds raised through UW patents to research endeavors that stimulate the development of intellectual property and industrial connections for UW.

Full article: http://www.xconomy.com/seattle/2014/03/24/major-foundation-grant-to-support-entrepreneurial-researchers-at-uw/
2013-12-09
This is Your Brain on Art
Read about Eb Fetz's latest collaboration with non-scientists in DXARTS, an interdisciplinary degree granting center designed to support the emergence of a new generation of hybrid artists. Eb and two faculty members from DXARTS (an artist and an art historian) taught a new course intended to introduce the basics of neuroscience to stimulate new ideas about art and the brain. "[Eb] believes that artists can creatively address scientific problems about the mind and brain, bringing ideas and methods that don't exist within a traditional scientific domain. That belief, he says, is what inspired him to co-teach the course."

http://www.dxarts.washington.edu/

http://www.artsci.washington.edu/newsletter/Dec13/ArtBrain.asp
2013-11-22
Chet Moritz and Adrienne Fairhall receive $1.5 million grant for brain-computer interface research
The Paul Allen Family Foundation has awarded a $1.5 million grant over three years to a team of interdisciplinary researchers at the UW. Chet Moritz of Rehabilitation Medicine and Physiology & Biophysics and Adrienne Fairhall of Physiology & Biophysics & Physics, along with Joshua Smith of Electrical Engineering and Computer Science & Engineering will work on a project that aims to restore movement to paralyzed arms and hands of patients with spinal cord injuries.

This new grant complements the work of the Foundation's affiliate organization, "The Allen Institute for Brain Science, and through the Foundation's Allen Distinguished Investigators program, which supports scientists pursuing ambitious, pioneering research."

More from The Seattle Times

2013-11-21
Bertil Hille wins NIH Javits Neuroscience Investigator Award
Bertil Hille, the Wayne E. Crill Endowed Professor of Physiology and Biophysics, has been selected as a winner of a Javits Neuroscience Investigator Award for his research supported by NIH National Institute of Neurological Disorders and Stroke. Javits Awards provide long-term support to investigators with a history of exceptional talent, imagination, and preeminent scientific achievement.

The award will support continued funding, up to 7 years, of Bertil's long-standing grant on Molecular Properties of Ionic Permeability in Nerve, currently in its 44th year. This is the second Javits award that Bertil has received. Since the award was established in honor of the late Senator Jacob Javits in 1983, faculty members in the Department of Physiology & Biophysics have won 9 Javits Awards.

2013-09-17
Stan Froehner elected to Washington State Academy of Sciences
Stan Froehner, professor and chair of Physiology & Biophysics, is one of 15 University of Washington faculty members elected to the Washington State Academy of Sciences (WSAS). The WSAS was established in 2005 by Governor Christine Gregoire to provide expert scientific and engineering analysis to inform public policy making in Washington and to increase the role and visibility of science in the state.

Members of the Washington State Academy of Sciences come from academic research, government, and industry, and represent a broad range of scientific, technical, and engineering fields.

Read more at UW Today:
http://www.washington.edu/news/2013/09/13/15-uw-faculty-members-named-to-state-academy-of-sciences/

2013-09-17
PBIO ranks second in total grant funding nationally
Based on the most recent survey conducted by the ACDP, our department ranks second in nation in total grant funding. The survey includes funding from NIH and all other sources, including NSF and private foundations. In 2012, the most recent year surveyed, the department brought in $11.1 million in research grant support.

2013-07-16
Beth Buffalo joins PBIO as associate professor
We are delighted to welcome Beth Buffalo to the UW faculty as a tenured associate professor of Physiology & Biophysics and core staff member of the Washington National Primate Research Center. Beth studied Philosophy at Wellesley College where she was named a Trustee Scholar, and then went to UCSD for graduate study with Stuart Zola and Larry Squire, earning her PhD in Neurosciences in 1999. After post-doctoral research at NIMH with Robert Desimone, Beth was appointed assistant professor of neurology at Emory University School of Medicine and Core Faculty in the Yerkes Primate Center. She was promoted to associate professor of neurology in 2013.

Beth's lab is active in both basic and translational research. One focus is the role of enhanced synchronous activity in primate hippocampal neurons in memory formation. In the translational science area, her group is interested in developing methods for early diagnosis of cognitive decline and memory loss. In 2011, Beth received the Troland Award given by the National Academy of Sciences for "innovative, multidisciplinary study of the hippocampus and the neural basis of memory."

We welcome Beth and the members of her laboratory to the department and the University of Washington.

2013-07-16
Sharona Gordon promoted to professor
Sharona Gordon has been promoted to professor of Physiology & Biophysics, effective July 1. She joined the department as a joint faculty member in 1999 and became a primary appointee in 2003. Her laboratory is widely recognized for studies for TRPV1 channels and their role in pain. In addition, Sharona is very active in the Biophysical Society, serving as an elected member of the Society Council from 2003-2006, and as Program Chair for the 2012 annual meeting. Next year, she will be start a term as Editor-in-Chief of the Journal of General Physiology.

Congratulations, Sharona!

2013-06-14
Andrea McQuate awarded NSF Graduate Research Fellowship
Andrea McQuate, a PhD student working in the Barria laboratory, has been selected to receive a 2013 National Science Foundation (NSF) Graduate Research Fellowship (GRF). Her selection was based on "her outstanding abilities and accomplishments, as well as her potential to contribute to strengthening the vitality of the US science and engineering enterprise."

The program recognizes and supports outstanding graduate students who are pursuing research-based master's and doctoral degrees in fields within NSF's mission. The GRF provides three years of support for the graduate education of individuals who have demonstrated their potential for significant achievements in science and engineering research.

Andrea's research focuses on the mechanism and functional consequences of Wnt signaling on glutamatergic synaptic transmission. Wnt signaling is an important mechanism controlling embryonic development, cellular differentiation, and programming. Recently, the Barria lab has shown that elements of Wnt signaling are present in the adult brain and acutely regulate glutamatergic synaptic transmission with important consequences for molecular and cellular process underlying learning and memory. Andrea's research will contribute to a better understanding of the molecular mechanisms involved in this important regulation of synaptic transmission.


2013-05-30
International Symposium: Current Trends and Future Directions of Synaptic Plasticity Research
We are pleased to announce the international Symposium "Current Trends and Future Directions of Synaptic Plasticity Research" to be held at the University of Washington from July 18th through July 20th, 2013.

Synaptic plasticity is the best cellular and molecular model of learning and memory and a highly dynamic field in modern neuroscience.

This meeting will bring together 47 experts from the US and Japan to discuss recent research aimed to understand the molecular mechanisms of synaptic plasticity and to identify hypothesis and new technical challenges for the next decade.

Lectures and poster session are open to UW community. If you would like to present a poster, please contact Dr. Andres Barria at barria@uw.edu.

For a full schedule and details of the meeting please visit the web page:
https://sites.google.com/a/uw.edu/synaptic-plasticity-symposium-2013/

This meeting is possible thanks to the US-Japan Brain Research Collaborative Program sponsored by NIH and the Japan Society for the Promotion of Science.

Institutional support has also been provided by the Office of the Dean for Research and Graduate Education, UW School of Medicine; Riken Brain Science Institute; UW Department of Physiology & Biophysics; Comprehensive Brain Science Network; and Nichibeino.

Organizers:
Andres Barria - University of Washington
Karen Zito - UC Davis
Yasunori Hayashi - Riken BSI
Zheng Li - NIH

2013-05-06
Student website explores careers for science graduate students
Graduate student Liza Shoenfeld stumbled across a startling statistic during her first year of graduate school: in 2006, only 15% of PhDs were in tenured or tenure-track positions 6 years after graduating. To find out where everyone else goes, she began interviewing PhDs who have pursued nonacademic careers. These interviews led to the creation of a website, Branching Points, that features career profiles, a beginner's guide to informational interviewing, Q&A's with recent PhD graduates, tools to aid career exploration, and humorous essays about branching out from academia. The site has caught the attention of university deans, the editor at Science careers, and policy makers at AAAS.

Those interested in career development are encouraged to check it out.
2013-03-11
Fred Rieke selected for Landolt Distinguished Mentor Award
Fred Rieke has been chosen as the recipient of the 2013 Marsha L. Landolt Distinguished Graduate Mentor Award, which "recognizes a faculty member who excels at the intense, one-on-one mentoring that is the hallmark of graduate study". One university-wide award is made every year. Fred is the first faculty member in the Health Sciences to win this award.

Current and former graduate students and postdoctoral fellows nominate candidates for the Landolt Award. Their recommendations weigh heavily in the determination of the winner. The award will be presented at the Awards of Excellence ceremony on Thursday, June 13.

Congratulations, Fred!

2013-03-01
Publication by PBIO graduate student Wucheng Tao highlighted by The Journal of Neuroscience
Wucheng Tao, a PBIO graduate student working with Bill Spain and Chris Ransom, has published a paper in the Journal of Neuroscience, the official journal of the Society for Neuroscience, demonstrating that GABAA receptors influence neuronal excitability in different ways, depending on their subunit composition. The paper was highlighted by the Journal as one of the most important publications in that issue.
2013-02-26
Rehabilitation through rewiring: Interview with Eb Fetz and Steve Perlmutter
The future of rehabilitation therapy for victims of stroke or spinal-cord injury may lie in a small computer chip — called a neurochip — being developed, in cooperation, by the Washington National Primate Research Center (WaNPRC) and the UW's College of Engineering.

This chip could repair and ultimately restore function of neurological communication within areas of the brain, and between brain or body activities for people whose neurons have been weakened or damaged in some way. For example, a stroke victim whose mobility has been compromised could receive this implant and, over time, have his brain re-wired by the chip to ensure that a new connection could be made.

Eberhard Fetz, UW professor and researcher at WaNPRC, started researching brain-machine interfaces 10 years ago and has since published several articles about the ability of neurochips to create bidirectional brain computer interfaces.

More ….

2013-01-15
Sharona Gordon presents UW Science in Medicine Lecture
Sharona Gordon, associate professor of Physiology & Biophysics, presented the first 2013 Science in Medicine lecture on January 14. Her lecture, entitled "No gain, no pain: tuning TRPV1 ion channels to respond to noxious stimuli" described the molecular mechanisms by which the sensitivity of TRPV channels is modulated, an important characteristic of pain receptors. The Science in Medicine lecture series is sponsored by the School of Medicine and features UW faculty members nominated by their peers for this honor.

2012-12-18
We're number 1!
Over the past several years, PBIO has consistently ranked in the top 10 in total research grant funding of physiology departments nationwide, based on data assembled by the ACDP. This year, we were ranked no. 1. Despite the very challenging funding environment, PBIO scientists continue to excel. Congratulations to everyone – faculty, students, postdocs, technicians and our very dedicated support and administrative staff – on this accomplishment.
2012-12-01
2012 PBIO Holiday Party
PBIO's annual holiday party was held at the home of Bill Spain. See photos (taken by faculty member Andres Barria) of the festivities here. Thanks for hosting, Bill!
2012-10-01
2012 PBIO Annual Retreat
The Department of Physiology & Biophysics held its annual retreat on September 13 and 14 at the Sleeping Lady resort near Leavenworth, Washington on the east side of the Cascade Mountains. Nearby fires, a common occurrence in the summer, caused hazy skies but provided spectacular sunrises and sunsets.

The retreat opened with comments by Bertil Hille about former chair Wayne Crill, who initiated the annual retreat in the mid 1990s. Wayne passed away several weeks ago, after a long illness.

Science events featured presentations by graduate students, postdoctoral fellows and faculty and a poster session. This year's "best poster" winners were senior fellow Jonathan Driver, a Sackler Scholar in the Asbury lab, and graduate student Juan Angueyra, in the Rieke laboratory. The plenary lecture was presented by John D. Scott, the Edwin G. Krebs - Speights Professor of Cell Signaling and Cancer Biology, HHMI Investigaror and Professor of Pharmacology at the UW School of Medicine.

Entertainment featured the annual skit presented by graduate students in the PBIO Department and musical entertainment by Randy Powers and his group, with guest performances by Sharri Zamore and Andrea McQuate.

[Retreat photos]
2012-08-30
Wayne E. Crill (1935-2012), Academic leader and former chair of Physiology & Biophysics
Wayne E. Crill, neuroscientist, neurologist, teacher, and academic leader, died August 21, 2012 on Mercer Island, WA from complications of a neurodegenerative disorder.  He was 77.

Dr. Crill was born in Nampa, Idaho, received a B.S. degree from the College of Idaho and his M.D. degree from the University of Washington School of Medicine.  He took his residency training in neurology under Fred Plum at New York Hospital at Cornell University.  Since 1966, the rest of his professional life was spent in Seattle where he served as Chief of Neurology and Director of the Epilepsy Center at the Veterans Administration Medical Center, Chair of Physiology and Biophysics at the UW School of Medicine (1983-1999), and Professor of Physiology and Biophysics and of Medicine, Neurology.  For many years Crill chaired the hugely popular Mechanisms of Physiology course for medical students in the first year of their medical curriculum.  He introduced live interviews of patients who had recovered from highly instructive neuro- and neuromuscular diseases.  The students' attention was riveted, and his style of eliciting the history from the patient was masterly.  He was with Bill Catterall a co-founder of our Neuroscience and Behavior program.  Wayne was an all-around good person with an extraordinary combination of quiet intelligence, strength, and humanity.  He was respected and loved for his defense of academic principles, his skill at reaching consensus, his delight and curiosity in science, and the fairness of his judgments. He was kindhearted and accepting of the differences between people in a way that attested to an honest humility and straightforwardness.  Yet he made hard decisions with admirable firmness.  These qualities made him much sought after as the chair of many scientific and academic review committees both at home and abroad and fostered harmony and quality in the department he led.  Each offer of a scientific position he made to prospective junior faculty was accepted and added to the success and growth of a strong Department of Physiology and Biophysics.  To promote relaxed interactions of faculty and trainees he initiated our very successful and ongoing annual retreat in a rural setting.  He improved the lives of patients, colleagues, students, trainees.  Wayne received the UW Medicine Distinguished Medical Alumnus Award and the College of Idaho Lifetime Achievement Award and he was made a Fellow of the American Association for the Advancement of Science.  He was recognized both by the Wayne E. Crill Endowment donated by friends and colleagues and by the Wayne E. Crill Endowed Professorship donated by his former student Dr. Bud Tribble and his wife Susan Barnes.

Wayne's own scientific research, often with close collaborator Peter Schwindt together with a series of trainees, pioneered in revealing mechanisms of electrical excitability in motoneurons of the spinal cord, action of anti epileptic drugs, and excitability of pyramidal neurons of the cerebral cortex.  He developed a bond of trust and support with his coworkers.  They published more than 120 original research papers and book chapters.   Early on with Schwindt, in arduous late night experiments, he developed voltage clamp techniques for spinal motoneurons that they then would eventually extend to the cerebral cortex.  Schwindt writes of Wayne's "ability to remain calm and focused--totally un-ruffled--in the midst of crisis and an unerring ability to see the best way to proceed in the face of unclear choices."  As a scientist Wayne Crill will be remembered best for discovering a persistent calcium current in spinal motoneurons neurons and a persisted sodium current in cortical neurons that amplify the responses to synaptic inputs and change the firing properties.

Wayne had a good sense of the ridiculous and quiet humor.  Many remember his way of signaling skepticism with a characteristic roll of his eyes.  He made many friends.  He was a splendid listener, a good companion, an excellent critic, and a quiet and warm persona.  He and Jean went to their cabin in Arlington and he made annual trips to HiHium Lake Fishing Resort in British Columbia with selected angler colleagues.  They remember the image of Wayne peacefully casting for trout on the Skagit River. There he was with pipe in his mouth, carefully tying flies or fishing while telling fishing stories.  He became intrepid, competitive, and even reckless, continuing to fish with his graphite rod during thunderstorms.  He was an avid reader of the essays in New York Review of Books where he could preview the neuro-social commentaries of Oliver Sachs.  He loved art and early music, first playing the trumpet, then the recorder, and eventually studying the harpsichord.  The harpsichord stood prominently in the living room during their fabled holiday parties.

Wayne Crill is survived by Jean his wife of 51 years, daughters Betsy and Jennifer, son Wayne D. Crill, and 7 grandchildren.

A Celebration of Life will be held on Wed., Sept. 19, at 2 pm in Hogness  Auditorium, UW Health Sciences Center.  In lieu of flowers, remembrances can be made to the Wayne E. Crill Endowment Fund, or to a favorite charity.
2012-06-21
Raunak Sinha awarded the Otto Hahn Medal from the Max-Planck Society
Raunak Sinha, a postdoc in the laboratory of Fred Rieke, was awarded this year's Otto Hahn Medal for his graduate work on 'Optical analysis of synaptic vesicle protein molecules during exo- and endocytosis using pH-switchable fluorescent probes'. With the Otto Hahn Medal, the Max Planck Society recognizes ~30 young scientists each year for their outstanding scientific achievements.

Raunak carried out his PhD thesis work in the Dept. of Membrane Biophysics headed by Erwin Neher at the Max-Planck Institute for Biophysical Chemistry, Goettingen, Germany, where he used novel optical approaches to address key questions on synaptic vesicle exocytosis and recycling.
2012-05-15
Jason Stumpff's paper is featured on the cover of Developmental Cell
Jason Stumpff's paper showing how kinesins control the movement of chromosomes on the mitotic spindle is featured on the cover of the May 15 issue of Developmental Cell. Jason, a former postdoctoral fellow in the Wordeman Lab, is now an Assistant Professor in the Physiology and Biophysics Department at the University of Vermont and is the primary and co-corresponding author on the paper. Linda Wordeman and PBIO Research Technologist Mike Wagenbach performed the TIRF analysis with live microtubules using a DeltaVision deconvolution microscope that has been custom outfitted for TIRF microscopy. The light paths and Ultimate focus™ option on the microscope were designed by Jeremy Cooper (former PBIO graduate student and presently a Senior Research Engineer at Applied Precision, GE Healthcare, Issaquah, WA). Andrew Franck (a graduate student in Chip Asbury's lab) assisted with the analysis and quantification of the movies.
2012-05-14
Stan Froehner featured in the The Arts of Neuroscientists
"The Dana Alliance for Brain Initiatives, a nonprofit organization of more than 300 leading neuroscientists, works to advance public awareness about the progress and promise of brain research. As eminent neuroscientists, Alliance members harbor an intense passion for scientific research and progress, but many of our members also have passions outside neuroscience."

Stan Froehner was featured in the May issue of The Dana Foundation publication on The Arts of Neuroscientists. Stan is an avid photographer who enjoys several photography subjects, but focuses primarily on landscapes and performing artists. His work can be viewed on his photography website.
2012-05-11
Chet Moritz wins DARPA Young Investigator Award
Chet Moritz (Assistant Professor of Rehabilitation Medicine and Physiology & Biophysics) was recently selected for a DARPA Young Faculty Award. "The program aims to identify and engage rising stars in junior faculty positions... and provide high-impact funding to these elite junior faculty early in their careers."

Chet's research aims to develop treatments for injuries to the brain and spinal cord using neural engineering technology. The goal of this funding is to improve hand function by recording activity in the brain and using it to trigger stimulation of the spinal cord below an injury. This neuroprosthetic circuit may also help to guide regeneration of the damaged central nervous system.
2012-05-11
Fred Rieke receives Honorable Mention for the Landolt Mentorship Distinguished Graduate Mentor Award
Fred Rieke, Professor of Physiology & Biophysics and HHMI, has received an Honorable Mention in the competition for the 2012 Marsha L. Landolt Distinguished Graduate Mentor Award. This award recognizes a UW faculty member who has made outstanding contributions to the education and guidance of graduate students. Named for UW Graduate School Dean Marsha L. Landolt who died in 2003, the Graduate School has recognized excellent faculty mentors yearly since 1999.

Fred is the first faculty member in the School of Medicine to receive this recognition in the Landolt Award competition.

2012-05-11
Andres Barria and Duk-Su Koh receive promotions
Two of our faculty will be promoted, effective July 1, 2012. Andres Barria has been promoted to Associate Professor (with tenure). Duk-Su Koh will hold the position of Research Professor.

Congratulations, Andres and Duk-Su!

2011-12-08
Sharona Gordon and Bill Zagotta co-chair Biophysical Society Program Committee
Sharona Gordon and Bill Zagotta are co-chairs of the Program for the 2012 Biophysical Society Meeting in San Diego. With more than 3,700 abstracts submitted, the meeting is expected to attract about 9,000 registered attendees from all over the world. Sharona and Bill worked with their Program committee to plan 21 symposia, 3 mini-symposia, and 5 workshops. New topics this year include "Soft Lithography for Biology" and "Biofuels." Planning the event has been underway for over a year. Putting on the Annual Meeting is the major function of the Society.
2011-10-11
Department ranks 2nd in grant support nationwide
According to data compiled by the ACDP, our department ranks 2nd in the nation in total grant support among Physiology departments nationwide. The ranking is up from 5th place last year. Funding from all sources, including NIH, NSF, HHMI and private foundations totaled almost $11.1 million in 2010.

2011-10-03
Albert Berger appointed Emeritus Professor
After 33 years on the PBIO faculty, Albert Berger has joined the ranks of Emeritus Professor, effective July 1, 2011. Albert joined the department in 1978, was promoted to Associate Professor in 1980 and to Professor in 1985. Trained in chemical engineering (Bachelors degree from Cornell and PhD from Princeton), he worked as a research engineer for a few years before joining the faculty at Rensselaer Polytechnic Institute. In 1972, he began graduate study at UCSF and earned a PhD in Physiology.

Albert has won numerous awards, including a Ford Foundation Fellowship, a Guggenheim Foundation Fellowship and a Fogarty Fellowship. He received two Javits awards (contiguous) from the NIH for his research on neuronal regulation of respiration. Albert co-authored a text book on Physiology of Respiration and has published more than 125 research papers. During his tenure as a faculty member, Albert taught many courses and served as course director on several occasions.

In 2000, Albert served as acting chair of the Department of Physiology & Biophysics. From 2001-2005, he was Vice Dean for Research & Graduate Education in the UW School of Medicine. Although he is now holds Emeritus status, Albert continues his NIH-funded research program on a part time basis.

We thank Albert Berger for his many contributions to the Department, the School of Medicine and the University and are very pleased that he remains an active member of the department.
2011-09-19
2011 Physiology & Biophysics Retreat
On September 14-15, the Department held its annual retreat (officially the H.D. Patton Symposium) at the Sleeping Lady Resort in Leavenworth, WA. Presentations by faculty, students and postdoctoral fellows and a poster session introduced their latest research results. Our featured speaker was Paul Wiggins from the UW Department of Physics. The evening featured skits by the graduate students and music by Turing Machine.



click the group image for a larger version

To see our photographer Stan Froehner in action, click here.
2011-08-24
Allen Myron Scher 1921-2011

Allen M. Scher, Emeritus Professor of Physiology and Biophysics, died May 12, 2011. He was 90. His specialties were regulation of blood pressure and the physical basis of the electrocardiogram. Dr. Scher graduated with a B.A. in English from Yale, was decorated for his service in the Pacific theatre in the Marine Corps in WWII, and then earned a Ph.D. in Physiology at Yale with a thesis on the renal circulation. He spent his entire professional career at the University of Washington, starting in 1950, shortly after the School of Medicine was founded.

Allen Scher is best known for two major scientific contributions: First, his original research on electrical excitation of the heart focused on how its depolarization and repolarization generated each component of the electrocardiographic complex (QRS). This made a major contribution to clinical cardiology. Previously the physiological links between heart function and the electrocardiogram were not defined experimentally, rather they were known mainly through correlations with lesions. Second, his experiments with Al Young made a precise, quantitative analysis of the carotid sinus reflex, a primary regulator of arterial blood pressure. Their equations described the temporal and physical characteristics that govern this vital control system.

Early on, Scher recognized the power of using computers in the laboratory. He served on the NIH Computer Science Study Section (1963-1967). With other colleagues, he developed a major Research Resources grant, which brought online computer facilities into PBio that were heavily used by different groups to perform cardiovascular experiments on dogs, neurophysiological experiments on cats, voltage clamp experiments on frog nerve, to analyze behavioral data from primates, to compile the Primate Center's Bibliographia Primatologia, and for many physiological simulations. When the IBM PC came out, Allen bought and enthusiastically explained every accessory and cutting edge revision.

In the mid 1980s, seven cardiovascular investigators in the department successfully competed for an NIH cardiovascular program project with Allen Scher as the Principal Investigator. Concerning Dr. Scher's contribution, Larry Rowell remembers, "He was a wise leader, fair minded yet rigorous, good judgment, honest -- he bound us together (could herd cats). His prestige and analytical mind contributed to our funding success. He was highly respected."

Allen Scher was skilled in organizing and teaching courses for medical students. When in the 1960s the UW School of Medicine decided to convert the medical curriculum from discipline-based to systems-based, Al was charged with organizing the cardiovascular system, one of the largest blocks in the curriculum. This meant coordinating the efforts of faculty from anatomy, physiology, pharmacology, pathology, radiology, surgery, and medicine, as well as giving a number of lectures himself. He was outstanding in incorporating his own research and that of his colleagues in clinical medicine into clear and relevant presentations to the medical class. He was popular with students, who judged him rigorous but fair. His block was among the most popular in the curriculum. Allen was also section editor and contributed many chapters to the department's Textbook of Physiology.

On the personal side, Allen Scher had energy, a loud voice, quick wit, and an active sense of humor. His laugh, strong and rough, could be heard down the corridors. He was totally engaged and nicely engaging. He was successful as a scientist and worldly about funding and doing science. He held scientific opinions strongly and could be combative at national meetings in defending them. Allen was generous in sharing knowledge and ideas. He was kind to junior faculty and devoted to his family. The more senior faculty remember summer retreats at Tekiu Point on Hood Canal and to the cabin on Shaw Island as well as annual New Year's Eve parties with corned beef and skiing at Alpenthal. He loved music and at holiday parties his deep voice boldly contributed to the singing.

Allen became Emeritus in 1991. At his retirement party many fine stories were told. One went as follows: Early on, Al and Maryonda lived in a houseboat peacefully frequented by ducks. Having only the salary of a beginning faculty member, Al wondered if they might dine on the ducks. He fed them bread laced with Nembutal, which they readily consumed, but then they disappeared under the houseboat and all was quite. Suddenly at 2 AM, the ducks revived and for the rest of the night raised an alarming racket below. Al and Maryonda missed their fine dinner and much sleep that night. He is survived by his wife Maryonda E. Scher; his sister, Frances White; and his children, Celia Scher Wagner and John Hoagland-Scher.

We are all saddened by the passing of our colleague of many years. Walt Woodbury who arrived on campus on the same week as Allen in 1950, penned a Limerick in his own inimitable style.

Those great early days with Al Scher.
When nothing our dreams could deter.
I remember when Allen
And I were a-palin' –
If things could be still as they were!
2011-08-17
Sullivan lab publishes Nature Neuroscience paper on homeostatic synaptic scaling in Alzheimer's Disease
Jane Sullivan and her colleagues describe a new function of presenilin-1 in their paper in the latest issue of Nature Neuroscience. Mutations in presinilin-1 are known to cause Familial Alzheimer's Disease but the mechanism has remained elusive. This paper provides evidence that presenilin mutations impair the ability of neurons to recalibrate to changes in network activity. The results suggest that subtle deficits in synaptic function occur long before overt symptoms of disease pathology. The molecules responsible for these deficits are promising therapeutic targets for the early stages of Alzheimer's.

For an interesting commentary and perspective on this research and its potential impact on understanding Alzheimer's Disease, please see the discussion on the Alzheimer Research Forum.

2011-07-25
Adrienne Fairhall leads new NIH training grant in Computational Neuroscience
Adrienne Fairhall will serve as the principal investigator on a new Computational Neuroscience training grant from NIH. The grant will initiate two new programs. A two-year sequence in computational neuroscience for undergraduate students will feature a common core curriculum (including new courses), required mentored laboratory research, and a series of faculty seminars. The PhD graduate component offers a tailored curriculum including neurobiology core courses and quantitative courses in computational neuroscience, mathematics, computer science and physics. PhD candidates will attend a weekly journal club and have teaching opportunities in the undergraduate Neurobiology program. All students will be able to present their research at a campus-wide yearly meeting, the Computational Neuroscience Connection, which this year will feature Dr Christof Koch, scientific director of the Allen Institute for Brain Science, as a plenary speaker.

The program is interdisciplinary and broad-based with faculty mentors from 11 departments in three UW colleges and schools. In addition to Dr. Fairhall, the leadership team includes Bill Moody (Biology, Director of the Undergraduate Neurobiology Program) David Perkel (Biology, Otolaryngology and Physiology & Biophysics), Fred Rieke (Physiology & Biophysics, HHMI), and Eric Shea-Brown (Applied Mathematics).
2011-05-19
Eb Fetz named Alexander von Humboldt Fellow
Eberhard Fetz is a pioneer in the field of neuroprosthetics and brain-computer interface research. He discovered that single cells in the brain can learn to permanently change their firing behaviour if positive consequences (reward) follow a particular firing rate. In healthy humans and patients with brain disease this discovery pioneered self-regulation of brain activity and behaviour leading to the field of neuroprosthetics. In Germany, Professor Fetz will study the learned regulation of brain blood flow with functional magnetic resonance imaging (fMRI) and its effect on emotional, cognitive and social behaviour.

Professor Fetz is hosted by Professor Nikos Logothetis at the Max-Planck-Institute for Biological Cybernetics in Tuebingen and by Professor Niels Birbaumer at the University of Tuebingen.
2011-03-30
Nobel Laureate Erwin Neher presents 2011 Hille Lecture
Professor Erwin Neher, winner of the 1991 Nobel Prize in Physiology or Medicine, presented the 2011 Einar Hille Memorial Lecture in the Neurosciences on March 1. He discussed his latest studies on "Biophysics of Short Term Synaptic Plasticity".

Professor Neher earned a baccalaureate in physics from the Technische Hochshule in Munich, and later a Master of Science degree in physics from the University of Wisconsin as a Fulbright Scholar in 1967. He returned to Munich intent on pursuing a doctoral project in biophysics with an emphasis on nerve excitation. His search led him to Dr. Dieter Lux's laboratory at the Max-Planck Institut for Psychiatry and a dissertation project measuring membrane currents from the somatic surface of snail neurons.

Read more at UW Today.

2011-02-25
Rapping Professor - Mad scientist behind songs about science
Greg Crowther, a former PhD student in PBIO, has always enjoyed combining science and music. As a graduate student with Kevin Conley, Greg was famous for his musical renditions of the energetics of muscle contraction. Now, as a faculty member in the Department of Medicine, Greg studies malaria prevention, but he has not lost his love of music and how it can be used to inspire others to become medical researchers, as this story from KING5 illustrates. Recently, his rap song - Money 4Drugz! - won First Prize in the 2011 UW Pocketmedia Film Festival. Greg's songs for teaching, learning and fun endeavor is supported by a National Science Foundation-funded pilot project called Undergraduate Biology Education -- Songs for Teaching (UBEST).
2011-02-25
Chris Liu joins PBIO faculty
We welcome Qinghang (Chris) Liu to the department faculty as assistant professor. A native of China, Chris did his PhD work in cardiovascular physiology with Polly Hoffman at the University of Tennessee and then postdoctoral research with Jeff Molkentin at Cincinnati Children's Hospital Medical Center. His research focuses on defining the novel signaling and transcriptional regulatory mechanisms that underlie cardiac hypertrophy and heart failure, using gene targeted and transgenic mouse models. Chris held an American Heart Association postdoctoral fellowship and currently holds an NIH Pathway to Independence grant. We welcome Chris, his wife Yi Chen (who works with Chris in the lab), and their daughter Jenny to Seattle.
2011-02-07
Eb Fetz and colleagues win Keck Foundation grant to develop implantable computers to restore brain function
Eb Fetz and his team, including Brian Otis and Babak Parviz (Electrical Engineering), and Jeffrey Ojemann (Neurological Surgery) have been awarded a 3-year, $1 million grant from the W. M. Keck Foundation to continue their "neurochip" studies to restore brain function. The interdisciplinary team will create the "Keck Active Electrode Array" to promote restoration of brain, spine and muscle function in cases of brain injury due to trauma, stroke and other events. See full story here.

From UW Today
2010-12-16
Asbury Lab publishes "Finger Trap" paper in Nature
Chip Asbury's lab, in conjunction with Sue Biggins' lab at the FHCRC, published a paper in the Nov 25 issue of Nature, "Tension directly stabilizes reconstituted kinetochore-microtubule attachments". The primary authors are Bungo Akiyoshi (a student in the Biggen's lab), Krishna Sarangapani (a postdoc in the Asbury lab), and Andy Powers (a student in the Asbury lab).

The article is discussed in a News & Views in the same issue.

Further articles regarding the paper have been highlighted on the NSF website and on the UW News website.
2010-12-16
Andy Powers awarded 2010 Norton B. Gilula Award
Pbio student, Andy Powers (Chip Asbury's lab) was awarded the 2010 Norton B. Gilula Award by the American Society for Cell Biology. This award was established in memory of longtime Society member and Journal of Cell Biology Editor-in-Chief Norton B. "Bernie" Gilula. Only one award is given each year, based on research accomplishments. Andy received travel and per diem expenses to attend the annual ASCB Annual Meeting, where he gave a platform talk in the Mitosis & Meiosis session.

Pbio alumnus, Yulia Ovechkina won the Gilula award in 2003, when she was a graduate student in Linda Wordeman's lab. This is the 2nd time a Pbio student has won the award in ten years since the award was established!
2010-11-15
Department ranks 5th in research funding
According to the most recent ACDP survey of physiology departments nationwide, the Department of Physiology & Biophysics ranks 5th in total extramural funding for research. Funding for 2009 from all sources, including NIH, NSF, HHMI and numerous foundations, was $10.7 million.

2010-11-15
Jennifer Lippincott-Schwartz presents 2010 Lamport Lecture
Jennifer Lippincott-Schwartz, Tenured Investigator and Chief, Section on Organelle Biology at NICHD, presented this year's Lamport Lecture on October 27. Dr. Lippincott-Schwartz is internationally recognized for her research on intracellular protein tracking and sorting, organelle biogenesis and dynamics using super resolution imaging. She has also been instrumental in developing remarkable technologies for this work. She spoke on "Breakthroughs in imaging using photoactivatable fluorescent protein technology".

Dr. Lippincott Schwarz was elected Distinguished NIH Investigator and named a AAAS Fellow in 2008. Last year, she was elected to the National Academy of Sciences and to the Institute of Medicine.
2010-11-12
Bertil Fest and Hille Symposium
Former students and postdocs, colleagues and friends gathered on the UW campus on October 23 to celebrate Bertil Hille's 70th birthday (on 10/10/10) and to honor him for his many contributions to ion channel research. The symposium featured former colleagues, postdocs and students and a keynote address by Clay Armstrong, who shared the Gairdner and Lasker Awards with Bertil and Rod MacKinnon.

The day concluded with a dinner at the Skansonia and commentary about Bertil's impact on the scientific careers of many individuals. For photos, of the events, see here.
2010-10-06
2010 Physiology & Biophysics Retreat
On September 15-16, the Department held its annual retreat (officially the H.D. Patton Symposium) at the Sleeping Lady Resort. Presentations by faculty, students and postdoctoral fellows and a poster session introduced the latest research results. Our featured speaker was Daniel Chiu from the UW Department of Chemistry. The evening featured a skit by the graduate students and music by Turing Machine.

For photos of the retreat, click here.

Thank you to our photographer Stan Froehner!

2010-10-01
Eberhard Fetz wins Aspen Brain Forum Prize
Eberhard Fetz, professor of Physiology & Biophysics and core staff member of the Washington National Primate Research Center, has received the first Aspen Brain Forum Prize in Neurotechnology. The prize was awarded to Eb for his "work that has broad application and impact in translating basic research into effective therapeutics within the area of neural prosthetics". Eb is widely considered a pioneer in the field of neural interfaces. He and his colleagues have recently advanced the field by developing a novel autonomous recurrent brain-computer interface. The battery-powered "neurochip" creates artificial connections that the brain can learn to incorporate into normal behavior. This new technology could be used to bridge lost connections that result from damage to the nervous system, such as stroke or spinal cord injury.

The Forum is a joint effort of the The Aspen Brain Forum Foundation, a high-level think tank that hosts an annual meeting on cutting-edge topics in neuroscience to advance global collaboration and scientific breakthroughs, and the New York Academy of Sciences.

NYAS Press release: http://www.nyas.org/AboutUs/MediaRelations/Detail.aspx?cid=7c3326df-4459-4c1c-a36e-c06df3234ec5

2010-09-20
UW ranks 7th in research impact worldwide
According to a recent report by High Impact Universities, the University of Washington ranks seventh in the world in the impact of its research productivity. The assessment is based on quality and consistency of publications and research output during the period 2000-2009. In the area of Medicine and Health Sciences, the UW was 6th in the 2010 Faculty Ranking. The top 500 universities in the world were included in the study, conducted by the University of Western Australia.
2010-07-14
Chip Asbury, Adrienne Fairhall and Fernando Santana receive promotions
Three PBIO faculty members have promoted , effective July 1. Chip Asbury and Adrienne Fairhall were promoted to Associate Professor (tenured). Fernando Santana was promoted to Professor.

We are very proud of our colleagues and congratulate them on their richly-deserved promotions.

2010-07-14
Publication by Kathleen Rankin and Linda Wordeman featured in the Journal of Cell Biology
The Journal of Cell Biology featured a paper by Kathleen Rankin and Linda Wordeman on the role of astral microtubules in coupling of mitotic spindles to the cytokinetic furrow during cell division. Cells depleted of MCAK, a kinesin discovered by the Wordemann lab, contain ultra-long astral microtubules. The depletion of MCAK causes dramatic spindle rocking of the mitotic spindle from one proto-daughter cell to the other.

The findings were featured by the Journal in a special commentary and by cover images of cells undergoing spindle rocking. For a video description of the research and its importance, watch an interview with Linda in JCB Biosights.

Kathleen Rankin, currently a postdoctoral fellow at the Bernhard Nocht Institute for Tropical Medicine in Hamburg, did this work for her PhD in Physiology & Biophysics.
2010-04-16
Muscle research featured on the cover of the Journal of Clinical Investigation
A study of the roles of two forms of nitric oxide synthase in skeletal muscle fatigue conducted by Justin Percival and Marv Adams in the Froehner laboratory was published recently in the Journal of Clinical Investigation. A major finding of the study shows that nNOSbeta is localized to the Golgi where it appears to mediate cGMP signaling and muscle function.


2010-04-16
Department ranks 10th in NIH grant support
The Department of Physiology & Biophysics ranked 10th in the nation in NIH grant support. The department was awarded more than $10.6 million during the 2009 fiscal year. Based on a recent report by the ADCP, the department ranked 3rd in total grant support, which takes into account non-NIH funding, including grants support from HHMI, NSF and private foundations.

2010-04-16
Bill Betz – 2010 Hille Lecture
Bill Betz, chair of Physiology and Biophysics at the University of Colorado, Denver, presented the 20th Annual Einar Hille Lecture. Dr. Betz is a world authority on presynaptic mechanisms of neurotransmitter release and pioneered the use of FM-143 to study vesicle release and recycling.
2010-04-15
Sarah Reed named APS Summer Undergraduate Research Fellow
Sarah Reed, an undergraduate at the University of Washington, has been awarded a fellowship by the American Physiological Society for summer undergraduate research. Sarah will pursue her studies in the Froehner laboratory, studying mechanism of muscle degeneration in a mouse model of Duchenne Muscular Dystrophy. She is one of 24 fellowship awardees selected.
2009-11-05
EUREKA award to Chet Moritz and Philip Horner
Chet Moritz (Department of Physiology & Biophysics) and Philip Horner (Department of Neurological Surgery) have received a EUREKA award from the National Institutes of Health to develop a novel method of directing regeneration within the nervous system. The team will use targeted electrical stimulation to guide transplanted stem cells to form appropriate connections and repair damaged neural circuits. If successful, this approach could be used to treat patients suffering from central nervous system damage such as traumatic brain injury, stroke, or spinal cord injury.

EUREKA grants are awarded for highly innovative research that promise big scientific payoffs. Since the inception of the EUREKA program in 2008, fewer than 100 of these grants have been awarded. This grant to Moritz and Horner is only the 3rd received by scientists at the University of Washington.
2009-10-20
2009 Physiology & Biophysics Retreat
The Department held its annual retreat, officially known as the HD Patton Symposium, at the Sleeping Lady Resort in the Cascade Mountains on September 16 and 17. The event features scientific presentations by faculty members and a poster session in which graduate students and postdoctoral fellows report their latest findings. The "Outstanding Poster Award" this year was shared by Charles Hass (Horwitz lab) and Anne Carlson (Zagotta lab).

For photos of the retreat, click here.

Thank you to our photographers Stan Froehner and Jon Cimuchowski!
2009-08-21
Department ranks 3rd in the US in grant support
According to a study comparing physiology departments nationwide, the Department of Physiology & Biophysics ranked 3rd in total research grant awards in 2008 (the latest data available). This ranking is up from 4th last year. Despite the extremely poor funding environment, grant money awarded to PBIO scientists increased 12% compared to the previous year. This analysis takes in account research funding from all sources.

2009-08-21
Jane Sullivan named to Dana Alliance for Brain Initiatives
Jane Sullivan, associate professor of Physiology & Biophysics, has been appointed a member of the Dana Alliance for Brain Initiatives. The Dana Alliance is committed to advancing public awareness about the progress and benefits of brain research and to disseminating information on the brain in an understandable and accessible fashion. One of DABI's best known activities is organizing the annual Brain Awareness Week, an international event aimed at increasing public understanding of the brain and brain research.
2009-08-21
Ed Rubel's research featured in the Wall Street Journal
Research on hair cell regeneration in zebrafish, a collaborative study between the laboratories of Ed Rubel and David Raible (Department of Biological Structure), was featured in the Wall Street Journal.

2009-07-13
Mike Shadlen wins Spencer Award
Michael N. Shadlen, M.D., Ph.D., Professor of Physiology & Biophysics and HHMI Investigator, has received the 2009 W. Alden Spencer Award. The Spencer Award is given each year by the Department of Neuroscience at Columbia University College of Physicians & Surgeons, and The Kavli Institute for Brain Science to an investigator in recognition of outstanding research contributions in Neural Science.

Dr. Shadlen's research elucidates the neural mechanisms that underlie decision-making. By combining neural recording with behavioral testing and computational modeling, he has begun to ascertain how the brain reasons from evidence, deliberates and forms beliefs. Dr. Shadlen will receive the award and present a lecture on The Neurobiology of Decision Making: A Window on Cognition, on September 29, 2009 at Columbia University College of Physicians and Surgeons.
2009-05-14
Shadlen lab publishes Science paper: Decision making and judgment
http://uwnews.org/article.asp?articleID=49482
2009-04-09
Linda Wordeman awarded Guggenheim Fellowship
Linda Wordeman, professor of Physiology & Biophysics, has been named a 2009 Guggenheim Fellow. Guggenheim Fellows are appointed on the basis of stellar achievement and exceptional promise for continued accomplishment. One of the hallmarks of the Guggenheim Fellowship program is the diversity of its Fellows. This year's class includes authors, historians, performance artists, photographers, musicians, poets, mathematicians and scientists. In the 2009 US & Canada competition, 180 new Fellows were selected from approximately 3000 applicants.

Linda will use her fellowship to study the fundamental mechanisms underlying chromosome segregation and cancer development by developing new probes to image the dynamic chromosome movements in live echinoderm eggs. Part of the research will be conducted at Friday Harbor Marine Laboratories.

2009-03-20
Dedication of the Thelma Temy Kennedy conference room
Thelma "Temy" Kennedy Berner, professor emeritus of physiology and biophysics and one of the first tenured women faculty at the UW School of Medicine, died on Jan. 10 at the age of 83. She was honored this month by the Department of Physiology and Biophysics.

After receiving a doctoral degree from the University of Chicago in 1955, Kennedy was admitted to the then-new postdoctoral program in physiology and biophysics at the UW in 1956 and joined the faculty of that department in 1957. She remained in the department until her retirement in 1988. Kennedy was the graduate program advisor throughout her tenure in the department and headed the department's postdoctoral neurophysiology training program. Her own research dealt primarily with the cerebral and cerebellar cortices.

In 1969 she was appointed associate dean of the UW graduate school, to that date the highest administrative appointment for a woman in the UW's history. She also played an active role on campus with respect to women's issues and served on the UW Women's Council, an advisory body to the provost on opportunities for UW women in employment, education, and extracurricular activities in accordance with federal and state affirmative action guidelines.

In 1972 she returned to her home department, Physiology and Biophysics. Upon the retirement of the chair, Harry Patton, she became acting chair until the appointment of Wayne Crill in 1983.

In addition to her university service, Kennedy served on several national committees, including the Experimental Psychology and Biopsychology Study Sections of the National Institutes of Health, the Veteran's Administration Merit Review Board in Neurobiology, and the evaluation team of the Western Association of Schools, Colleges and Universities.

Kennedy was married for 45 years to Richard Berner, former University Archivist, and together they explored the mountains and trails of the Pacific Northwest and enjoyed good food and music.

The Department of Physiology & Biophysics has established the Thelma Temy Kennedy Endowment, and has named a new conference room in her honor. A dedication of the Kennedy Conference Room and a celebration of Kennedy's life and contributions to the UW was held on March 16 at the UW Health Sciences Center. [see photos]

Contributions in Kennedy's memory may be made to the UW Foundation, Thelma Temy Kennedy fund, UW Advancement, Univ. of Wash. Box 358045, Seattle 98195-8045.
2009-03-10
Adrienne Fairhall honored with the Margaret Oakley Dayhoff Award by the Biophysical Society
Adrienne Fairhall, assistant professor of Physiology & Biophysics, was one of three women awarded the Margaret Oakley Dayhoff Award at the annual meeting of the Biophysical Society. The Dayhoff Award is given to a woman who holds very high promise or has achieved prominence while developing the early stages of a career in biophysical research within the purview and interest of the Biophysical Society. Dr. Fairhall was recognized for "her excellent work in the field of adaptation in neural codes and leadership in advancing training in computational neuroscience".

See also: 2009 Award Recipients Named By Biophysical Society



2009-03-05
Chip Asbury highlighted on Cell's website
Chip Asbury was recently interviewed by the journal Cell about a new paper that came out of his lab, and both the interview and a video from the paper are currently highlighted on the cell.com homepage.


"Lara Szewczak speaks with Dr. Charles Asbury about how a kinetochore component, the Ndc80 complex, can remain attached in vitro to dynamic microtubules while bearing a load comparable to a chromosome. Tune in to learn how Ndc80 gets a grip and keeps it."
More on the paper can be found at
uwnews.org
:
"Single molecule tracking helps reveal mechanism of chromosome separation in dividing cells".
2009-02-02
New Graduate Student Lounge
The recent renovation of the PBIO department provided the opportunity to provide a new lounge for graduate students. The new room, located on the 4th floor of the H-wing, is substantially larger than the old lounge and has windows that provide a much more pleasant setting.

Jon Cimuchowski (graduate program coordinator) and Stan Froehner (department chair) hosted an inaugural pizza lunch as the first formal event held in the lounge. The new space will provide a place for first year students to call home. It will be available for all graduate students in the department to hang out.


2009-01-31
Eight graduate students awarded PhD in Physiology & Biophysics in 2008
2008 was a banner year for students earning the PhD in Physiology & Biophysics. Eight students completed their research, and defended their theses last year. Congratulations to our new PhDs!

Jeremy Cooper did his research on "Dynamic in vitro characterization of the microtubule depolymerase, MCAK" in the Wordeman lab. Jeremy's work was published in a series of 4 papers, including one in the Journal of Cell Biology. He will stay on in the Wordeman lab as postdoctoral fellow.

MacKenzie Howard studied the "Mechanisms andå Function of Depolarizing Inhibition in The Avian Cochlear Nucleus" in the Rubel laboratory. His doctoral research, published in the Journal of Neuroscience, was supported by an NRSA fellowship from the NIH. MacKenzie is currently a postdoctoral fellow at UCSF in Roger Nicoll's lab.

Jill Jensen did her thesis research in the Hille lab on "FRET Reveals Kinetic Steps of Receptor-Mediated Modulation of PIP2 and Kv7 K+ Current". As a graduate student, Jill's poster to the 52nd Annual Meeting of Biophysical Society in 2008 received the Biophysical Society Student Research Achievement Award in Biological Fluorescence. Jill will continue as a postdoctoral fellow in the Hille lab.

Brian Lundstrom, an MSTP MD/PhD student, did his thesis research in the Fairhall lab on "The Response of Single Neurons to Varying Stimulus Statistics". Brian published a paper in Nature Neuroscience in 2008, which was the topic of a profile of Dr Fairhall in an upcoming Burroughs-Wellcome publication. He was awarded a Human Frontiers short-term fellowship to work in a lab in Spain, and, when he returns, will continue for a few months in the Fairhall lab as a postdoctoral fellow before returning to medical school.

Heather Dungan Lemko's thesis was entitled "The Role of Kisspeptin and Neurotensin Signaling in the Central Regulation of Gonadotropin Secretion." As a graduate student in the Steiner lab, Heather published two original, peer-reviewed papers as first author, one in the Journal of Neuroscience and the other in the American Journal of Physiology. She was the first author on a review paper, published in Endocrinology, and she was a coauthor another original paper published in Endocrinology. She made 6 presentations of her scientific work at national/international meetings. Heather was the recipient of the 2007 Anthony Means Basic Science Award of the Endocrine Society for her work on kisspeptin. Heather has joined Dr. Joel Elmquist's lab at the University of Texas Southwestern, in Dallas, as a postdoctoral fellow.

Nadiya Postupna's work in the Anderson laboratory produced a thesis on "Bursting and Oscillations in the Thalamus of Normal and Parkinsonian Monkey". Nadiya published two papers, one on the therapeutic mechanisms of high frequency deep brain stimulation.

Kathleen Rankin did her PhD research in the Wordeman lab on "Microtubule Stability and the Cell Cortex: The Role of MCAK in Microtubule-Cortex Interactions". She is co-author on two papers with more to come. Kathleen is now a postdoctoral fellow at the Bernhard-Nocht-Institute for Tropical Medicine in Hamburg.

Michelle Steen studied the role of NPC1 in a mouse model of muscular dystrophy as a graduate student in the Froehner lab. In 2007, Michelle's poster presentation was selected as a Prizewinner at the annual World Muscle Society Congress held in Naxos-Giardini, Sicily. She also received a travel award to attend the conference. Michelle's research on "Attenuation of Muscular Dystrophy by Transgenic Expression of Niemann-Pick C1" was published recently in Molecular Biology of the Cell. She also co-authored a review that appeared in Trends in Neuroscience. Michelle is currently on family leave.
2009-01-12
Research by Eb Fetz, Chet Moritz and Steve Perlmutter among Nature magazine's top articles from 2008
A research study published by Eb Fetz, Chet Moritz and Steve Perlmutter was among those selected by Nature editors as their top articles and research highlights from 2008. The paper was one of only 19 Nature articles, and 22 from other journals, chosen as some of the best research from 2008 in a wide range of fields from economics to astrophysics.

The research team of Chet Moritz, Steve Perlmutter, and Eberhard Fetz, all of the Department of Physiology & Biophysics and the Washington National Primate Research Center, was recognized for their work on brain-computer interfaces. The team designed an artificial connection between brain cells and muscles that was able to stimulate paralyzed muscles and restore movement. The study, originally published in Nature in October, 2008, was one of the first of its kind to use signals from the motor cortex, the part of the brain that controls movement. Scientists hope that the research could help them develop ways to re-route brain signals around damaged nerves as a way to treat spinal cord injuries and restore movement to paralyzed limbs. The work was featured in a UW press release, available here.

At the time of publication, the work received broad attention in the press, including an interview of Chet Moritz by NBC Nightly News.


2009-01-11
Adrienne Fairhall presents Science in Medicine Lecture
Adrienne Fairhall, assistant professor of Physiology & Biophysics, presented the 2008 Science in Medicine lecture in December. She discussed her group's research on "Representing a complex world: How neurons encode information". The lecture series features faculty members at the School of Medicine whose research is deemed to be leading edge and of broad interest.

2008-10-10
2008 Physiology & Biophysics Retreat
The Department held its annual retreat, officially known as the HD Patton Symposium, at the Sleeping Lady Resort in the Cascade Mountains on September 17 and 18. The event features scientific presentations by faculty members and a poster session in which graduate students and postdoctoral fellows report their latest findings. The "Outstanding Poster Award" this year was shared by Sarah Domnitz (Wordeman lab) and Andy Powers (Asbury lab).

In addition to science discussion and social time, the graduate students also present a skit, revealing their true impressions of the faculty, all in good spirit.

For photos of the retreat, click here.
2008-10-06
Marilyne Cunnington honored for 30 years of service
Marilyne Cunnington was honored recently at the PBIO Happy Hour for 30 years of service as a valued employee of the Department of Physiology & Biophysics. During that time, Marilyne has met literally hundreds of students, postdocs, staff, delivery people, visitors and faculty (including 3 department chairs). She knows them all by name and always greets everyone with a smile.

Congratulations, Marilyne!


2008-09-16
Jane Sullivan and Fred Rieke receive promotions
Two PBio faculty members have been promoted, effective July 1, 2008.

Jane Sullivan has been promoted to Associate Professor of Physiology & Biophysics (tenured). Jane's lab studies synaptic transmission and the role of Aβ, a protein linked to Alzheimer's Disease, on this process.

Fred Rieke has been promoted to Professor of Physiology & Biophysics. Appointed an HHMI investigator in 2005, Fred's lab studies biophysical mechanisms of retinal function.

Congratulations, Jane and Fred!
2008-09-15
Jon Cimuchowski receives Service Excellence Award

Jon Cimuchowski, Manager of Program Operations in Physiology & Biophysics, has received the UW School of Medicine Service Excellence Award. The award is given to two staff members every quarter who exemplify outstanding service. Jon was nominated for this award by faculty members and received supporting letters from staff, students and postdocs. In addition to serving as graduate program manager, Jon provides invaluable assistance with graduate and medical courses, administers the PBio seminar program, and generally fills in whenever his help is needed, always with efficiency and a sense of humor.

The award was presented by Larry Robinson, Vice Dean for Clinical Affairs, at a surprise reception attended by many members of the department. [more photos here]

Congratulations, Jon!
2008-06-12
Bertil Hille receives honorary doctorate from Rockefeller University
Bertil Hille, the Wayne E. Crill Professor of Physiology & Biophysics, is one of three alumni of the Rockefeller University to be honored with the doctor of science, honoris causa at the 50th commencement ceremony.

"Since the first graduating class, nearly 1,000 scientists have begun their careers at The Rockefeller University and many of them have gone on to take leadership positions at research institutions around the world," says President Paul Nurse. "This year's graduating class follows in their footsteps, and we are pleased to honor Gerald Edelman, Nina Fedoroff and Bertil Hille as representatives of our alumni's exemplary contributions to science."

Congratulations, Bertil!



Paul Nurse, president of the Rockefeller University presents Bertil Hille with honorary doctorate degree
2008-06-12
Department ranks 4th in nation in research grant funding
Each year, the ACDP collects research funding and other data from Departments of Physiology across the US and then reports rankings, based on several criteria. This survey is the only one that takes into account all research funding, including HHMI. The 2007 ACDP survey has just been published and I am very pleased to tell you that, of the 73 Physiology departments responding, our department ranks 4th in the nation in total research grant funding. This is the highest ranking we have achieved in recent years. Congratulations to everyone in the department - staff, students, postdocs and faculty - for your contributions in making our research program highly successful.

More information provided in the ACDP survey can be found here.
2008-06-12
Rachel Wilson presents 2008 Crill Lecture
Rachel Wilson, assistant professor of Neurobiology at Harvard Medical School, presented the 8th annual Wayne E. Crill Graduate Research Lecture. Dr. Wilson presented her work on Olfactory Processing in the Drosophila Antennal Lobe. After the lecture, a celebratory dinner attended by departmental graduate students, their mentors, and other honored guests was held at Ponti's restaurant.

Funded by the Crill Endowment, this lectureship which honors Wayne Crill, chair of the Department of Physiology & Biophysics from 1983-1999, for his commitment and contributions to graduate education in the Department and recognizes graduate students conducting research in laboratories of the Department of Physiology & Biophysics and their faculty mentors. The Crill Lecturer is selected by a committee of graduate students, in consultation with the Crill Endowment Director, Albert Berger.
2008-05-22
Greg Horwitz receives McKnight Scholar Award
Greg Horwitz, assistant professor of Physiology & Biophysics and core staff member of the Washington National Primate Research Center, has been named a 2008 McKnight Scholar Award recipient. He is one of seven early career scientists to receive support for innovative research in neuroscience. The 3-year award will support Greg's studies on the neural basis of color vision. His laboratory uses a combination of electrophysiological, psychophysical and computational approaches to understand how visual pathways in the brain interact to enhance color perception.

Greg joined the UW in 2007, following postdoctoral research at the Salk Institute. He received his undergraduate training in computational neuroscience at Harvard and a PhD in neuroscience at Stanford. Greg is the sixth member of the Department of Physiology & Biophysics to be named a McKnight Scholar.
2008-05-19
Bill Zagotta snags foul ball at Mariners game



Bill Zagotta, Professor of Physiology & Biophysics and HHMI Investigator, caught his first foul ball ever at a Mariners' game at Safeco Field on May 9. Bill and his wife, Sue Black, are faithful Mariners fans and have attended hundreds of games.

The Mariners lost to the Chicago White Sox 4-2.
2008-05-19
Fred Rieke and Jane Sullivan promoted
The promotion of two PBIO faculty members has been approved by Mark Emmert, president of the University of Washington, effective July 1, 2008. Fred Rieke will be promoted to Professor of Physiology & Biophysics. Jane Sullivan will be promoted to Associate Professor (tenured).

Congratulations, Fred and Jane!
2008-04-30
Linda Buck elected to American Academy of Arts & Sciences
Linda Buck, affiliate professor of Physiology & Biophysics and member of the Basic Sciences Division at Fred Hutchinson Cancer Research Center, is one of 190 new fellows elected to the American Academy of Arts & Sciences. She was recognized for her pioneering studies that clarified how the olfactory system works. Linda has received numerous other awards, including the 2004 Nobel Prize in Physiology or Medicine.

Stephen Lisberger, who received his PhD in our department and is now Professor of Physiology at UCSF, was also elected to the 2008 AAAS class. Bertil Hille has been a member of the AAAS since 1998.

See also: Linda Buck elected to American Academy of Arts and Sciences


2008-04-30
Roberto Malinow presents 18th Annual Einar Hille Memorial Lecture in Neurosciences
Roberto Malinow, the Shiley-Marcos Endowed Chair in Alzheimer's Disease at UC San Diego, presented the 2008 Hille Lecture. Dr. Malinow studies synaptic plasticity and is cited for discovering silent synapses, showing that trafficking of AMPA receptors is involved in LTP and demonstrating that Amyloid Precursor Protein processing alters synaptic function.

The Hille Lecture honors Professor Einar Hille, an internationally renowned mathematician who spent most of his academic career at Yale. The Hille Lecture was established in 1989 by a generous gift to the Department of Physiology & Biophysics by the late Mrs. Kirsti Hille in honor of her husband.

See also: Alzheimer's disease expert to present Hille Lecture April 22

2008-04-24
Science Thursday for construction workers featured in the Seattle PI and University Week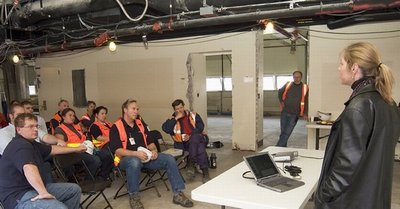 Science Thursday was initiated to inform the construction workers on the H/G wing renovation project about the research that will be done in the laboratories that they are renovating. Last week, Science Thursday was featured in an article in the Seattle PI. Jane Sullivan discussed her research on Alzheimer's Disease. Other speakers in this series have included Stan Froehner and Chip Asbury.

Also, see "Construction workers take science breaks" published in the April 24th edition of University Week.
2008-04-04
Albert Fuchs presents Bárány Society Plenary Lecture
Albert Fuchs, professor of Physiology & Biophysics and Core Staff member of the Washington National Primate Research Center, presented the plenary lecture at the XXV Bárány Society Meeting held in Kyoto, Japan. Albert discussed his research on "Saccade Adaptation and the Oculomotor Cerebellum".

The Bárány Society was founded in 1960 in honor of the late Robert Bárány who was professor at the University of Uppsala, Sweden. Bárány Society conferences have been held since 1960. In 2002, the Bárány Conference met in Seattle.

2008-04-03
Collages by Eb Fetz featured on Journal of Physiology Paris covers

2008-03-14
Rubel Lab screens for drugs that protect against hearing loss
From the University of Washington Office of News and Information - Zebrafish provide useful screening tool for genes, compounds that protect against hearing loss
2008-02-06
Wordeman Lab sweeps CellDance 2007 awards at ASCB
Two members of the Wordeman laboratory, Jason Stumpff (postdoctoral fellow) and Kathleen Rankin (graduate student) took First and Second place, respectively, in the 3rd Annual CellDance competition held at the American Society for Cell Biology conference. The CellDance competition is intended to open the eyes of the world to the best in visually stunning videos that highlight cell biology. Jason's four short videos, which earned him a cash prize of $500 and complementary meeting registration, showed kinetochore movement in a HeLa cell moving through the cell cycle. Kathleen's three videos captured anaphase spindle oscillations in HeLa cells depleted of MCAK. She received a cash prize of $300.

Their videos can be accessed from this page.

2008-02-01
Bill Zagotta honored with Kenneth S. Cole Award in Biophysics
Bill Zagotta, professor of Physiology & Biophysics and HHMI investigator, received the Kenneth S. Cole Award in Membrane Biophysics at the 2008 annual meeting of the Biophysical Society. The award recognizes Bill's major contributions to research in the area of membrane biophysics. Bill's laboratory studies the structure and function of ion channels, focused on cyclic nucleotide-gated channels.

K. S. Cole was an American biophysicist whose seminal studies of the squid giant axon in the mid-1930s demonstrated that membrane conductance increased during propagation of an action potential. J. Walter Woodbury, former professor of Physiology & Biophysics, was instrumental in establishing the K. S. Cole award. Previous award recipients include Bertil Hille, who shared the award with Clay Armstrong in 1975. In addition, five former students and postdoctoral fellows of the Department of Physiology & Biophysics have received the Cole award.

2008-02-01
Arriving at neuroscience via physics
A conversation with Adrienne Fairhall

2007-12-27
2007 PBIO Holiday Party Photos
This year's PBIO holiday party was held at the home of Bertil Hille. See photos of the festivities here.
2007-12-18
Justin Percival awarded Development Grant from Muscular Dystrophy Association
Justin Percival, a senior fellow in the Froehner laboratory, has been awarded a Development Grant from the Muscular Dystrophy Association for his studies on the role on neuronal nitric oxide synthase (nNOS) in muscle degeneration in the mdx mouse, an animal model for human Duchenne Muscular Dystrophy. The grant is intended to aid senior postdocs in their transition to independent investigators. Dr. Percival's research is focused on a form of nNOS that may regulate trafficking of proteins to the muscle membrane.
2007-11-16
Charles Zuker presents 2007 Lamport Lecture
Charles Zuker, Distiguished Professor of Biology and HHMI Investigator at UC San Diego, presented the 27th annual Lamport Lecture. Dr. Zuker is renowned for his studies of sensory systems, focusing on vision, mechanosensory and, most recently, mammalian taste. His lecture on "The receptors, cells and coding logic for mammalian taste" presented new results on the ability of taste receptors in the tongue to distinguish among salt, sour, sweet and umami sensations.

The lecture, one of three endowed lectureships sponsored by the Department, is named for Harold Lamport, a physician who had broad interests in the application of mathematics and physics to medicine. He was an expert in blood circulation and held faculty positions at Columbia and Yale, before becoming professor of Physiology & Biophysics at Mt Sinai, a post he held until his death in 1975. Lamport was a true Renaissance man, publishing prolifically in science, finance, drama, literature, population control and ecology. Several universities throughout the world have lectureships named in his honor.
2007-11-16
Fernando Santana named Established Investigator of the American Heart Association
Fernando Santana, associate professor of Physiology & Biophysics, has been named an Established Investigator of the American Heart Association. The award, one of 25 EIs given by AHA this year, is intended to support mid-term investigators in a rapid career growth phase with unusual promise, a commitment to studies of the cardiovascular system and an established record of accomplishments. The 5 year award of approximately $500,000 will support Dr. Santana's research on the function of calcium channels in vascular smooth muscle and their role in hypertension.
2007-10-31
Adrienne Fairhall receives Career Development Award from Society for Neuroscience
Adrienne Fairhall, assistant professor of Physiology & Biophysics, has been selected to receive the 2007 Society for Neuroscience Career Development award. The award recognizes early career stage neuroscientists who "have already published substantial contributions to science.... and show indications of leadership in ideas, organization or in other ways manifest for her colleagues within the scientific community". Dr. Fairhall will be honored at the Committee for Women in Neuroscience (C-WIN) awards ceremony at the SfN annual meeting next week in San Diego.
2007-09-17
Jonathan Ting and Hiro Watari receive Next Generation Award from Society for Neuroscience

Two PhD students in the Sullivan lab, Jonathan Ting and Hiro Watari, will receive the first ever SfN "Next Generation Award" for their work in establishing the Neurobiology & Behavior Community Outreach student organization at the UW. They share the award with Bryan White, a graduate student in Pharmacology. Jonathan, Hiro, and Bryan were nominated by the Pacific Cascade Chapter of SfN. They will be honored for their achievement at the Society for Neuroscience Awards Reception and Social at the annual conference in San Diego. As part of the Next Generation Award, the local chapter will receive $2,000 to be used to continue the chapter's outreach efforts. In addition, each member of the team will receive a $300 honorarium.

image courtesy of Neuroscience Quarterly, Winter 2008
2007-07-25
Adrienne Fairhall named McKnight Scholar in Neuroscience
Adrienne Fairhall, assistant professor of Physiology & Biophysics, is one of seven new McKnight Scholars selected nationwide for 2007-2009. The award, given to neuroscientists in the early stages of their careers to focus on disorders of learning and memory, will support Adrienne's research on "Intrinsic Contributions to Adaptive Computation and Gain Control."
2007-05-25
Manuel F. Navedo receives AHA Scientist Development Award
Manuel F. Navedo, a senior fellow in the Santana Lab, was awarded a Scientist Development Award from the American Heart Association for his work on Ca2+ sparklets in arterial smooth muscle. Each year the AHA gives this award to a small group of outstanding young cardiovascular scientists to help their transition toward independence. Manuel will be funded by the AHA for the next four years.
2007-04-26
Chip Asbury honored in Early Career Award Recognition Ceremony
Chip Asbury is one of five UW assistant professors selected to participate in the first Early Career Award Recognition Symposium. The symposium, sponsored by by Provost Phyllis Wise and Vice Provost for Research Mary Lidstrom is intended to give UW's rising stars a chance to shine.

Chip was named a Packard Fellow and a Searle Scholar, two highly competitive, prestigious awards for early career scientists.

See also: uweek.org "University's rising stars to shine in Early Career Award Recognition Symposium"
2007-04-09
Gail Mandel presents 2007 Hille Lecture
see Mandel to present Hille Memorial Lecture April 12, University Week, April 5, 2007
2007-04-09
UW School of Medicine ranks second in U.S. in NIH funding
see U.W. School of Medicine ranks first in U.S., University Week, April 5, 2007
2007-02-03
Faculty Scholarly Productivity Index: Department ranks in top 10 nationally
In an assessment of Faculty Scholarly Productivity conducted by the Chronicle of Higher Education, the Department of Physiology & Biophysics was ranked ninth in the nation in the discipline of physiology. Included in the analysis were 221 research universities. The productivity of faculty members was judged on three factors: number and citations of publications, federal grant dollars received, and honors and awards.

Overall, faculty scholarship in 114 disciplines was analyzed. The University of Washington received top 10 rankings in 31 disciplines, including Genetics and Microbiology (both ranked #1), Anatomy (#2), Molecular Biology (#3), Cell Biology (#4), Immunology (#9) and Neuroscience (#10). Many Physiology & Biophysics faculty members were included in the molecular biology, cell biology and neuroscience assessments.
2007-01-20
Greg Horwitz appointed assistant professor of Physiology & Biophysics
Greg Horwitz has joined the faculty as assistant professor (tenure track) and core staff member of the Washington National Primate Research Center. Greg received his undergraduate training at Harvard in computational neuroscience and his PhD in neuroscience from Stanford. Before moving to Seattle, Greg was a postdoctoral fellow at the Salk Institute where he studied color vision in non-human primates and assisted in the development of genetic techniques for reversible neuronal inactivation. He plans to continue and merge both lines of research in his new laboratory.

When he is not in the lab, Greg enjoys playing guitar, camping, and trying new foods.