Building Bridges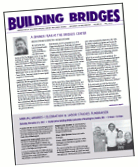 The Fall 2015 edition of Building Bridges, the Bridges Center's annual newsletter, is now available.
This issue contains the latest news from the Bridges Center, including the latest from the Labor Archives of Washington, reports on faculty unionization and student labor activism, and more.
Also included is a comprehensive listing of 2015-2016 scholarship and research grant recipients.
Not on our mailing list? Contact us with your mailing address, and we will have a copy off to you in no time.
Past Issues