The Pacific Marine Energy Center (PMEC) is a partnership between the University of Washington, Oregon State University, and the University of Alaska Fairbanks. PMEC is the common identity for coordinated research, development, education, and testing activities in the field of marine energy conducted across the partner universities.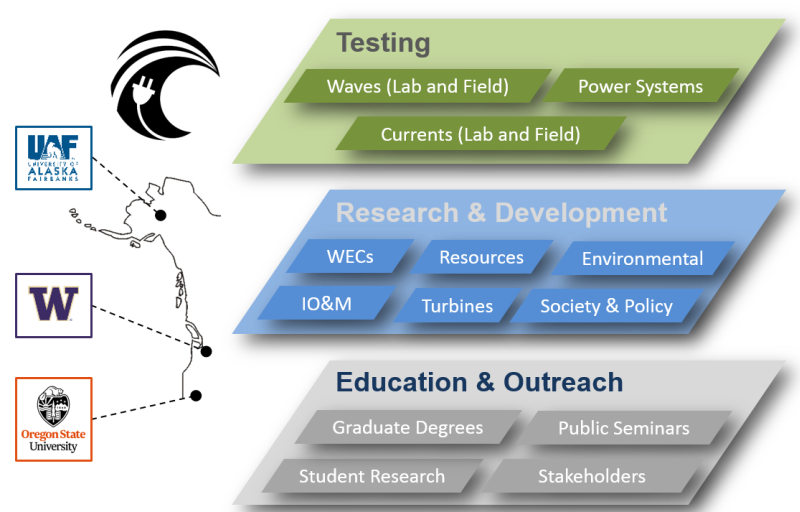 Our mission is to facilitate the responsible commercialization of marine energy technologies, inform regulatory and policy decisions, and close key gaps in scientific understanding with a focus on student growth and development.
We work closely with a variety of stakeholders, including marine energy technology developers, community members, ocean users, federal and state regulators, and government officials to conduct research on wave, current, and off-shore wind energy conversion.
Our work is supported by a variety of sponsors, including the US Department of Energy, US Department of Defense, National Science Foundation, and charitable foundations.
PMEC was established in 2008 by the US Department of Energy as the Northwest National Marine Renewable Energy Center (NNMREC), a partnership between Oregon State University and the University of Washington to explore multiple aspects of wave and tidal energy. In 2014, University of Alaska Fairbanks joined the Center, extending its geographic reach and impact. In 2018, the Center was re-branded and re-organized under the PMEC umbrella, unifying the research & development, education & outreach, and testing capabilities at the partner institutions
What does it mean for faculty, staff, or student researchers to affiliate with PMEC?
Affiliation indicates coordinated research, development, and/or education activities in marine energy, along with a good faith commitment to engage with organizational initiatives (such as the All-Center Meeting). Faculty and staff who are Principle Investigators communicate funded research to the leadership team, such that this information can be used build support for new initiatives. In exchange, PIs can use the PMEC "brand" in research proposals to demonstrate their institutional strength in marine energy.
Can a student receive a degree from PMEC?
No, PMEC is not a degree-granting organization. Graduate and undergraduate students involved in PMEC activities are pursuing degrees from departments/schools within their respective universities.
How can industry collaborate with PMEC?
There are multiple ways to collaborate. On one end of the spectrum are transactional contracts at affiliated testing facilities with varying levels of support by staff, students, and faculty. On the other are sustained research & development partnerships that collaboratively address challenges faced by industry. The latter often lead to joint publications and graduate student theses that disseminate results to the broader community, while protecting the Intellectual Property of industry partners.
PMEC also has an Industry Partner Network (IPN) whose members are invited to participate in its annual All-Center Meeting and receive periodic updates about PMEC activities. There is no charge to join the IPN.
Does PMEC have the resources to independently support early stage research and testing requested by industry?
In general, no. Within the partner universities, most activity is aligned with specific funding objectives of federal, state, or private sponsors and cannot be unilaterally re-directed. PMEC is in the process of identifying mechanisms to better support early-stage collaborations with industry.
Where can I find a listing of research and testing capabilities affiliated with PMEC?
Partial listings are currently available through the legacy NNMREC websites maintained by each partner institution and accessible from the www.pmec.us landing page. We are expanding the centralized website to include this information in the coming months and appreciate your patience as we complete our rebranding activities.
Who leads PMEC?
The PMEC leadership team consists of a lead Director that can rotate between institutions and co-Directors at each partner institution. Associate & Assistant Directors support the lead Director and co-Directors, as needed.
What does the leadership team do?
The leadership team coordinates activities across the institutions in a manner that provides the greatest benefit for industry, students, and government agencies.
Who advises the leadership team?
An Advisory Board consisting of representatives from governmental and non-governmental organizations, the Industry Partner Network, and the DOE National Laboratories active in marine energy (NREL, PNNL, and Sandia), advises the leadership team. At present, the Advisory Board convenes in a face-to-face meeting with the leadership team following the annual All-Center Meeting.