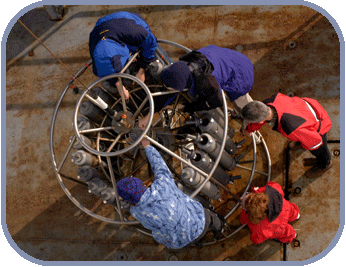 Center researchers on the research vessel, RV Thomas G. Thompson, in November 2004. Photo courtesy of Cedar McKay, UW School of Oceanography.
Address/Contact
Pacific Northwest Center for Human Health and Ocean Studies
University of Washington
4225 Roosevelt Way NE, #100
Seattle, WA 98105-6099
(206) 616-7413
pnwh2o@u.washington.edu
Center Briefing Packet
Click here to learn more about the Center's research, impact, and relevance to climate.
The University of Washington's Pacific Northwest Center for Human Health and Ocean Studies was created to understand links between ocean processes and human health. Center researchers investigate how environmental conditions trigger blooms of harmful algae in our marine waters, and how these blooms impact public health.
Center research is based on the premise that genetic and environmental variability defines the toxicity and dynamics of harmful algal blooms, the retention of toxin by shellfish, and the susceptibility of human populations to toxicological impacts.
Key questions addressed by Center researchers include:
What environmental factors lead to development of toxic blooms?
Why do certain types of shellfish retain toxin?
What are the biological processes of domoic acid toxicity?
What populations are at greatest risk?
How do dietary and consumption behaviors contribute to exposure?
In addition to research, the Center will provide information to the public and will facilitate exchange between diverse communities about exposures to, and potential health risks from, domoic acid.
Students that participate in Center research will develop multidisciplinary training and expertise relevant for issues affecting oceans and human health.