Greenhouse Benches
By Nick Ostrovsky
Greenhouse Benches
Choosing a greenhouse bench design, material and layout can be a formidable task considering the scope of options a grower has.  It is very important to decide what the primary objectives of your greenhouse are before you either purchase or design and build a bench system.  You must consider what type of plant material you will be dealing with primarily.  Will you be sowing seeds on large flats or will you be planting into 5 gallon containers?  Will you require bottom heat or misting units?  Will you be able to grow directly on the floor or do you need a raised platform for working?  What bench conformation will be the most efficient in your green house?  How much room will you require to maneuver around your benches? Can your benches be fixed into place or will you need to move them around?  How large of a budget do you have? This chapter will address these questions that you must consider when thinking about your greenhouse. 
Choosing a bench type
The cheapest way to grow plants is on the ground. However, on the ground, accurate temperature control is difficult to achieve, and other problems may complicate growing, including, disease and rot.  Benches, therefore, are recommended. There are a variety of bench styles available. When choosing a greenhouse bench design, you must account for many factors; weight capacity, durability, rot resistance, cost, ease of movement, weight, air flow, water flow, appearance, height and inertness etc.   
Materials

Regardless of the building materials chosen, benches normally do not exceed 36 inches high or wide when against a wall. Freestanding benches which are not against the wall may be up to six feet wide to allow work from either side. Freestanding benches should also not exceed 36 inches high to accommodate regular work.  (1)
Allow air circulation for plants by having an open bench floor. This may be accomplished by a number of materials such as redwood, lath, 14 gauge welded wire fabric, or expanded metal. Be certain enough rigidity is offered to prevent sagging and toppling pots. Regardless of materials chosen for bench construction, a good rule of thumb is to allow support for at least 25 pounds per square foot area. (1)
Wooden Benches

Locust, cedar, redwood and cypress are all woods highly resistant to decay. You should paint wooden benches with copper naphthenate or other preservatives (known to be safe around plants) to help decay. When redwood is chosen, iron and steel will corrode from naturally present decay inhibitors. Therefore, choose metals such as aluminum, zinc or brass nails, screws and bolts. Benches may be all wood or in combination with a different material for the base. Often, expanded metal or welded wire, of one inch or smaller mesh, are used. While expanded metal is more expensive, it does not sag like welded wire. Besides decay, wood may warp and often absorbs soils, chemicals, etc. which cannot be adequately removed. When wood is chosen, higher maintenance will be required on a regular basis. (1)
Concrete

Some greenhouses have entire concrete poured benches, including the legs (supports), all at once. These benches are permanent and do not allow for change later. Concrete benches are durable and will not require additional treatment to prevent decay such as with wood. They may be reinforced with steel rods, when poured, for additional durability. You may want to consider drilling holes in the base of the bench for proper drainage. (1)
Metal

Entire metal or steel benches are used alone or in combination with another material. Advantages of galvanized metals over wood are the longevity and resistance to rot and decay. Metal benches may be expensive to install initially, but can be considered a one-time cost. Also consider the lowered maintenance costs when these types of benches are used. (1)
Temporary/Portable Benches
Plastic

Although plastics are becoming more common for bench beds, plastic frames are not always desirable. They are often not as durable or able to support as much weight as other benching materials. Prefabricated plastic benches can be purchased which are lightweight and, thus, portable. These are also available mounted on rollers, making them particularly convenient for moving around.   Also, maintenance on plastic benches is again considerably less than for wood.  (1)
Pallets

Another portable bench system can be inexpensively constructed by placing pallets on cement blocks for support.  (1)
Bench Supports

Cement blocks are commonly used to support bench tops, particularly if they are not intended to be permanent. Permanent benches may also be supported in this fashion. Additionally, steel poles can be used for bench support. Plastic bench supports can also be used, but again, they are often not as strong. When wooden supports are used, it is especially critical to chemically treat them for decay, at least the area which will be submerged in the soil. The same preservatives which may be used on the growing surface of the benches are appropriate. Also, by pouring concrete footings, the structural integrity of the bench supports may be reinforced. (1)
Where to buy a bench
You can buy benches at a number of greenhouse retailers (both commercial and retail), See list below. You can also purchase (or acquire for free) bench building plans. See list below.  It is important to note however that some plans require a significant amount of carpentry skill.
Bench System Supply Companies
(1)
American Plant Products and Services, Inc.
9200 N.W. 10th Street
Oklahoma City, OK. 73127
(405) 787-4833
AQUA-HORT SYSTEMS, INC.
P.O. Box 57197
Oklahoma City, OK. 73157
(405) 521-8002 US: 800-446-1694
Growers Intl. Inc./Div. of Sharp & Son, Inc.
P.O. Box 10
Schulenburg, TX 78956
(409) 743-6522
Growing Systems, (M, W)
2950 N. Weil
Milwaukee, WI. 53212
(414) 263-3131
Metalex, Inc., (M)
1530 Artiaus Pkwy
Libertyville, IL. 60048
(312) 362-8300 US: 800-323-0792
Nexus Greenhouse Systems Corp., (M)
10983 Leroy Dr.
Northglenn, CO. 80233
(303) 457-9199 US: 800-2-BUY-NEX Fax: (303) 457-2801
Rough Brothers
P.O. Box 16010
Cincinnati, OH. 45216
(513) 242-0310 OH: 800-543-7602 US: 800-543-7351 Fax: (513) 242-0816
Sharp & Son, Inc.
900 Lind Ave. SW
Renton, WA 98055
(206) 235-4510
Westbrook Greenhouse Systems, Ltd. (M)
P.O. Box 99
Grimsby, ON Canada L3M 4G1
(416) 945-4111 US: 800-263-0230 Fax: (416) 945-6564
Structural Plastics Corp.
2750 Lippincott Blvd.
Flint, MI 48507
(313) 743-2800 US: 800-523-6899 Fax: (313) 743-2799
Dramex Intl., (M)
20 Fasken Dr.
Rexdale, ON Canada M9W 1K5
(416) 675-6311 Fax: (416) 675-4310
B & C Mortensen Wood Products
Rt. 4, Box 1000
Oldtown, ID 83822
(208) 437-5665
Barlow Tyrie, Inc., (M)
1263/230 Glen Ave.
Moorestown, NJ 08057
(609) 273-7878 US: 800-451-7467
Southeastern Wood Products Co.
P.O. Box 113
Griffin, GA 30224
(404) 227-7486
Websites
Agra-Tech Systems: http://www.agra-tech.com
BartlettBench and Wire: http://www.quikpage.com/b/bartben
JancoGreenhouses: http://www.jancoinc.com
Keeler-Glasgow: http://www.keeler-glasgow.com
Nexus Corp.: http://www.nexuscorp.com
Rough Brothers Inc.: http://www.roughbros.com
Stuppy Greenhouse Manufacturing: http://www.stuppy.com
X.S. Smith Inc.: http://www.xssmith.com
Bench Plans
<![if !vml]>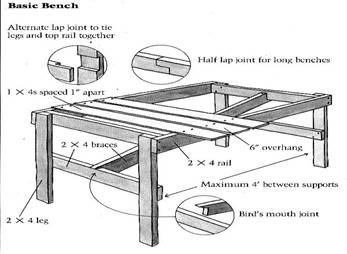 <![endif]>
Figure 1 Basic wooden bench plan.
Free plans: http://www.freeplants.com/free-potting-bench-plans.htm, http://www.hobby-greenhouse.com/BENCH2.JPG
Bench layouts
The internal bench layout of greenhouses depends upon many factors. Benching systems vary but usually are of the fixed or 'movable type. The fixed longitudinal bench is the most traditional system and by its very nature demands the most labor for handling the crop. With long narrow aisles a worker has to travel long distances before they can exit the aisle. (2) (1)
Peninsula benches provide for a wide center aisle and fixed benches with short narrow aisles between them, perpendicular to the sides of the greenhouse. With this system it is possible to use transport carts in the wide center aisle, the distance for a worker from any point in the greenhouse to the center aisle is short. The wide center aisle also provides for the passing of plant material and pots easily. (2) (1)
Lastly, non-stationery benches, which provide even more growing space, are gaining popularity with growers. Movable benches, known as rolling benches, can increase efficiency up to 90 percent of the floor space. Bench platforms are moved by a crank at the end of the bench from side to side. Some can be moved by hand by sliding the benches over the top of long steel poles. Aisles are created where the grower wants to work at any given time. Rolling benches are easy to move by practically any laborer, which is an added bonus. Movable benches, however, are not appropriate in a setting where plants must be accessed frequently. (2) (1)
Figure 2 shows the different types of greenhouse bench layouts.
<![if !vml]>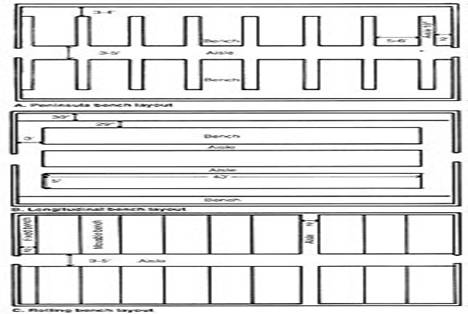 <![endif]>
Peninsula
Longitudinal
Moving
Figure 2. Greenhouse bench layouts.
Bench Space Efficiency

Benching efficiency is defined as the square feet of bench space to the entire greenhouse floor area. This number is expressed as a percentage.
Examples: A grower chooses a longitudinal bench arrangement in a greenhouse 30' x 80' or 2400 square feet of floor area. He decides to use 3-foot wide benches and 2.5-foot wide aisles and allows four feet at the end of the benches. The greenhouse has a benching efficiency of [5(number of benches) x 72(length of each bench) x 3(width of bench)]\ (30 x 80 greenhouse dimensions) x 100 = (1080/2400) x 100 = 45%.
However, if the benches were widened to four feet and 74 feet long, allowing a three-foot turn around rather than four feet as before, efficiency could be increased to 49 percent [(4 x 74 x 4)/(30 x 80) x 100 = 49%]. To further increase efficiency, the benches could be widened and the aisle widths reduced.  Table 1 shows the space utilization for various benching schemes. (2)
Table 1 Space Utilization for Various Benching Schemes

Longitudinal Benches

67%

Peninsula Benches

74%

Movable Longitudinal Benches

82%

Movable Peninsula Benches

86%

Transportable Benches

93%

Floor System

90-92%
References
1. Michael A. Schnelle, Greenhouse Floors and Benches. Oklahoma Cooperative Extension Service, OSU Extension Facts. Found at:
http://pearl.agcomm.okstate.edu/hort/greenhouses/f6703.htm
2. US Global Recourses,
Technical Library: Benches.
Found at:
http://www.technical-library.usgr.com/tl_benches1.html
3. Hobby Greenhouses. Found at:
http://www.hobby-greenhouse.com/BENCH2.JPG