<![if !vml]>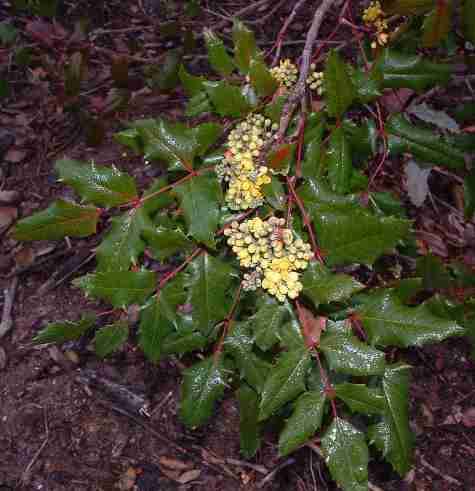 <![endif]>
Species (common name, Latin name)
'Tall Oregon Grape' BERBERIDACEAE Berberis aquifolium
Range
1.  British Columbia to Northern California
Climate, elevation
1.  Cool, moderate shade, no severe winter wind. 
3.  Low elevations
Local occurrence (where, how common)
2.  Understory of Arbutus menziesii/ Psuedotsuga menziesii dominated forest of Puget trough, 4% or less.
Habitat preferences
1.  Open woods, clearings.
Plant strategy type/successional stage (stress-tolerator, competitor, weedy/colonizer, seral, late successional)
Associated species
2.  Arbutus menziesii, Psuedotsuga menziesii, Salix scouleriana, Tsuga heterophylla, Abies grandis, Thuja plicata, Pinus contorta.  Symphoricarpos albus, Vaccinium ovatum, Lonicera hispidula, Holodiscus discolor.  Festuca occidentalis
May be collected as: (seed, layered, divisions, etc.)
1.  Best collected by cuttings or division
Collection restrictions or guidelines
1.  Take cuttings in November
Seed germination (needs dormancy breaking?)
1.  Seeds require 90 days at 41 degrees F, not dried after collection
Seed life (can be stored, short shelf-life, long shelf-life)
4.  3-4 years at just above 0 C.
Recommended seed storage conditions
4.  Seperate seeds from berries, dry superficially, seal in jar and store at temperature just above 0 C.
Propagation recommendations (plant seeds, vegetative parts, cuttings, etc.)
1.  Best to propagate by cutting or division to get a desirable form and consistencey if to by used in a hedge or background setting.
Soil or medium requirements (inoculum necessary?)
1.  Well drained acidic soil
Installation form (form, potential for successful outcomes, cost)
1.  Good for a hedge or border, background or ground cover.  Plant grow to 2m, can reach 3m; approximately 1-2m spread. 
Care requirements after installed (water weekly, water once etc.)
Drought tolerator, Pruning required to maintain good appearance. 
Normal rate of growth or spread; lifespan
1.  Grows 1m every 3-4 years.
Sources cited
1.     WOODY NORTHWESTERN NATIVE PLANTS FOR URBAN LANDSCAPES:  ORNAMENT AND RESTORATION IN THE NATIVE IDIOM.  Center for Urban Horticulture, May 1994
2.     <http://soilslab.cfr.washington.edu/madrone/ch01_ch.pdf>
3.       <http://www.nps.gov/noca/rescat/rescat9g.htm>
4.   <http://wpsm.net/Berberis.pdf>.
Data compiled by (student name and date)
Rob Wines,  June 11  2003