Tufted hairgrass, Deschampsia caespitosa
-A cool-season perennial bunch grass found in the mountains in all of the western states. (5)
<![if !vml]>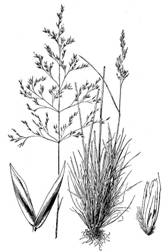 <![endif]>
<![if !vml]>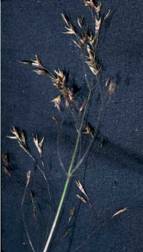 <![endif]><![if !vml]>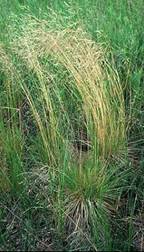 <![endif]><![if !vml]>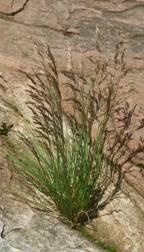 <![endif]>
<![if !vml]>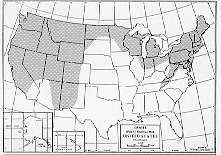 <![endif]>
Range
Deschampsia caespitosa is a circumboreal species found from Alaska to Greenland south to most of the United States and northern Mexico. (3)
Climate, elevation
Common from sea level to Alpine (6) but is most common in the mountains above the timberline. (5)
<![if !vml]>

<![endif]>
Local occurrence (where, how common)
Tufted hairgrass is found in profusion on tidal marshes and also occurs on river bars and lakeshores. It is considered a keystone species for wet meadows. (6,7) It is
frequently found on disturbed sites. (8)
Habitat preferences
D. caespitosa distinctly prefers the open and is practically never found in dense shade. (5) It also prefers wet meadows, wet prairies, ditches, along streams, around lakes, particularly at high elevations. (4)
Plant strategy type/successional stage (stress-tolerator, competitor, weedy/colonizer, seral, late successional)
Tufted hairgrass can occur as a colonizer and as a component or dominant of successional and climax vegetation. It is rarely found in dense shade. (8)
Associated species
Original associates included California oatgrass (Danthonia californica), western fescue (Festuca occidentalis), Idaho fescue (F. idahoensis), and Pacific reedgrass. (8)
May be collected as: (seed, layered, divisions, etc.)
Seed or divisions. (9)
Collection restrictions or guidelines
Fields of tufted hairgrass should be swathed in mid to late June and allowed to cure in the field for seven to ten days. (9) Wildland collection occurs early to mid August when caryopsis are golden tan, at the hard dough stage, and not yet shattering (natural dispersal) from the open, salt and pepper-colored panicle; easily hand-harvested. (3)
Seed germination (needs dormancy breaking?)
Seeds can exhibit physiological dormancy. Seeds may be placed in 32-34ºF for a 10-day cold stratification treatment and then exposed to 72-77ºF. Seeds germinate at 68 ºF. (3)
Seed life (can be stored, short shelf-life, long shelf-life)
Seeds may be stored for 5-7 years. (3)
Recommended seed storage conditions
Stores seeds under cool temperatures and low humidity. (9)
Propagation recommendations (plant seeds, vegetative parts, cuttings, etc.)
Direct seeding. (3)
Soil or medium requirements (inoculum necessary?)
Seedbed should be firm and free of weeds with good moisture to 4" depth. (3)
Installation form (form, potential for successful outcomes, cost)
Fields are seeded in either fall or late spring with two-row double-disk planter with depth bands,  at an optimum seeding depth of 0.6 cm (0.25 in). (3)
Recommended planting density
Row spacing should be 45-75cm and 60cm based on 200-400 pure live seeds per linear meter. The recommended seeding rate is 1-2 kg/ha. (9)
Care requirements after installed (water weekly, water once etc.)
Depending on the sight, sprinkler irrigation may be used from May through August to help establish spring-seeded stands. (9) Fertilizer application is not recommended the first year, as it generally stimulates weed growth and competition. (3)
Normal rate of growth or spread; lifespan
Growth rate is moderate (10) to rapid (7), reaching a height of about 3.4 ft at maturity. The lifespan is considered long. (10)
Sources cited
(1) NRCS Plant's Database <http://plants.usda.gov/cgi_bin/topics.cgi?earl=plant_profile.cgi&symbol=DECA18>
(2) Wisconsin Botanical Information System <http://www.botany.wisc.edu/wisflora/scripts/detail.asp?SpCode=DESCES>
(3)USDA, NRCS, Native Plant Network, Protocol Information <http://www.nativeplantnetwork.org/network/view.asp?protocol_id=1376,1567>
(4) Western Wetland Flora, Field Office Guide to Plant Species <http://www.kallnet.com/personal/western_flora/species/2/desccesp.htm>
(5)Hitchcock, A.S. 1971 Manual of the Grasses of the United States. Vol. I and II. New York: Dover Publications, Inc.
(6) Pojar, Jim and Markinnon, Andy. 1994. Plants of The Pacific Northwest Coast Washington, Oregon, British Columbia & Alaska. B.C Forest Service, Research Program.
(7) Sound Native Plants: <http://www.soundnativeplants.com/catalogemergents.htm#DECA>
(8) USDA Forest Service, Fire Effects Information System <http://www.fs.fed.us/database/feis/plants/graminoid/desces/all.html>
(9) Rose, Robin. Propagation of Pacific Northwest Native Plants. 1998. Oregon State University Press, Corvallis, OR, 97331.
(10) NRCS Plant's Data base: <http://plants.usda.gov/cgi_bin/plant_attribute.cgi?symbol=DECA18>
Data compiled by:
Thane Hill, June 3rd, 2005