Empetrum nigrum Black Crowberry (Empetraceae)
<![if !vml]>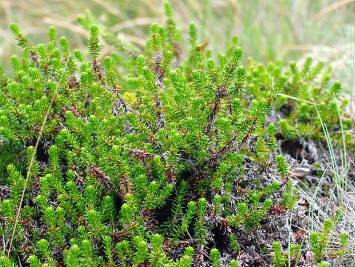 <![endif]>
J.S. Peterson @ USDA-NRCS PLANTS Database
Range: From southeast Alaska through Oregon – circumpolar in origin
Climate, Elevation: Exposed coastal heathlands and bogs.  Subalpine and alpine zones. 
Local occurrence: Open sites
Plant strategy: stress-tolerater, grows in the open
Associated species: Lupinus lepidus, Aster alpigenus, Erigeron aureus.
Plants flower from May to June, and seeds ripen in September.
Plant may be grown from seed or cuttings.  Growing from cuttings is more straight-forward. There is no detailed information about quantity or fertility of seeds.
Sow seed as soon as it is ripe.  Seed may require 5 months of warm and three months of cold stratification, but few controlled studies have been done.  Work done at Olympic National Park on other species of sub-alpine heathers suggests that no cold stratification is required.  Keep soil moist but not wet.  Misting is the best watering method. First year plants will be small.
Cuttings of 3 cm length (with a heel) can be rooted with good success.  Either new growth or mature wood of the current year's growth can be used. Keep cuttings moist until roots develop.
Soil in final planting location should be well drained.
Hitchcock and Cronquist describe the plant as hard to grow.
References
Hitchcock, C. L. and A. Cronquist. 1973. Flora of the Pacific Northwest. University of Washington Press. Seattle, Washington, USA.
Pojar, J. and A. MacKinnon. 1994. Plants of the Pacific Northwest Coast. Lone Pine Publishing. Vancouver, British Columbia, Canada.
Potash, L. and C. A. Aubry. (eds.) 1997. Native plant notebook: Mt. Baker-Snoqualmie National Forest.  North Cascades Institute. Sedro-Woolley, Washington, USA.
USDA, NRCS. 2006. The PLANTS Database, 6 March 2006 (http://plants.usda.gov). Data compiled from various sources by Mark W. Skinner. National Plant Data Center, Baton Rouge, LA 70874-4490 USA.
Data compiled by James A. Lutz, 2006.