Plant Data Sheet
<![if !vml]>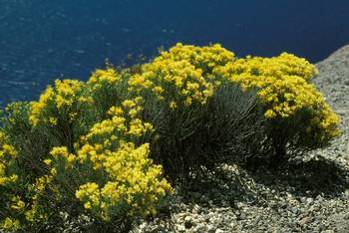 <![endif]>
Species (common name, Latin name)
rubber rabbit-brush, Ericameria nauseosa
Range
Chiefly east of the Cascades, British Columbia to Oregon, east to Montana.
Climate, elevation
Dry, open areas from the plains to moderate elevations in the mountains.  In Arizona it is found between 3,000-9,00ft.
Local occurrence (where, how common)
All over Eastern Washington.
Habitat preferences
It grows in dry plains, dry mountain sides, grasslands, open woodlands and roadsides
Plant strategy type/successional stage (stress-tolerator, competitor, weedy/colonizer, seral, late successional)
It is cold hardy, and tolerant of both moisture and salt stress.
Associated species
Chrysothamnus parryi (Parry rabbit-brush) is less shrubby, has larger leaves and smaller, paler flowers. Chrysothamnus viscidiflorus (Douglas rabbit-brush) and Chrysothamnus depressus (Dwarf rabbit-brush) are also similar to C. nauseosus and found west of the rockies.
May be collected as: (seed, layered, divisions, etc.)
Propagated by seeds and cuttings.
Collection restrictions or guidelines
Pollen may cause allergic reaction.  Best to collect in Autumn.
Seed germination (needs dormancy breaking?)
A stratification period is not necessary for rubber rabbit-rush but may speed germination. Stratification period may extend to 120 days. Without stratification, germination begins within 5 to 20 days after planting. In laboratory tests, germination rates are highest at 58 to 86 degrees Fahrenheit (20-30 oC) and lowest at 50 degrees Fahrenheit (10 oC). A specific light regime is not required, but germination can be inhibited by high saline concentrations
Seed life (can be stored, short shelf-life, long shelf-life)
Up to 3 year's storage under ordinary warehouse storage conditions. 
Recommended seed storage conditions
Germination in rubber rabbit-brush is quite high, and seed viability remains relatively high (65 percent) for up to 3 year's storage under ordinary warehouse storage conditions.
Propagation recommendations (plant seeds, vegetative parts, cuttings, etc.)
Can plant as seeds or container grown.  Seedlings sensitive to frost and drought. 
Soil or medium requirements (inoculum necessary?)
6.6 to 7.5 (neutral), 7.6 to 7.8 (mildly alkaline), 7.9 to 8.5 (alkaline) and sandy soil.  Grows on a wide range of soils. Soils tend to be medium to coarse-textured and somewhat basic, but may range from moderately acidic to strongly alkaline. This shrub commonly grows on dry, sandy, gravelly or heavy clay, and is somewhat salt tolerant.
Installation form (form, potential for successful outcomes, cost)
Container plants grown from seed or cutting.
Recommended planting density
It is fast growing and invades and occupies areas at high
densities.  Allow adequate space for rapid spread.
Care requirements after installed (water weekly, water once etc.)
Prefers full sun and well-drained, infertile soils. Fully cold-hardy. Drought hardy (i.e., needs no supplemental water after establishment on the Wasatch Front), and intolerant of overwatering.
Normal rate of growth or spread; lifespan
Spacing is 24-36 in. (60-90 cm).  Grows up to seven feet in height, but is often much shorter, depending on the growing conditions. The nauseosus has branches which are permanently felted with white or greenish-white hairs. The leaves are usually three-fourths to two and three-fourths inches long.  Plants may be full grown within 4 years.
Sources cited
http://jan.ucc.nau.edu/~plants-c/bio414/species%20pages/Ericameria%20nauseosa%20var.htm
http://davesgarden.com/pf/go/65435/index.html
http://extension.usu.edu/rangeplants/Woody/rubberrabbitbrush.htm
http://72.14.203.104/search?q=cache:hjsazlEO2PsJ:www.fs.fed.us/database/feis/plants/shrub/chrnau/botanical_and_ecological_characteristics.html+rubber+rabbitbrush,+seed+germination&hl=en&gl=us&ct=clnk&cd=1
Data compiled by (student name and date)
Steven Campbell 4-12-06