<![if !vml]>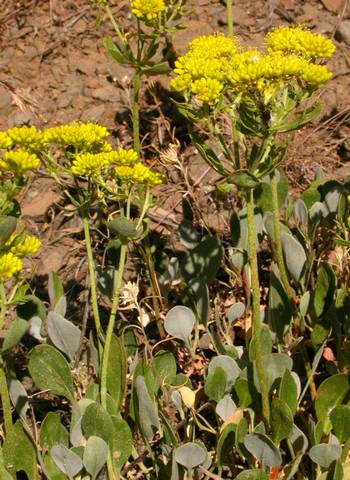 <![endif]>
Sulphur flowered-buckwheat, Eriogonum umbellatum
Range
Southern British Columbia south to California, and eastward to Colorado, Wyoming, Montana, and New Mexico.8, 9
Climate, elevation
Sea level to subalpine elevation, in dry areas with moderate to low rainfall.8,9
Local occurrence
Predominately east of the Cascades, but does occur in some counties west of the Cascades2.  Does not occur in King County2.
Habitat preferences
Dry open sites in valleys and on mountain slopes with rocky, sandy, and will drained soils.8,9
Plant strategy type/successional stage
Early primary succession in subalpine environments.11
Associated species
Arenaria,, Artemisia, Juniperus, Lupinus, Antennaria, Castilleja, Cisanthe, Polygonum, Aster, Abies lasiocarpa2
May be collected as:
Seed and soft-wood cutting.3
Collection restrictions or guidelines
Sulphur buckwheat flowers from June to August.10  Seeds (achenes) mature uniformly in approximately 6 to 8 weeks (August-sept), when the perianth is paper-dry (in some cases it turns a rust color) and the hard, filled seeds dehisce readily.4  Most of the flowers contain no fruits, but the fruits that are present are filled.6
Seed germination
E. umbellatum occupies a wide range of elevations and habitats; chilling requirements have been shown to vary considerably from one collection site to another.4  Schimdt found that it required no pretreatment and can be planted in the fall1.  Seeds are imbibed in water for 10 minutes prior to a 60 to 90 day cold moist stratification.4 Seeds are placed in fine mesh bags and buried in peat moss in ventilated containers under refrigeration at 3C.4  Many seeds had radicle emergence at 60 days in cold stratification at 3C.4
Seed life
Seed longevity is 5 to 7 years.4
Recommended seed storage conditions
Sealed containers at 3 to 5C with low relative humidity.4
Soil or medium requirements
Plant in a coarse soil medium<![if !supportFootnotes]>[1]<![endif]> and add a thin layer of sand or gravel to reduce damping off which caused the majority of seedling mortalities.5
Installation form
3" pots1
Recommended planting density
Seed is hand sown at the rate of 2 seeds per cell in 160 ml (7 cu. inch) pots4
Planting density per acre when outplanted: 1200-4800.7
Care requirements after installed
This species does not tolerate frequent irrigation4 or shade.7
Low water use, needs good drainage, does not like humid climates.3
Normal rate of growth or spread; lifespan
Mature height is 4-18 inches tall and 3 feet wide.3  Life expectancy can exceed 20 years.7
Sources cited
1Schmidt, M.G. 1980. Growing California Native Plants. Berkley, CA:  University of California Press. 366p.
2http://biology.burke.washington.edu/herbarium/imagecollection.php
3http://www.desert-tropicals.com/Plants/Polygonaceae/Eriogonum_umbellatum.html
4Corey, Susan; Luna, Tara. 2004. Propagation protocol for production of container Eriogonum umbellatum Torr. plants (116 ml conetainers); Glacier National Park, West Glacier, Montana.
5Parkinson, Hilary; DeBolt, Ann. 2005. Propagation protocol for production of container Eriogonum umbellatum Torr. plants; USDA Forest Service, Rocky Mountain Research Station, Boise, Idaho.
6http://www.utahschoice.org/FactsheetLinkpage.htm#
7http://plants.nrcs.usda.gov/cgi_bin/plant_attribute.cgi?symbol=ERUM
8Dayton, W.A. 1960. Notes on Western Range Forbs:  Equisetaceae through Fumariacea. USDA Forest Service Handbook No. 161 Washington D.C.: U.S. Government Printing Office. 71p.
9USDA Forest Service. 1988. Range Plant Handbook. New York: Dover Publications, Inc 816p.
10Stead, S., and R.L. Post. 1989. Sulfur flower, buckwheat (Eriogonum umbellatum). Plants for the Lake Tahoe Basin. Soil Conservation Service, Nevada Cooperative Extension. Fact Sheet 89-71.
11Wood, David M. and Roger del Moral. 1987. Mechanisms of Early Primary Succession in Subalpine Habitats on Mount St. Helens. Ecology: Vol. 68, No. 4, pp. 780–790.
Compiled by Scott Havill 4/12/2006