Plant Data Sheet
<![if !vml]>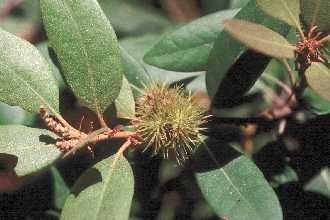 <![endif]>
Species (common name, Latin name)
Golden Chinkapin, Chrysolepis Chrysophylla
Range
ranges from western Washington south into central California.
Climate, elevation
1000-2000 m in the mountain slopes of the Pacific Coast region, may also be found in valleys and sheltered ravines.
Local occurrence (where, how common)
Several disjunct populations occur in western Washington in the vicinity of Puget Sound.
Habitat preferences
Forested slopes
Plant strategy type/successional stage (stress-tolerator, competitor, weedy/colonizer, seral, late successional)
may occur as either a subdominant tree or a dominant understory shrub, depending upon moisture conditions, elevation, and overstory density.
Associated species
Golden chinkapin grows in association with western juniper, canyon oak, and scrub oak
May be collected as: (seed, layered, divisions, etc.)
Hand pick the burs in late summer or early fall, after ripening but before they open. Spread them out to dry in a warm room and run through a fruit disintegrator or shaker to separate the nuts.
Collection restrictions or guidelines
The fruit ripens during August and September.
Seed germination (needs dormancy breaking?)
Seeds do not need to be cold stratified and can be planted directly into containers larger than 10 cm3 and covered with 5 cm of soil.  Survival after emergence can be problematic
Seed life (can be stored, short shelf-life, long shelf-life)
they will retain their viability for two to five years
Recommended seed storage conditions
Store the nuts in sealed containers at 5°C;
Propagation recommendations (plant seeds, vegetative parts, cuttings, etc.)
Seed - best sown in a cold frame as soon as it is ripe. As soon as they are large enough to handle, prick the seedlings out into individual pots and grow them on in a greenhouse for at least their first winter.
Soil or medium requirements (inoculum necessary?)
Dry rocky soils to deep rich soils.
Installation form (form, potential for successful outcomes, cost)
May be planted as seeds or seedlings.
Recommended planting density
300-700 plants per acre.
Care requirements after installed (water weekly, water once etc.)
Plant them out into their permanent positions in late spring or early summer, after the last expected frosts, and consider giving them some protection from the cold for their first winter outdoors.
Normal rate of growth or spread; lifespan
Slow growing with a moderate lifespan.
Sources cited
Propagation of Pacific Northwest Native Plants by Rose, Robin.; Chachulski, Caryn E. C.; Haase, Diane L.,  Corvallis Oregon State University Press, 1998.
Gardenbed.com, http://gardenbed.com/source/17/1654_gen.asp
Plants Database, http://plants.usda.gov
Data compiled by (student name and date)
Doug Schmitt   6-8-03