Ipomopsis

aggregata
(syn. Gilia aggregata)
Scarlet

Gilia

, Skyrocket
<![if !vml]>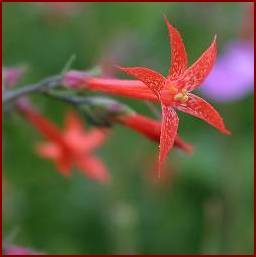 <![endif]>    <![if !vml]>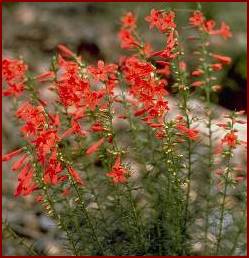 <![endif]> 
Photos courtesy of: © Judd Patterson and W.D. Bransford
Range
Grows in most of the western United States, from British Columbia south to California and Texas. (1,2)
<![if !vml]>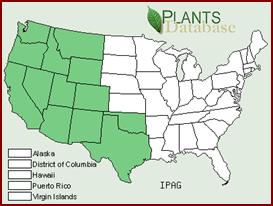 <![endif]>
Map courtesy of: USDA PLANTS Database
Climate, elevation
Grows at high elevations south of southern Washington and at most elevations east of the Cascades. Prefers warm, dry climate. (3, 4)
Local occurrence
Very common and widespread east of the Cascades. (2, 3)
Habitat preferences
Dry, rocky slopes; lightly wooded areas; grasslands, and open forests. (1,3,4)
Plant strategy type/

successional

stage
Often follows disturbance; mid-seral species.
Associated species
Eastern Cascades: common gaillardia (Gaillardia aristata), white sweet-clover (Melilotus alba), least bladdery milk-vetch (Astragalus microcystis), ponderosa pine (Pinus ponderosa).
May be collected as
Seed only, collect in summer. (1)
Collection restrictions or guidelines
No collection restrictions.
Seed germination
Requires no treatment. (1)
Seed life
No information available
Recommended seed storage conditions
No information available
Propagation recommendations
Propagate by seed into flats, covering the seeds lightly with soil.  Seeds will germinate best if flats are kept at 70°F.  Keep the soil moist until plants are well established. (1,7)
Soil or medium requirements
Will grow in a range of soil textures, but prefers well-drained medium; pH range of 7.0 to 8.5. (2)
Installation form
Direct seeding highly recommended; may also be installed as transplants. Must be grown in full or part sun. (6)
Recommended planting density
10,000 to 25,000 plants per acre (2)
Care requirements after installed
Whether direct seeding or transplanting, water regularly until plants become established. (1)
Normal rate of growth or spread; lifespan
Rapidly growing biennial or short-lived perennial; up to one meter tall and 0.3 meters wide. Scarlet gilia usually dies after flowering. (2,3,5,6)
Sources cited
1.  Rose, R., C.E.C. Chachulski and D.L. Haase.  Propagation of Pacific Northwest Native Plants.  Corvallis: Oregon State University Press. 
2.  PLANTS Database.  United States Department of Agriculture. http://plants.usda.gov/java/profile?symbol=IPAG. Accessed 20 April 2006.
3.  Pojar, J. and A. MacKinnon.  1994.  Plants of the Pacific Northwest Coast. Washington, Oregon, British Columbia and Alaska.  Vancouver, BC, Canada: British Columbia Ministry of Forests and Lone Pine Publishing.
4.  Hitchcock, C.L. and A. Cronquist.  1973.  Flora of the Pacific Northwest. Seattle, WA: University of Washington Press.
5.  Kruckeburg, A.R.  2003.  Gardening with Native Plants of the Pacific Northwest.  Seattle: University of Washington Press.
6. Plants for a Future Database. www.pfaf.org/database/plants.php?Ipomopsis+aggregata. Accessed 24 April 2006.
7. Rocky Mountain Rare Plants.  www.rmrp.com/.  Accessed 26 April 2006.
Data compiled by
Alaine Sommargren, 24 April 2006