Plant Data Sheet
Species
Tweedy's Lewisia,
 Lewisia tweedyi
<![if !vml]>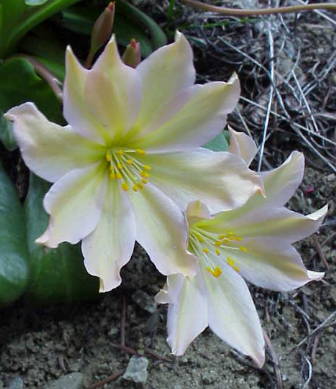 <![endif]>
Range
L. Tweedyi is endemic to the Wenatchee Mountains of central Washington's Chelan and Kittitas Counties. Also, it can be found in the Methow valley in B.C.
Climate, elevation
Well drained mountain ecosystems with full sun. 
Local occurrence
Wenatchee Mountains in Central Washington and the Methow Valley in B.C.
Habitat preferences
L. Tweedyi grows primarily in dry rocky banks and talus slopes with full sun where ponderosa pine is found.
Plant strategy type/successional stage
A perennial evergreen plant which specializes in living on dry rocky areas so it encounters little competition.
Associated species
L. Tweedyi Is commonly found with ponderosa pine. It is also related to a Lewisia found in more moist sandy soils near the Colombia.
May be collected as:
Can be collected as seeds or cuttings in mid June. (Gnps.org)
Collection restrictions or guidelines
The seeds have a sweet scent and come from a 10-20cm flower which is pink to yellow in color. (cwnp.org) Plants do not go to seed very well outside of the wild, so they are often propagated by stem cuttings which should be planted in early spring. (paghat.com)
Seed germination (needs dormancy breaking?)
Seeds should be stratified for the winter, or sewn during fall in a place with cold winters as to break dormancy.
Seed life (can be stored, short shelf-life, long shelf-life)
It is best to use the seeds the season they are collected. However, if needed they should be cleaned of the sweet skin, which may contain a germination inhibitor, dried in a paper bag and stored in a cool place.
Recommended seed storage conditions
In a paper bag in a cool place.
Propagation recommendations (plant seeds, vegetative parts, cuttings, etc.)
Seeds should be planted in early spring after sufficient cold stratification. (Susansgardenpatch.com)Cuttings should also be planted at this time.
Soil or medium requirements (inoculum necessary?)
"Well drained gritty soil in full sun" (Susansgardenpatch.com).
Installation form (form, potential for successful outcomes, cost)
After the plant has had sufficient time to establish it can be transplanted to the intended site.
Recommended planting density
Care requirements after installed (water weekly, water once etc.)
As L. Tweedyi is used to excessively well drained soils, watering should be done in small amounts. The pots can be kept on a layer of saturated sand so only the lower roots can access the water.
Normal rate of growth or spread; lifespan
Grows slowly and can life for many years, though not much is written about the lifespan. Populations spread very slowly as they rely on ants for seed distribution.
Sources cited
Pojar, Jim and Andrew MacKinnon. 1994. Plants of the Pacific Northwest Coast Washington, Oregon British Columbia & Alaska. BC Ministry of Forests and Lone Pine Publishing, Vancouver, British Columbia, Canada
http://www.gnps.org Georgia Native Plant Society
http://www.cwnp.org/photopgs/ldoc/letweedyi.html      Central Washington Native Plants
http://www.susansgardenpatch.com/rock15.htm   Susan's Garden Patch
http://www.paghat.com/lewisia7.html    The Garden of Paghat
http://www.em.ca/garden/per_lewisia_tweedyi1.html    Perennial Gardening on the Prairies
Data compiled by (student name and date)