<![if !vml]>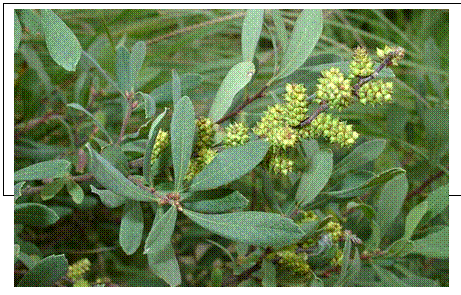 <![endif]>
Myrica gale- Sweet gale
Range: Circumpolar distribution.  Alaska to Newfoundland, south to northwest Oregon, British Columbia, Michigan, Wisconsin, Virginia; and in the Appalachians to Tennessee and North Carolina. (Spear Cooke 1997)
Climate, elevation: Mostly at low elevations. (Pojar 1994)
Local occurrence: Not specified.
Habitat preferences: Wetlands (bogs, fens, swamps, upper fringes of salt marshes, lake margins). (Pojar 1994)  Full sun and wet moderately nitrogen-rich soils.  It is sumbiotic with a nitrogen-fixing bacterium. (Spear Cooke 1997)
Plant strategy type/successional stage: Small deciduous shrub, male and female flowers are born on separate plants. (Spear Cooke 1997)
Associated species: Spirea douglasii, Carex obnupta, and Carex aquatilis.
May be collected as:   Ripe fruit (drupe). (USDA 1974)
Collection restrictions or guidelines:  Not specified.
Seed germination:  Remove waxy coating prior to stratification or sowing.  Light is essential for the germination of this species. (USDA 1974)  Germination is accelerated by 30-90 days of pre-chilling.  Dewaxed fruits show some germination enhancement from gibberellin enrichment. (Young & Young 1992). 
Seed life: Seeds may be initially viable for 9 months with waxy coating intact, or 6 months if removed. (USDA 1974)
Recommended seed storage conditions:  Store with waxy coating intact, in dry storage at room temperature. (USDA 1974)
Propagation recommendations: Seed germination requires cold stratification  . (USDA 2004)
Soil or medium requirements:  Not specified.
Installation form: Not specified.
Recommended planting density: 3500-7000 per acre. (USDA 2004)
Care requirements after installed: Not specified.
Normal rate of growth or spread: Moderate growth rate (USDA 2004)
Sources cited:
Pojar, J., MacKinnon, A. 1994.  Plants of the Pacific Northwest Coast. Lone Pine Publishing Vancouver British Columbia.
Spear Cooke, S. 1997. A Field Guide to the Common Wetland Plants of Western Washington & Northern Oregon.  Seattle Audubon Society. Seattle, WA.
USDA, Forest Service. 1974. Seeds of woody plants in the United States. U.S. Dep. Agric., Agric. Handb. 450
USDA, NRCS. 2004. The PLANTS Database, Version 3.5 (http://plants.usda.gov). National Plant Data Center, Baton Rouge, LA 70874-4490 USA.
Young, C., Young, J. 1992. Seeds of woody plants in North America.  Dioscorides Press, Portland, OR.
Data compiled by:  Jennifer Boardman  05/17/04