<![if !vml]>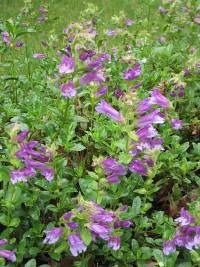 <![endif]>
Species
Penstemon cardwellii
Cardwell's Penstemon                                          
Range
Cascade Mountains, and coast range of Oregon
Climate, elevation
Wide range of climates at mid-high elevations
Local occurrence
Found from northern Skamania County in southern Washington south through the Cascades to the Klamath region in southwestern Oregon, and west to the Coast Range where it is found northwards to Tillamook County, OR. Also found in the Columbia River Gorge.
Habitat preferences
Common in open forest, forest edges, open, often rocky slopes, and cutbanks. Prefers light shade to full sun. Tolerant of deer, drought, heat and humidity.
Plant strategy type/successional stage
Late seral to climax species
Associated species
Rubus spp., Ribes spp., Alnus sinuata, Agrostis diegoensis, Luzula parviflora, Anaphalis margaritacea.
May be collected as:
Seed, Cuttings
Collection restrictions or guidelines
Allow pods to dry on plant, break open to collect seeds
Seed germination
1-3 months at 13-18°C. Then germinate barely covered in late spring, early fall.
Seed life
Long shelf life
Recommended seed storage conditions
Sealed containers around 1° to 3°
Propagation recommendations
From woody stem cuttings: plant in late summer
From seed: direct sow outdoors in late spring, early fall
Winter sow in vented containers, coldframe or unheated greenhouse
Stratify if sowing indoors
Soil or medium requirements
pH 5-7.5
Installation form
Seed, cuttings
Recommended planting density
Not available
Care requirements after installed
Water regularly, do not overwater
Normal rate of growth or spread; lifespan
Perennial
Spreading – sprawls across ground rooting at nodes
Sources cited
http://72.14.207.104/search?q=cache:3GRD7Q2zF9EJ:faculty.washington.edu/moral/publications/RDMetal1995JVS.pdf+associated+species+of+penstemon+cardwellii&hl=en&gl=us&ct=clnk&cd=5

Pojar

, J. and A. MacKinnon.

 

1994.

 

Plants of the Pacific Northwest Coast. Washington, Oregon, British Columbia and Alaska.

 
Data compiled by
Kelly Sutton
May 10, 2006