Phyllodoce glanduliflora Yellow mountainheath (Ericaceae)
<![if !vml]>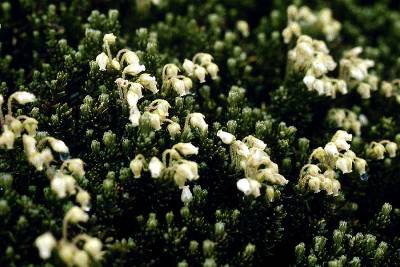 <![endif]>
Margaret Williams @ USDA-NRCS PLANTS Database
Range: From coastal Alaska to Washington state and southwards into Oregon in the Cascades. Near sea level at Prince William Sound, but usually in the alpine or subalpine zones.
Climate, elevation: Middle to high elevations, up to the highest elevations occupied by vascular plants.
Local occurrence: Common at higher elevations.
Habitat preferences: Rocky sites, moist areas, bogs.
Plant strategy: An evergreen shrub of high elevations, it is a stress tolerater.  Grows in the open.
Associated species: Phyllodoce empetriformis, with which is sometimes hybridizes., Lupinus lepidus, Aster alpigenus, Erigeron aureus.
May be collected as seed, cuttings or layering.  Cuttings are the easiest method of propagation.
Collect seeds from early September until snowfall. Clip off the entire inflorescence and store in paper bags.  Dry with seed heads upside down (so seeds fall out). Seeds are very small. Cold stratification is probably unnecessary.  Sow seeds on soil surface.  Seedlings require one full year before they can be transplanted into pots.  Protect seedlings from desiccation and direct sunlight.
Collect cuttings in late summer or early fall.  Take lateral vegetative shoots 3-5" long. Clip between the hardwood (mature secondary growth) and the current year's growth. Keep cuttings cool and most. Remove leaves within 1/2" of the end of the cutting.  Soak in rooting hormone for 1-3 days.  Keep cuttings moist (misting best) and fertilize every 2 weeks.  Cuttings can be transplanted after 3-4 months.
Hitchcock and Cronquist describe the plant as nearly impossible to grow and get to flower in gardens.
References
Hitchcock, C. L. and A. Cronquist. 1973. Flora of the Pacific Northwest. University of Washington Press. Seattle, Washington, USA.
Pojar, J. and A. MacKinnon. 1994. Plants of the Pacific Northwest Coast. Lone Pine Publishing. Vancouver, British Columbia, Canada.
Potash, L. and C. A. Aubry. (eds.) 1997. Native plant notebook: Mt. Baker-Snoqualmie National Forest.  North Cascades Institute. Sedro-Woolley, Washington, USA.
USDA, NRCS. 2006. The PLANTS Database, 6 March 2006 (http://plants.usda.gov). Data compiled from various sources by Mark W. Skinner. National Plant Data Center, Baton Rouge, LA 70874-4490 USA.
Data compiled by James A. Lutz, 2006.