<![if !vml]>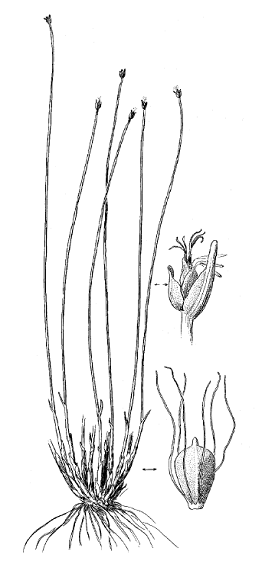 <![endif]>Tufted Clubrush, Scirpus cespitosus (Trichophorum cespitosum)
Range: It is common throughout the country.
Climate, elevation: Found from gravely shores to wet tundra.
Local occurrence: Common in the Pacific North West coast and mountains.
Habitat preferences: It is found in bogs, gravely coast, or wet tundra. Often found in the dryer area of a bog that is regularly burned.
Plant strategy type/successional stage: This plant is a hearty sedge that comes from a short rhizome.
Associated species: Related to American bulrush, which I more common at lower elevations
May be collected as: Seed or by splitting apart a tussock of rhizomes.
Collection restrictions or guidelines: Seeds can be collected as a seed-like achene in July- August. 
Seed germination: No dormancy breaking or stratification requirements
Seed life: Can be dried and stored
Recommended seed storage conditions: Dried and stored in cold place
Propagation recommendations: can be propagated by seed, but easiest to separate a clump of them.
Soil or medium requirements: Coarse material with peat, to simulate a bog.
Installation form: After propagating from seed or rhizomes it is easiest to install from small pots into a wet environment.
Recommended planting density: Should not be to dense, as the rhizome will send up new shoots.
Illustration by Jeanne R. Janish,
From 'Vascular Plants of the Pacific Northwest'
Care requirements after installed: If in a sufficiently wet area, all it will require is weed suppression while it establishes.
Normal rate of growth or spread; lifespan: This is not known to be a quickly spreading plant, but once it establishes the dense rhizomes will suppress invasives.
Sources cited
http://plants.nrcs.usda.gov/cgi_bin/topics.cgi?earl=plant_attribute.cgi&symbol=TRCA30
http://www.ipcc.ie/bicresourcespr3.html
http://nhp.nris.state.mt.us/plants/illust/sid990i.pdf
Pojar J., McKinnon A.,1994 Plants of the Pacific Northwest, B.C. Ministry of Forests and Lone Publishing, Canada
Data compiled by: Josh Hegarty 5/06