Yellow Pond Lily, Spatterdock (Nuphar polysepalum)
<![if !vml]>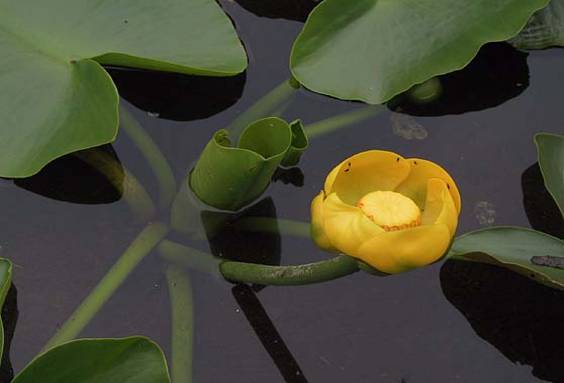 <![endif]>
                                                                                                                        Gerald Carter
Range:  Alaska southwards to California, Rocky Mountains
Climate:  Low to middle elevations in moist, temperate regions
Local Occurrence:  locally abundant in slow, shallow water
Habitat Preferences:  Shallow ponds and lakes, extremely slow moving streams
Plant Strategy:  Aquatic perennial with huge, thick "prehistoric looking" rhizome.  Leaves and flowers float on surface.  Rhizome is medicinal, seeds were a food staple of various native groups.
Associated Species:  Cattail (Typha spp.), Wild Iris (Iris spp.),  Scirpus spp., Carex spp.
May Be Collected As:  Seeds, Rhizomes
Collection Guidelines:  Collect seeds late summer to early fall, rhizomes in spring.  Collecting seeds is easy enough from a canoe, but rhizomes may require diving underwater to successfully pry them from the substrate.
Seed Germination:  Stratify in cold water fro 2-6 months
Seed Life:  18 months is stored properly.
Seed Storage:  Store in cold water, drying or storing in room temperature water will result in minimal or unsuccessful germination.
Propagation:  Reproduction occurs both by seed and rhizomes.  Roots can be divided in spring when leaves first appear and transplanted to deep wet beds (preferably at least 2 ft. of water) or to site directly.
Soil/Medium Requirements:  Sand, mud with some organic material
Installation Form: Small plant with submersed leaves from one gallon pots; or the cheaper option - 8 to 12" length of rhizome (bare-root)
Planting Density:  5 ft. apart in at least 2 feet of water.
Care Requirements After Installation:  None
Lifespan/Growth Rate:  Very fast, with rapid spread, providing shelter and food for fish and wildlife.
Sources:
http://www.dep.state.fl.us/lands/invaspec/2ndlevpgs/pdfs/Circular4.pdf
http://www.suresoft.ca/G014/G14H.HTM
Muenscher, W.C. 1936. Storage and germination of seeds of aquatic plants.  New York (Cornell University) Agr. Exp. Sta. Bul. 652, pp. 1-17.
Pojar J., McKinnon A.,1994 Plants of the Pacific Northwest, B.C. Ministry of Forests and Lone Publishing, Canada.
Schofield, J.J. 1989.  Discovering Wild Plants:  Alaska, Western Canada, The Northwest, Alaska Northwest Books, Portland.
Data Compiled by Shannon Kachel, Spring 2006