Species (common name, Latin name)
White fir, Abies concolor
<![if !vml]>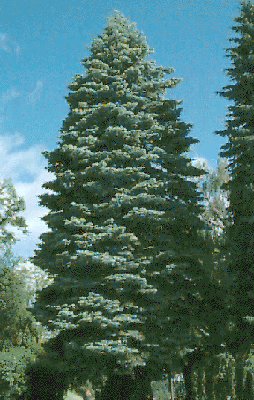 <![endif]>
Range
The native range of white fir extends from the mountainous regions of the Pacific coast to central Colorado, and from central Oregon and southeastern Idaho to northern Mexico.1
Climate, elevation
Over its entire range, white fir grows in cold, high elevations and in warm-to-hot low elevations. Precipitation ranges from 890 mm (35 in) to 1900 mm (75 in) or more per year. California white fir grows best in the southern Cascades and western slopes of the Sierra Nevada, where precipitation is generally between 990 and 1240 mm (39 to 49 in). Locations receiving 1500 mm (59 in) or more are not uncommon, however.1
Elevations range from a minimum of 600 m (1,970 ft) in the headwaters of the Willamette River of central Oregon to a maximum of almost 3400 m (11,150 ft) east of the continental divide in central Colorado.2
Local occurrence
No local populations2
Habitat preferences
The species grows on various types of terrain, including the extremely steep and unstable slopes of the geologically young Coast Ranges in northwestern California. It develops best on gentle slopes and level ground.2
Plant strategy type/successional stage
California white fir is a major climax component throughout the mixed conifer forests within its range. It is displaced successionally only at its northern limits in Oregon, where western hemlock (Tsuga heterophylla) and perhaps western redcedar (Thuja plicata) replace white fir as a climax species on moister sites.3
Associated species
Abies grandis, Arbutus menziesii, Lighocarpus densiflorus, Calocedrus decurrens, Pinus ponderosa, Quercus kelloggii, Thuja plicata, Tsuga heterophylla2
May be collected as
Seeds4
Collection restrictions or guidelines
The seed matures in September, up to 3 weeks before seedfall.5
Seed germination
Physiological dormany4
Seed life
The seed remains viable for up to 5 years if it is well stored.6
Recommended seed storage conditions
Unknown
Propagation recommendations
Seeds are placed in cold moist stratification for 0 to 60 days. Germination occurs at 30D/20N C alternating temperature cycle.4  Sow early February in a greenhouse or outdoors in March.7 Germination is often poor, usually taking about 6 - 8 weeks.7 Stratification is said to produce a more even germination so it is probably best to sow the seed in a cold frame as soon as it is ripe in the autumn.6,8
Soil or medium requirements
The plant prefers light (sandy), medium (loamy) and heavy (clay) soils and can grow in heavy clay and nutritionally poor soils. The plant prefers acid and neutral soils.5
Installation form
Container4
Recommended planting density
9Maximum planting density per acre- 1200
9Minimum planting density per acre- 300
Care requirements after installed
It can grow in full shade (deep woodland) semi-shade (light woodland) or no shade. It requires dry or moist soil.5
Normal rate of growth or spread; lifespan
45m by 8m at a fast rate5
Sources cited
1Fowells, H. A., comp. 1965. Silvics of forest trees of the United States. U.S. Department of Agriculture, Agriculture Handbook 271. Washington, DC. 762 p.
2http://www.na.fs.fed.us/spfo/pubs/silvics_manual/Volume_1/abies/concolor.htm
3Franklin, Jerry F., and C. T. Dyrness. 1973. Natural vegetation of Oregon and Washington. USDA Forest Service, General Technical Report PNW-8. Pacific Northwest Forest and Range Experiment Station, Portland, OR. 417 p.
4Baskin, Carol C.; Baskin, Jerry M. 2002. Propagation protocol for production of container Abies concolor (G&G) Lindl. plants; University of Kentucky, Lexington, Kentucky. In: Native Plant Network. URL: http://www.nativeplantnetwork.org (accessed 8 June 2006). Moscow (ID): University of Idaho, College of Natural Resources, Forest Research Nursery.
5Oliver, William W. 1974. Seed maturity in white fir and red fir. USDA Forest Service, Research Paper PSW-99. Pacific Southwest Forest and Range Experiment Station, Berkeley, CA. 12 p.
6Dirr. M. A. and Heuser. M. W. The Reference Manual of Woody Plant Propagation. Athens Ga. Varsity Press 1987.
7Sheat. W. G. Propagation of Trees, Shrubs and Conifers. MacMillan and Co 1948.
8McMillan-Browse. P. Hardy Woody Plants from Seed. Grower Books 1985.
9http://plants.nrcs.usda.gov/cgi_bin/topics.cgi?earl=plant_attribute.cgi&symbol=ABCO
Data compiled by (student name and date)