Plant Data Sheet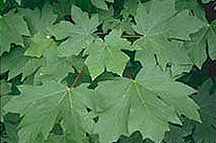 Species
Big leaf maple, Acer macrophyllum
Range
Southwest British Columbia to Southern California.
Climate, elevation
Sea level to 2000 m
Local occurrence (where and how much)
Entire state of Washington.
Habitat preferences
Small forest openings and open areas.
Plant strategy type/successional stage
Early successional stage
Associated species 
Acer circinatum, Acer glabrum
Maybe collected as: (seed, layered, divisions, etc.)
Seed, salvage
Collection restrictions or guidelines
Collect as late as possible, but before the rains (between October through January)
Seed germination (needs dormancy breaking?)
Cold stratify at 1-5 degrees C, 40-80 days prior to sowing
Seed life (can be stored, short shelf life, long shelf life)
Short seed life, decay quickly. Possible to store for 1 year or more, if collected when seed is at lowest moisture.
Recommended seed storage conditions
Store at 1 degree C until stratifying begins.
Propagation recommendations (plant seeds, vegetative parts, cuttings, etc.)
Plant seeds, salvage plants with three for more leaves, grow in containers for two years before planting.
Soil or medium requirements (inoculum necessary?)
Prefers alluvial soils.
Installation form (form, potential for successful outcomes, cost)
Seeds or container plants grown from seed, salvage, bare root.
Recommended planting density  
300 – 700 per acre, 6 – 10 O.C.
Normal rate of growth or spread: lifespan
Perennial, high seed production after ten years.
Sources cited  
Pojar, J. and A. MacKinnon. 1994. Plants of the Pacific Northwest Coast
Washington, Oregon British Columbia & Alaska. BC Ministry of Forests and Lone
Pine Publishing, Vancouver, British Columbia, Canada p.45
USDA, NRCS. 2002. The PLANTS Database, Version 3.5 (http://plants.usda.gov). National Plant Data Center, Baton Rouge, LA 70874-4490 USA.
The Plants Database. http://plantsdatabase.com  
Dug Schmitt