<![if !vml]>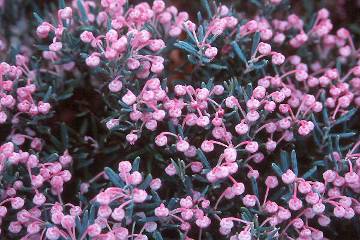 <![endif]>
Image from Oregon State University6
Plant Data Sheet:  Bog Rosemary (Andromeda polifolia)
Range
Bog rosemary is a circumboreal species ranging from Alaska to Labrador, and south to Washington and Idaho.  It can also be found in northern and central Europe and northern Asia.5,10
Climate, elevation
Bog rosemary prefers cool, temperate climates, and low to subalpine elevations of 6 to 1695 meters.4,6,8
Local occurrence (where, how common)
Bog rosemary may be found in Washington bogs, fens, and swamps.8
Habitat preferences
Bog rosemary prefers sun to light shade in the acid environment of bogs, fens, and swamps.6,8
Plant strategy type/successional stage (stress-tolerator, competitor,
weedy/colonizer, seral, late successional)
N/A
Associated species
Bog rosemary may be found living among black spruce (Picea mariana), tamarack (Larix laricina), bog birch (Betula pumila), leatherleaf (Chamaedaphne calyculata), bog laurel (Kalmia polifolia), large cranberry (Vaccinium macrocarpon), small cranberry (Vaccinium oxycoccus) wild calla (Calla palustris), wool fruited sedge (Carex lasiocarpa), round leaf sundew (Drosera rotundifolia), cotton sedge (Eriophorumvaginatum), purple pitcher plant (Sarracenia purpurea), and  sphagnum moss (Sphagnum spp.).9
May be collected as: (seed, layered, divisions, etc.)
Bog rosemary may be collected as seed, cuttings, and divisions.7
Collection restrictions or guidelines
Sow bog rosemary seeds in February and March, collect cuttings in November and December, and collect divisions in early spring.1,7
Seed germination (needs dormancy breaking?)
To break bog rosemary seed dormancy, perform cold stratification for 1-2 months at 12°C.  It has been observed that seeds sown in June produce sporadic germination, whereas those returned to the cold then to warm result in heavy germination.1,7
Seed life (can be stored, short shelf-life, long shelf-life)
Information on seed life was unavailable.
Recommended seed storage conditions
Information on seed storage conditions was unavailable.
Propagation recommendations (plant seeds, vegetative parts, cuttings, etc.)
Seeds and cuttings are recommended for the propagation of bog rosemary.  Sown seeds can be planted after two years growth.  Softwood cuttings collected in November and December will take root within 4-5 weeks or can be grown and then planted in about a year.1,2,3
Soil or medium requirements (inoculum necessary?)
Bog rosemary needs permanently moist, acid soil, so finely milled peat will work for sowing seeds.2  For cuttings use 8000ppm IBA-talc plus thiram.1
Installation form (form, potential for successful outcomes, cost)
Seedlings and cuttings are recommended installation forms for bog rosemary.  Seedlings may be planted in early summer once they reach 15cm in height, but they should overwinter in a greenhouse.  Cuttings planted in summer will take root in approxiamately 15 months.7
Recommended planting density
It is recommended that bog rosemary be planted at 24-36 inch (60-90 centimeters) intervals.11
Care requirements after installed (water weekly, water once etc.)
Plant in permanently moist soil.2
Normal rate of growth or spread; lifespan
Bog rosemary reaches may reach 16 inches (40 centimeters) in height.2
Sources cited
(1)  Dirr, Michael A. and Charles W. Heuser, Jr.  The Reference Manual of Woody Plant Propagation.  From Seed to Culture.  Varsity Press, Athens, GA, 1987.
(2)  Heuser, Charles W., Jr., PhD.  The Complete Book of Plant Propagation.  Reed International Books Limited, 1997.
(3)  Hills, Lawrence D.  The Propagation of Alpines.  Theophrastus (Sakonnet), 1976.
(4)  Klinkenberg, Brian. (Editor) 2004. E-Flora BC: Electronic Atlas of the Plants of British Columbia [www.eflora.bc.ca]. Lab for Advanced Spatial Analysis, Department of Geography, University of British Columbia, Vancouver. Retrieved April 18, 2006.
(5)  Hitchcock, C.L. and Cronquist, A.  Flora of the Pacific Northwest.  University of Washington Press, 2001.
(6)  Oregon State University, Department of Horticulture.  http://www.oregonstate.edu/dept/Idplants/.  Retrieved April 12, 2006.
(7)  Plants for a Future.  http://www.pfaf.org.  Retrieved April 12, 2006.
(8)  Pojar, J. and MacKinnon, A.  Plants of the Pacific Northwest Coast: Washington, Oregon, British Columbia, & Alaska.  Lone Pine Publishing, Vancouver, B.C., 2004.
(9)  Rook, Earl J.S.  Flora, Fauna, Earth and Sky…  The Natural History of the Northwoods.  http://www.rook.org.  Retrieved April 18, 2006.
(10)  University of Connecticut Plant Database of Trees, Shrubs, and Vines.  http://www.hort.uconn.edu/plants.  Retrieved April 18, 2006.
(11)  Whitinger, Dave.  Dave's Garden.  http://davesgarden.com.  Retrieved April 24, 2006.
Data compiled by (student name and date)
Joy Wood 5/8/06