Plant Data Sheet
<![if !vml]>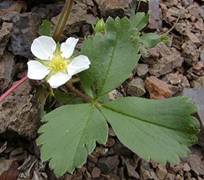 <![endif]>
Copyright © 2005 Tim Hagan. All rights reserved.
<![if !vml]>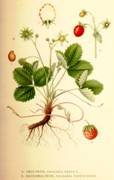 <![endif]>http://www.wnps.org/plants/fragaria_vesca.html
http://runeberg.org/nordflor/pics/301.jpg
Species: Fragaria vesca, woodland strawberry
Range: North America and Europe (1)
Climate, elevation: low to subalpine areas, south of 55˚N (4)
Local occurrence: Iron Goat trail, near Stevens Pass (1)
Habitat preferences: Clearings or open forests (4)
Plant strategy type/successional stage: low-growing perennial with long stolons (5)
Associated species: Cedar/Hemlock forest margin(2)
May be collected as: Seeds , stolons with plantlets, or divided plants (2)
Collection restrictions or guidelines: Divide plants in spring or fall. Seed is collected when the fruits turn red in mid summer. Seed can be processed by maceration of the fruit using a Dyb-vig cleaner, followed by washing and screening.(2)
Seed germination:  Seeds must be stratified for 85 days to break physiological dormancy.(2)  Sow indoors 2 months before last frost date. Press into the soil firmly. Cover with paper to exclude light. Keep moist. Germination will occur in 2-3 weeks at an optimum soil temperature of 65-75°F. Up-pot at 3-4 weeks and transplant outside after the danger of frost has passed or direct seed outside as soon as the soil warms. (6)
Seed life: 2 years (6)
Recommended seed storage conditions:  Unknown.
Propagation recommendations: Seeds or cuttings
Soil or medium requirements: Prefers a fertile, well-drained, moisture retentive soil(3) or moist sterile seeding mix (6)
Installation form: Bare root or in 2 or 4" pots (2)
Recommended planting density: 8-12" apart (6).
Care requirements after installed: Water weekly at least in first year after installation (7).
Normal rate of growth or spread; lifespan: Establishes quickly, but individual plants can lose vigor after three years (3).
Sources cited:
1. Washington Native Plant Society:
http://www.wnps.org/plants/fragaria_vesca.html
http://www.wnps.org/plant_lists/counties/king/documents/IronGoatTrail.doc
2. Native Plant Network: http://www.nativeplantnetwork.org/network/view.asp?protocol_id=212
3. Plants for a Future database: http://www.pfaf.org/database/plants.php?Fragaria+vesca+'Semperflorens'
4. Plants of the Pacific Northwest Coast: Washington, Oregon, British Columbia & Alaska.  Jim Pojar and Andy Mackinnon.  (Vancouver, BC: Lone Pine Publishing, 1994)
5. borealforest.org: http://www.borealforest.org/herbs/herb14.htm
6. Territorial Seed Company: http://www.territorial-seed.com/stores/1/Strawberry_Seed_Culture_Infor_W73C28.cfm?UserID=16105573&jsessionid=8c305d0d5e14$2B$23Lt
7.  BackyardGardener.com: http://www.backyardgardener.com/plantname/pda_2e00.html
Data compiled by Deborah Brown, May 7, 2006