Plant Data Sheet
<![if !vml]>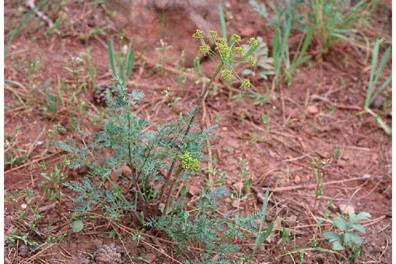 <![endif]> 
Species: Lomatium dissectum v. dissectum. Fern-leaved desert parsley.
Native Name: chalủksh
Traditional uses: Medicine, also comprises a major portion of the root vegetables used by the interior plateau peoples of British Columbia, Washington Idaho and Montana.
Range:
<![if !vml]><![endif]>
Elevation: From low to mid elevations.
Local occurrence: L. dissectum is found from British Columbia and Alberta south to California, Colorado and Arizona. Low to mid elevations.
Habitat preferences:  Grows on open, dry, rocky slopes. Drought tolerant.
| | |
| --- | --- |
| Intermediate Shade Tolerance | |
May be collected as: seed, tubers
Seed germination: Seeds exhibit morpho-physiological dormancy, cold stratification
Propagation recommendations: Seeds are placed in cold moist stratification for 330 days. Germination occurs at 18 C
Soil or medium requirements: Fine, medium, coarse soils. ph minimum 6.5 ph maximum 7.5. Root depth 12 inches
Installation form: Container (plug), Bare root
Recommended planting density: Minimum-maximum.
Normal rate of growth or spread lifespan: Perennial, blooms early summer, fruits spring-fall, rapid growth period spring-summer. Short life span. Slow vegetative spread.
Sources:
Hunn, Eugene. Ethnobiology class notes.
Natural Resources Conservation Service http://plants.usda.gov/cgi_bin/topics.cgi?earl=plant_profile.cgi&symbol=LODI
Data compiled by: Karen Suyama June 2005
Pojar J., McKinnon A.,1994 Plants of the Pacific Northwest, B.C. Ministry of Forests and Lone Publishing, Canada