<![if !vml]>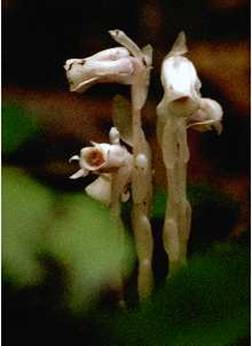 <![endif]>
(USDA)
Plant Data Sheet
Species:  Indian Pipe( Monotropa uniflora), also ghost plant, corpse plant
Range: Northern states and southern provinces of Canada, Zones 6A- 8B
Climate, elevation: Higher elevations, moist
<![if !vml]>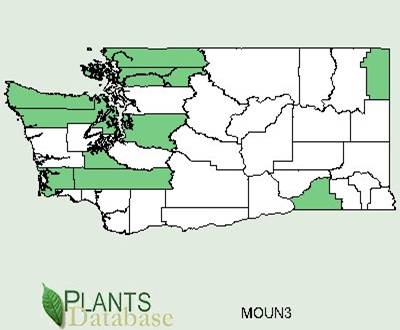 <![endif]>Local Occurrence: North Baker Lake, Lake Wenatchee, Alpine Wilderness Area
Habitat preferences: Grows in rich moist woods, in Washington Douglas-fir is a frequent cosymbiont. This species lacks chlorophyll and is considered to be a saprophytic plant. It obtains nutrients through symbiotic relationships with certain soil fungi that are found in decaying plant roots,
Plant strategy type/successional stage:  Lacking chlorophyll, Monotropa uniflora cannot photosynthesize. It instead acquires carbon-rich photosynthates in another way: from a nearby tree, via a shared fungal root-association.
Associated species:  Hypopitys monotropa, Pinesap, Ericacaea(Heath Family)
May be collected as: seed
Collection restrictions or guidelines: Allow pods to dry on plant; break open to collect seeds.
Seed germination : Fungal-induced seed germination is a phenomenon characteristic of mycorrhizal plants that produce dust-like seeds with only minimal nutritional reserves. In such systems, fungi trigger germination and/or subsidize development.
Seed life: Seeds have short shelf life planted in Autumn-Spring
Recommended seed storage conditions: dry
:
Propagation recommendations:  From seed winter sow in vented containers, coldframe or unheated greenhouse. Sow the seed in leaf litter under trees where host plant occurs. Monotropa uniflora has delicate root systems that resist transplanting.
Soil or medium requirements: Moist soil
pH requirements:
5.1 to 5.5 (strongly acidic)
5.6 to 6.0 (acidic)
6.1 to 6.5 (mildly acidic)
Installation form (form, potential for successful outcomes, cost): The plant roots also have a symbiotic relationship with a particular species of soil fungi (pH dependant) to supplement its diet. It is difficult to grow these outside the natural environment in which they were found.
Recommended planting density: 3-6 "
Care requirements after installed: Requires consistently moist soil, do not let dry out between waterings
Normal rate of growth or spread; lifespan: Grows to 12", perennial
Sources cited:
1.Washington Native Plant Society Plant List
2. Mathews, D. (1990). Cascade-Olympic Natural History. Raven Editions.
3. Armstrong, M. (1915). Field Book of Western Flowers. C.P. Putman's Sons
4.http://www.horticopia.com/hortpix/index.html,
6. Molecular Ecology
Volume 14 Page 1549 – April 2005
Volume 14 Issue 5
Data Compiled by Maura Shelton April 13, 2006