Plant Data Sheet
<![if !vml]>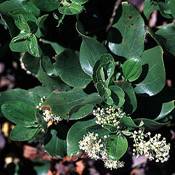 <![endif]>
Species (snowbrush, Ceanothus velutinus Dougl. Ex Hook.)
2 varieties: var. velutinus, var. hookeri M.C. Johnston
Range
var. velutinus: widespread across west – B.C. through CA and NV and east of Cascades to SD and CO
var. hookeri M.C. Johnston: west side of Cascades from northern CA to B.C.
Climate, elevation
Wide elevational distribution. 1500-7000 feet in WA and OR. Common on sites with 18-23 inches of annual precipitation and warm, dry summers.
Local occurrence (where, how common)
Early to mid-seral dominant in most of dry Douglas-fir forests of PNW and northern Rockies.
Habitat preferences
Open, rocky hillsides and sunny sites or partially shaded forests until shaded out by increasing tree cover. Moderately dry to moderately moist mountain slopes, especially south aspects. Mesic sites best.
Plant strategy type/successional stage (stress-tolerator, competitor, weedy/colonizer, seral, late successional)
Early and sometimes mid-seral dominant. Fire-adapted nitrogen fixer. Comes in 1-7 years following a disturbance and codominates with other plants. Forms large, dense colonies, thickets up to 33 feet wide. Can sprout from root crown after damaged or topkilled. Can also spread by layering.  Produces abundant seeds which are forcibly ejected when ripe and seed banks in soil.
Associated species
Depends on plant community. In ponderosa pine communities, bitterbrush, willow, snowberry, and rose.
May be collected as: (seed, layered, divisions, etc.)
Seed, layered, cuttings.
Collection restrictions or guidelines
Seed: Collect when capsules brown and enclose in fine mesh bags. Seeds tan at maturity.
Cuttings: Summer semi-hardwood stem cuttings. Collect late April to early June.
Seed germination (needs dormancy breaking?)
Seed must be scarified. Heat or abrasion. Heat works best. 176-203 F (80-95 C) is optimal to break seed coat. Germinates better if scarification is followed by cold stratification. (Anderson)
Evans has used 20-30 minute sulfuric acid soak, followed by neutralization with lime, a 48-hour running water soak, and then a 90-day cold moist stratification.
A 10-minute hot water soak followed by a 60-day damp peat stratification also works. (Evans)
Seed life (can be stored, short shelf-life, long shelf-life)
Up to 20 years in dry storage (Evans). But seed can regerminate from seed stored in soil for "several centuries", especially in dry soils. (Anderson) So, perhaps seed can be stored much longer if left in soil.
Recommended seed storage conditions
Dry storage or maybe in dry soil (seeds found in soil of Douglas-fir/Grand fir habitat types were 91% viable).
Propagation recommendations (plant seeds, vegetative parts, cuttings, etc.)
Seed: Follow dormancy-breaking requirements outlined above. Hand sow seed.
Cuttings: Treat with IBA and place in mist bed with bottom heat and cover with shade cloth. Root in about 8 weeks. Roots susceptible to excess moisture and should be uppotted to well-drained media. After potting, put in shadehouse for 4 weeks and then move to full sun and leach containers. Fertilize in August-September and reduce irrigation gradually September-October and give final irrigation before winter. Transplant cuttings in spring, first or second year.
Soil or medium requirements (inoculum necessary?)
Grows in almost any soil. Best in medium to coarse-textured well-drained soils with low nutrient content. Usually found in soils with PH 5.5-7.0.
Cuttings should be inoculated with nitrogen-fixing organisms.
Installation form (form, potential for successful outcomes, cost)
Seed, plugs.
Recommended planting density
No information.
Care requirements after installed (water weekly, water once etc.)
Cuttings require frequent watering for first year.
Normal rate of growth or spread; lifespan
Life span 25+ years, although stands may deteriorate after 15 years. Slow growing first 3-5 years, but then rapid growth until about 10 years after which growth levels off. Produces first seed when 3-6 years old. Produces abundant seed and seed banks in soil up to 200 years.
Sources cited
Anderson, Michelle D. (2001, November). Ceanothus velutinus. In: U.S. Department of Agriculture, Forest Service, Rocky Mountain Research Station, Fire Sciences Laboratory (2003, June). Fire Effects Information System, [Online]. Available: http://www.fs.fed.us/database/feis/ [June 2, 2003].
Evans, Jeff; Luna, Tara; Hosokawa, Joy; Wick, Dale. 2001. Propagation protocol for vegetative production of container Ceanothus velutinus Dougl. plants (800 ml containers); Glacier National Park, West Glacier, Montana. In: Native Plant Network. URL: http://www.nativeplantnetwork.org (accessed 2 June 2003). Moscow (ID): University of Idaho, College of Natural Resources, Forest Research Nursery.
USDA, NRCS. 2002. The PLANTS Database, Version 3.5 (http://plants.usda.gov). National Plant Data Center, Baton Rouge, LA 70874-4490 USA.
Data compiled by: Marlo Mytty, June 2, 2003