<![if !vml]>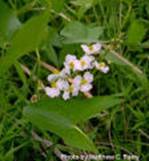 <![endif]>    Wapato, Sagittaria latifolia
--------------------------------------------------------------------------------------------------------------------
Range
<![if !supportLists]>Ø <![endif]>All over the U.S. except Nevada (5)
Climate, elevation
<![if !supportLists]>Ø <![endif]>Moist, mild climate; low elevations (2)
Local occurrence (where, how common)
<![if !supportLists]>Ø <![endif]>Often grows in marshes and along shorelines, and on edges of lakes, ponds, and sloughs (1 and 3)
<![if !supportLists]>Ø <![endif]>Most commonly occurring in the vicinity of the Columbia River below Bonneville Dam (1)
Habitat preferences
<![if !supportLists]>Ø <![endif]>Often in mucky soils (1)
<![if !supportLists]>Ø <![endif]>Freshwater marshes
Plant strategy type/successional stage (stress-tolerator, competitor, weedy/colonizer, seral, late successional)
<![if !supportLists]>Ø <![endif]>Tolerates inundation up to two feet (4)
<![if !supportLists]>Ø <![endif]>Tolerates turbidity, mild pollution, and pH levels of 5.9 to 8.8 (4)
<![if !supportLists]>Ø <![endif]>Can tolerate fluctuating water levels and prolonged soil saturation (2)
<![if !supportLists]>Ø <![endif]>Can form monotypic stands or be part of a diverse marsh community
Associated species
<![if !supportLists]>Ø <![endif]>Sedges (Carex spp.), Rushes (e.g. Juncus effuses), nodding beggarticks (Bidens cernua), yellow flag iris (Iris pseudacorus)  (1)
May be collected as: (seed, layered, divisions, etc.)
<![if !supportLists]>Ø <![endif]>Seed (4)
<![if !supportLists]>Ø <![endif]>Tubers (4)
Collection restrictions or guidelines
<![if !supportLists]>Ø <![endif]>Collect seeds in fall
<![if !supportLists]>Ø <![endif]>Tubers can be harvested after plant senesces (2)
Propagation recommendations (plant seeds, vegetative parts, cuttings, etc.)
<![if !supportLists]>Ø <![endif]>Plant seeds after collection in pots with mucky soil, and allow to establish in greenhouse (2)
<![if !supportLists]>Ø <![endif]>Tubers can be divided (4)
<![if !supportLists]>Ø <![endif]>Can seed directly on-site
Soil or medium requirements (inoculum necessary?)
<![if !supportLists]>Ø <![endif]>Silty/mucky soil with high water holding capacity (2)
Installation form (form, potential for successful outcomes, cost)
<![if !supportLists]>Ø <![endif]>Tubers (must bury 4 to 6 inches to prevent floating to surface, best done during a dry period that will be followed by inundation) (4)
<![if !supportLists]>Ø <![endif]>Direct seeding (2)
<![if !supportLists]>Ø <![endif]>Established seedlings
Care requirements after installed (water weekly, water once etc.)
<![if !supportLists]>Ø <![endif]>Soil must be kept consistently moist, tubers can not survive extended drying (4)
<![if !supportLists]>Ø <![endif]>Waterfowl must be excluded from site, because they graze on tubers (4)
Sources cited
<![if !supportLists]>1. <![endif]>Guard, B. Jennifer. Wetland Plants of Oregon and Washington. Lone Pine Publishing. Vancouver, B.C. 1995.
<![if !supportLists]>2. <![endif]>Leigh, Michael. Grow Your Own Native Landscape. Native Plant Salvage Project, WSU Cooperative Extension-Thurston County. Revised edition, June 1999.
<![if !supportLists]>3. <![endif]>Pojar, Jim and Andy MacKinnon. Plants of the Pacific Northwest Coast-Washington, Oregon, British Columbia and Alaska. B.C. Minisrty of Forest and Lone Pine Publishing. 1994.
<![if !supportLists]>4. <![endif]>Stevens, M. and R. Vanbianchi. 1993. Restoring Wetlands in Washington: A Guidebook for Wetland Restoration, Planning and Implementation. Washington State Department of Ecology Publication 93-17, 110 p.
<![if !supportLists]>5. <![endif]>USDA, NRCS. 2002. The PLANTS Database, Version 3.5 (http://plants.usda.gov). National Plant Data Center, Baton Rouge, LA 70874-4490 USA.
Data compiled by:
Crystal Elliot, 5/10/03