Gender-Neutral Housing
UW's Housing and Food Services (HFS), in collaboration with the Q Center, is proud and excited to offer Gender-Neutral housing to UW residence hall students for the 2012-'13 year!
Gender-Neutral housing is a program that can broaden student's choices and help ensure living arrangements that are welcoming and inclusive for all members of our community. If you are interested in living in our Gender-Neutral housing, please request so on your housing application.
Gender-Neutral housing is a housing option in which two or more students may share a room, suite or apartment, in mutual agreement, regardless of the students' sex or gender. For student's interested in a 9-month housing option, there are Gender-Neutral units available in Poplar Hall  and Haggett Hall.
Academic Year (9-Month) Housing Options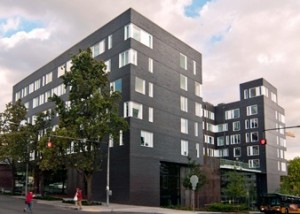 Poplar Hall opened in 2012 as one of the first communities in the West Campus expansion. Poplar Hall features double rooms with semi-private bathrooms, and is priced at a slightly higher rate than the north campus residence halls. Poplar Hall  is assigned under the Residence Hall System Agreement for the academic year, September to June.
Haggett Hall houses undergraduates in double rooms.
Uniquely configured rooms, Lake Washington and mountain views, walk-in closets and spacious floor lounges.
Full Year (12-Month) Housing Options
Nordheim Court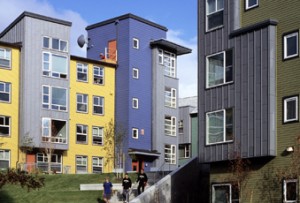 is managed by Blanton Turner, HFS' private management partner. Nordheim Court offers single rooms in four-bedroom apartments with two bathrooms.
Students can request mutual roommates with either option.
Prior to moving in students will be required to meet with the building RD to discuss community expectations and understanding. This way HFS can ensure that students understand and are comfortable with their housing situation before being assigned.