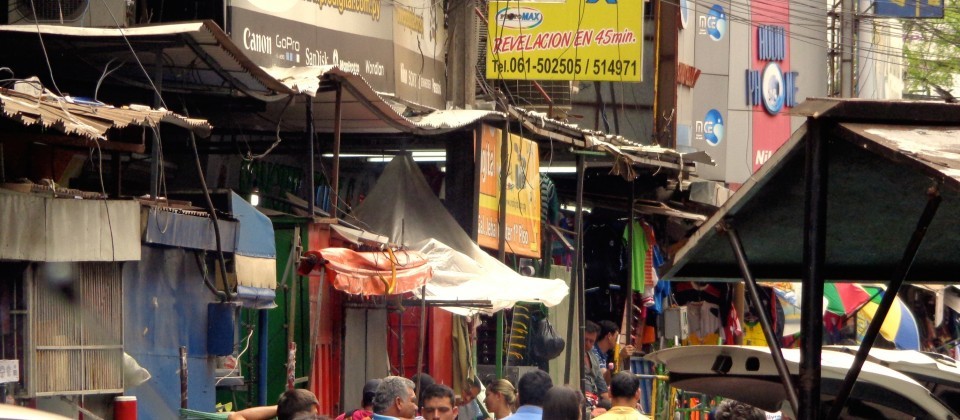 Jennifer Tucker, University of California at Berkeley, Department of City and Regional Planning
Since the 1980s, extra-legal networks of custom officials, street vendors, importer-exporters, and small-scale smugglers built a Paraguayan frontier boomtown connecting Brazilian consumers to cheap commodities from Miami and East Asia. The volume of the extra-legal border trade circulating through Ciudad del Este once exceeded the nation's official GDP, posing questions of state authority, capitalism's frontiers, and livelihood possibilities under restructured geographies of globalization. Everyone, it seems, breaks official rules to occupy sidewalk space, construct shopping malls, import goods, calculate taxes, or transport purchases. How is state power constituted in spaces characterized by widespread law-breaking by elites, the urban poor, and state actors alike? I analyze the contentious spatial politics of street vendors and elite traders, probing the regulation of the extra-legal border trade, at once made through claims to legitimate livelihood and contestation over the city itself. Combing feminist ethnography and historical analysis, I illuminate the interrelationships between everyday practices of regulation with broader forces of uneven development, post-authoritarian nationalism and global discourses of progress through formalization.
Writing against narratives of lawlessness and state failure, I demonstrate how local state actors manage and produce urban space for the border trade through a repertoire of spatialized governance practices, what I call "regulation by ambiguity." In this mode of governance, state actors capitalize on uncertainties and ambiguities in the spatial, discursive, legal, and affective realms. My research pushes scholarship on the everyday construction of political authority to consider space and emotion, simultaneously terrains of contestation and realms acted on by governance practice.