The Safer Homes Coalition Members, led by Forefront Suicide Prevention and the Second Amendment Foundation, is comprised of firearms retailers, second amendment rights groups, health care providers, and suicide prevention experts who came together around a single goal to save lives.
SAFER HOMES COALITION CO-CHAIRS
Jenn Stuber, Cofounder
Forefront Suicide Prevention
Alan Gottlieb, Executive VP
Second Amendment Foundation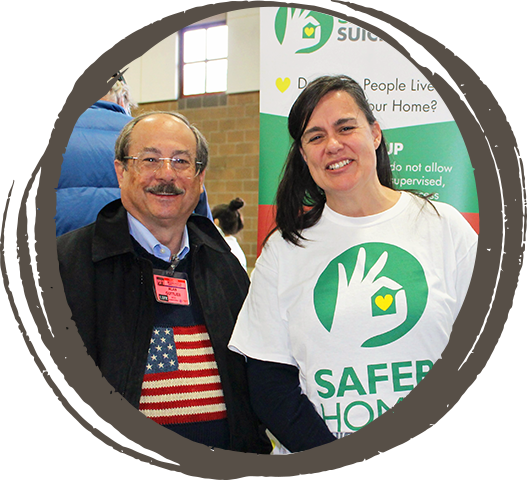 Safer Homes Coalition Members

The Safer Homes Coalition at its first 2018 meeting. The original name of this group was the Safer Homes Task Force, Firearms Subcommittee.
FIREARM RETAILERS & FIREARM RIGHTS ACTIVISTS
Robin Ball, Sharp Shooting Indoor Range, Spokane
Brett Bass, Bellevue Gun Club, Bellevue
Alan Gottlieb, Second Amendment Foundation
Keely Hopkins, Northwest Regional NRA Representative
Tom Kwieciak, Contract Lobbyist
Phil Shave, Washington Arms Collectors
Sgt. Eric Pisconski, Seattle Police Department Crisis Response Team
Sandra Shanahan, King County Prosecutor's Office Domestic Violence – Firearms Unit
COMMUNITY PARTNERS & ADVOCATES
Cal Beyer, Lakeside Industries 
Kathleen Gilligan, Suicide Prevention Advocate
Renee Hopkins, Alliance for Gun Responsibility
Thomas May, Suicide Prevention Advocate
Marshall Sana, The Apex Foundation
Andrew Nicholls, Puget Sound VA
Dr. Larry Pruitt, Puget Sound VA
Greg Reger, U.S. Veterans Administration, Puget Sound
Peter Schmidt, WA Department of Veterans Affairs
Rep. Brian Blake, 19th Legislative District
Rep. Tina Orwall, 33rd Legislative District
Sen. Mike Padden, 4th Legislative District
Sen. Jamie Pedersen, 43rd Legislative District
Rep. J.T. Wilcox, 2nd Legislative District
Kevin Black, WA State Legislature 
Karyn Brownson, King County Department of Health
David Dickinson, SAMHSA Regional Director
Therese Hansen, Injury & Violence Prevention Specialist, DOH
Pama Joyner, WA Department of Health
Jason McGill, WA Governor's Office
Neetha Mony, Suicide Prevention Manager, WA DOH
Peggy Needham, Walla Walla County Public Health Department
Sigrid Reinert, DOH SAMHSA Grant Manager
SUICIDE PREVENTION EXPERTS
Dr. Jessica Gallus, Forefront Suicide Prevention
Dr. Amanda Kerbrat, University of Washington Psychiatry & Behavioral Sciences
Dr. Lori Pender, Public Health Educator
Dr. Paul Quinnett, QPR Institute
Dr. Anna Ratzliff, University of Washington AIMS Center
Dr. Jeff Rochon, Washington State Pharmacy Association
Dr. Ali Rowhani-Rahbar, Harborview Hospital
Lara Sim, Seattle Children's Hospital
Dr. Jenn Stuber, Forefront Suicide Prevention
Dr. Jeffrey Sung, WA State Psychiatric Association