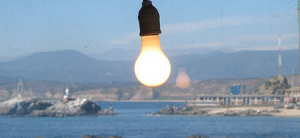 Our research group explores issues of energy efficiency as they relate to usability and everyday practices. We have conducted several quantitative studies on the usage of programmable thermostats and climate control devices, as well as studies that collect crowd sourced data on energy usage behavior. We are also interested in how the usability of appliances and energy saving devices is affected by the creation of folk labels within specific communities and businesses.
Participate in Our Folk Labeling Contest!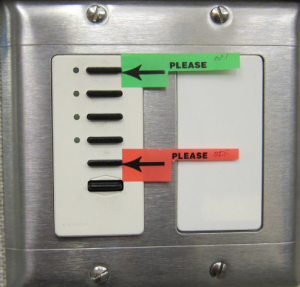 We are currently looking for examples of folk labeling on appliances and a diverse array of technologies including lighting controls, thermostats, copiers, plumbing fixtures and other devices.
So what is folk labeling? In this context, "folk labeling" describes the practice of applying labels, images, or text to appliances with the specific purpose of improving usability in way that was not adequately addressed by the appliance manufacturer or designer. Such labels often make the appliance more understandable to a first-time user (see the example at right of lighting with "on" and "off" labels applied to make it more usable).
What should I submit and how do I make a submission? Submissions should include pictures (jpg,gif,pdf) of the following items with folk labels (more than one picture may be submitted if the folk label is separate from the item):
Residential appliances (thermostats, kitchen, bathroom, etc.)
Office or commercial supplies (printers, faxes, copiers, etc.)
Other digital or mechanical devices or tools
Please send submissions to Gari Kloss at gkloss[at]lbl.gov with your name and contact information.
What do I win? Besides the admiration and praise of your energy saving colleagues, we are giving the top submission (voted by our lab group) the opportunity to have a Skype energy audit of her/ his home or office.
About the Research Team
The team for this research group is comprised of interdisciplinary researchers from Lawrence Berkeley National Lab, the University of Washington, UC Davis, and the California Institute for Energy and Environment.
Alan Meier is a senior scientist at Lawrence Berkeley National Laboratory and a Faculty Researcher at UC Davis. He earned his PhD in Energy & Resources from UC Berkeley after completing degrees in chemistry and economics. Meier's research includes technical measures to reduce standby power use in appliances, improving usability in controls, and policies to save electricity.
Cecilia Aragon (PhD, UC Berkeley) is the director of the SCCL and an associate professor in the Department of Human Centered Design & Engineering and the eScience Institute at the University of Washington, with adjunct appointments in Computer Science and Engineering and the Information School.
Therese Peffer is a Research Coordinator for the California Institute for Energy and Environment's Enabling Technologies program. She works on Demand Response, Smart Grid and "Building-to-Grid" research projects. She holds a PhD in Architecture from the University of California, Berkeley.
Marco Pritoni is a PhD student in Mechanical and Aeronautical Engineering at UC Davis. He holds a Masters' Degree in Industrial Engineering from the University of Bologna, Italy. He is currently a graduate student researcher for the UC Davis Western Cooling Efficiency Center and an Emerging Ventures Analyst for the UC Davis Energy Efficiency Center
Daniel Perry is a PhD student in Human Centered Design & Engineering at the University of Washington and a researcher in the Scientific Collaboration & Creativity Lab (SCCL). He holds a BA from Brown University and a MIMS from the University of California, Berkeley. His research interests include scientific visualization, usability and energy saving behavior, and collaborative games.
Publications & Conference Papers
"How People Actually Use Thermostats." A. Meier, C. Aragon, B. Hurwitz, D. Mujumdar, T. Peffer, D. Perry, M. Pritoni, Proceedings of the American Council for an Energy-Efficient Economy Conference, ACEEE (2010).
"Making energy savings easier: Usability metrics for thermostats." Perry, D., Aragon, C., Meier, A., Peffer, T. & Pritoni, M. Journal of Usability Studies, 6 (4), 226-244 (2011).
"Usability of residential thermostats: Preliminary investigations." Meier, A., Aragon, C., Peffer, T., Perry, D., Pritoni, M. Building and Environment, doi:10.1016/j.buildenv.2011.03.009 (2011).