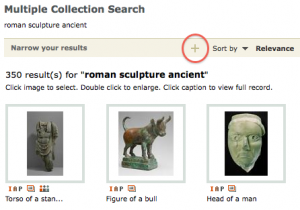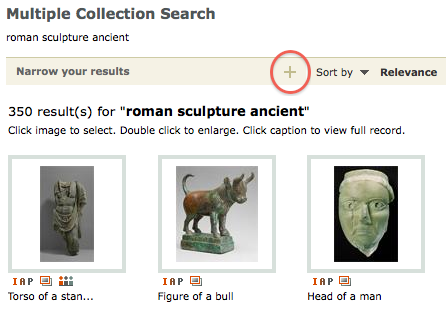 Last week ARTstor added a filter feature for keyword searches (it does not work with advanced searches).
After searching, you will see a bar that says "Narrow your results" with a plus sign (see orange circle in first image). Click the plus sign.
You will then see a left sidebar that provides options for narrowing your search. Also, if the date range of your results is less than 10,000 years, you will see a timeline at the top.
If you want to make the left sidebar disappear, click the minus sign in the bar that says "Hide filter panel" (see orange circle in second image).
If you had a timeline, the timeline will remain at the top of the screen. You can remove the timeline by clicking the small box at the upper left of the timeline. You can also bring back the left sidebar by clicking the plus sign again (see orange circles in third image).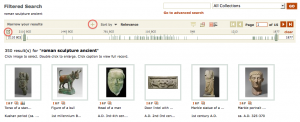 ARTstor does not yet have tutorial information about this on their help blog. When they add it, I will add a link.
Tags: ARTstor