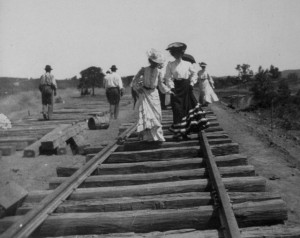 Morgan Bell is a graduate student who has worked with us in SoAIL. She chose the non-thesis MA in Art History and a practicum project related to her primary interests: Native American artists and photography. Her goal was to increase the representation of Native American photographers in soaMDID so that their work could be incorporated into the Art and Art History curriculum. Having just completed and defended the project, it is time to report on her results.
Over 350 images of work by 39 photographers were added to the collection. Twenty of these photographers had not been represented in soaMDID previously. The earliest works date to circa 1900 and the most recent date to the last few years. The styles and intentions of the artists vary widely. Bell's work on this project was partly supported by funding from the Bill Holm Center for the Study of Northwest Coast Art even though not all the artists are from this region. A few of the photographers are from New Zealand, chosen because of the contemporary links that exist between Native American and Maori artists.
To see these images, you must have a soaMDID account or access through either the UW Bothell or College of Built Environments MDID installations. Do a keyword search using "Bell practicum" (without the quotes). Enjoy!