From SOSwiki
(Difference between revisions)
(28 intermediate revisions not shown.)
Line 1:
Line 1:
+
+

<table width="700px" style="vertical-align:top;>

<table width="700px" style="vertical-align:top;>

+

<tr>

<tr>

<td>http://depts.washington.edu/soslab/frontpage.jpg

<td>http://depts.washington.edu/soslab/frontpage.jpg

Line 13:
Line 16:

<td>

<td>

<!------------------------ NEW NEWS --------------------------->

<!------------------------ NEW NEWS --------------------------->

-

* UW's [http://depts.washington.edu/soslab/synthbio/ first workshop on synthetic biology] will be held Jan. 9.

+

* the () new ()[://..washington.edu//.].

-

* UW's [http://2011.igem.org/Team:Washington iGEM Team] wins the Grand Prize at the 2011 iGEM Jamboree. Congratulations to all the [http://2011.igem.org/Team:Washington/Team/Members students and advisors] who showed that UW has the best synthetic biology students in the world! (11/2011)

+

* grant with [http://www..washington.edu///.Molecular Programming]a project . (/)

-

* '''SOSLab is looking for new [[Postdoctoral_Scholar_Positions|postdocs]] and [[Prospective|Ph.D. students]].'''

+

* UW's gets a [http://.washington.edu// ]. (/)

-

* Alpha testers for the [http://depts.washington.edu/soslab/gro gro Programming Language] needed! You can make your simulated bacterial micro-colonies grow into interesting shapes!

+

* the [http://www...edu//.]. (8/)

-

* [[User:Shaw|Fayette Shaw]] successfully defends her Ph.D. thesis! Congratulations Fay! (10/2011)

+

* postdoc in 's . (/)

-

* Slides for Eric's [http://dna17.caltech.edu/ DNA 17] Tutorial on stochastic biochemical systems are [http://depts.washington.edu/soslab/dna17-tutorial-public.pdf available here]. (9/2011)

+

* to [http://www..com/ ]. (7/)

-

* We have a new grant to study pattern formation in bacteria: [http://www.nsf.gov/awardsearch/showAward.do?AwardNumber=1137266 Harnessing Intercellular Signaling to Engineer Pattern Formation] (with [http://www.taborlab.rice.edu/ Jeff Tabor], [http://beaker.biology.washington.edu/people/benkerr.htm Ben Kerr], [http://www.owlnet.rice.edu/~oi1/ Oleg Igoshin], and [http://www.cs.washington.edu/homes/seelig/ Georg Seelig]), NSF. (8/2011)

+

* student wins a Mary Gates ! Congratulations ! (/)

-

* We have a new paper on implementing control systems with molcules: K. [[User:Oishi|Oishi]] and E. Klavins, '''A biomolecular implementation of linear I/O systems''', ''IET Systems Biology'', July 2011, vol 5, no. 4, p.252–260. [http://scitation.aip.org/getabs/servlet/GetabsServlet?prog=normal&id=ISBEAT000005000004000252000001&idtype=cvips&gifs=yes&ref=no url]. (7/2011)

+

* [[]]

-

<showhide>

+
-

Past news items . . .

+
-

<hide>

+
-

<!------------------------ OLD NEWS --------------------------->

+
-

* Josh Bishop passed his General Exam! Congratulations Josh! (5/2011)

+
-

* The 2011 Molecular Programming Project Workshop will be held Jun 16-18 at [http://molecular-programming.org/MPPWiki/index.php/2011_MPP_Workshop_Retreat Friday Harbor].

+
-

* [[Image:Nils_Napp.jpg|thumb|right|80px|Dr. Napp]][[User:Napp|Nils Napp]] has received his Ph.D. and is off to Harvard to be a postdoc! We'll miss you Nils! (1/2011)

+
-

* Graduate students Shelly Jang and Chris Takahashi pass their qualifying exams. Congratulations! (11/2010)

+
-

* Our [[Projects|auxin synthetic biology project]], in collaboration with the Jennifer Nemhauser, [http://seattletimes.nwsource.com/html/localnews/2013461469_paulallen18m.html has been funded] by the Allen Foundation! (11/2010)

+
-

* UW's 2010 [http://2010.igem.org/Main_Page iGEM gets gold again], plus ties in the best health and medicine category. (11/2010)

+
-

* New grant from the National Science Foundation: [http://www.nsf.gov/awardsearch/showAward.do?AwardNumber=1002220 Estimation & Observation of Stochastic Biochemical Networks]. Congratulations to co-PI David Thorsley, on whose research this grant is based. (6/2010)

+
-

* NAKFI has awarded the participants in the robustness subgroup a grant to form a competition to make the most robust synthetic biological systems. The contest is called [http://openwetware.org/wiki/CAGEN CAGEN], for ''critical assessment of genetically engineered networks''. (5/2010)

+
-

* UW's [http://2009.igem.org/Team:Washington iGEM] team goes to Cambridge and brings back a '''gold medal'''. Congratulations! [http://uwnews.org/uweek/article.aspx?id=53790 University Week Article], [http://dailyuw.com/2009/11/17/uw-students-bring-home-gold-medal-international-sc/ Daily Article]. (11/2009)

+
-

* The [[Retreat_2009|SOSLab 2009 Retreat]] was October 3, 2009. Kevin Oishi wins ''best presentation''!

+
-

* The 2nd [http://faculty.washington.edu/thorsley/banff09/ Workshop on Stochasticity in Biochemical Reaction Networks] will be held in Banff, Sept. 25-27, 2009.

+
-

* UW's [http://soslab.ee.washington.edu/igem/index.html iGEM] team goes to Cambridge and brings back a bronze medal. Congratulations! (11/2008)

+
-

* Caltech and UW are awarded $10M from the National Science Foundation for the '''Molecular Programming Project'''! Read the [http://www.nsf.gov/news/news_summ.jsp?cntn_id=112075&org=NSF&from=news press release] or visit the [http://www.ist.caltech.edu/mpp/ MPP website]. (9/2008)

+
-

* J. M. [[User:McNew|McNew]] successfully defends his thesis on ''Nondeterministic Modeling and Verification of Networked Robotics Systems'' to become the SOSLab's first graduated Ph.D. Congratulations J.M.! (8/2008)

+
-

* SOSLab postdoc [[User:Thorsley|David Thorsley]] awarded ''best presentation in session'' for '''both''' of his ''American Control Conference'' papers presented June 11, 2008 in Seattle, WA. Congratulations David!

+
-

* SOSLab awarded an "[http://research.microsoft.com/ur/us/fundingopps/rfps/ARichardNewtonAwards.aspx A. Richard Newton Breakthrough Research Award]" from [http://research.microsoft.com/ Microsoft] to study stochastic processes inside single cells of genetically engineered bacteria. See [[Papers|David Thorsley's ACC 2008 Paper]] for the main idea. See also this [http://www.coe.berkeley.edu/news-center/newton/newton-campus-obituary.html obituary] of A. Richard Newton, in whose honor these awards were given. (3/2008)

+
-

* The ''Center for Molecular Cybernetics'', an NSF Chemical Bonding Center dedicated to the study of single-molecule robots, launches its [http://www.thespiderworld.com/index.htm new web site] (12/2007).

+
-

* SOSLab PI Eric Klavins is co-PI in a new $2M NSF grant: [http://www.nsf.gov/awardsearch/showAward.do?AwardNumber=0735953 EFRI-ARESCI: Controlling the Autonomously Reconfiguring Factory] with MIT, Cornell and U. Penn. (8/2007)

+
-

* [[User:Burden|Sam Burden]] has been awarded with a [http://www.washington.edu/research/urp/students/rfau2007.html UW Research Fellowship for Advanced Undergraduates]. Congratulations Sam! (8/2007)

+
-

* The programmable parts appear on the cover of the [http://ieeexplore.ieee.org/xpl/tocresult.jsp?isnumber=4272237&isYear=2007 August] issue of ''Control Systems Magazine''! (7/2007)

+
-

* SOSLab graduate student [[User:Shaw|Fay Shaw]] passes the ME qualifying exam. Congratulations Fay! (5/2007)

+
-

* 3/2007: SOSLab graduate student J.M. McNew passes the EE general exam. Congratulations J.M.!

+
-

* 3/2007: We are gradually moving all online content to a new wiki. Check it out. The [[BioCircuits:Spring_2007|BioCircuits]] course is the first big section.

+
-

* 1/2007: We are developing a new course for Spring 2007: [http://sveiks.ee.washington.edu/biocircuits/announcement.pdf An Introduction to BioCircuits]! Sign up!

+
-

* 10/2006: Josh Bishop (with Fay Shaw and Eric Klavins) wins Best Poster in the UW Center for Nanotechnology's Poster Competition. The title: "Improved Repeatability of a DNA Nanomotor".

+
-

* 9/2006: The [http://sveiks.ee.washington.edu/video latest videos of the programmable parts] have been posted.

+
-

* 4/2006: SOSLab gets [http://sveiks.ee.washington.edu/pix/openhouse06.jpg visitors] as part of the COE open house.

+
-

* 2/2006: [http://www.infospheres.caltech.edu/people/index.html Chandy] (Caltech), [http://www.cds.caltech.edu/~doyle/ Doyle] (Caltech), [http://faculty.washington.edu/klavins Klavins] (UW), [http://www.cds.caltech.edu/~murray/ Murray] (Caltech, PI) and [http://www.mit.edu/~parrilo/ Parrilo] (MIT) receive [http://www.defenselink.mil/news/Feb2006/d20060222muri.pdf MURI Award] for their proposal: "High Confidence Design for Distributed Embedded Systems".

+
-

* 2/2006: Eric goes to physical biology bootcamp at the [http://www.rpgroup.caltech.edu/courses/PBL/bootcamp0206.htm Rob Phillips Lab].

+
-

* 12/2005: SOSLab Undergrad Sam Burden wins [http://www.washington.edu/oue/mge/index.shtml Mary Gates Fellowship] -- again.

+
-

* 11/2005: SOSLab Graduate Students Josh Bishop and Nils Napp pass their qualifying exams! Congratulations!

+
-

* 9/2005: SOSLab's programmable parts are featured at the [http://www.nsf.gov/news/newsmedia/robotics05/index.jsp NSF's Exhibition of U.S. Robotics Research].

+
-

* 6/2005: SOSLab's 16-processor cluster is up and running ([http://proline.ee.washington.edu/ganglia check usage]) -- thanks to Richard Kreisberg.

+
-

* 4/2005: SOSLab opens its doors to local K-12 students as part of UW Engineering's Open House. ([http://faculty.washington.edu/klavins/openhouse05.html See photos].)

+
-

* 2/2005: SOSLab's "programmable parts" are self-assembling! ([http://sveiks.ee.washington.edu/video/ Read more].)

+
-

* 1/2005: New grant: "DNA Machines" funded by [http://www.washington.edu/research/rrf.html UW's Royalty Research Fund].

+
-

* 12/2004: SOSLab Undergrad Sam Burden wins [http://www.washington.edu/oue/mge/index.shtml Mary Gates Fellowship].

+
-

</hide>

+
-

</showhide>

+
-

 

+

</td>

</td>

</tr>

</tr>
---
Revision as of 02:45, 11 February 2014
Note: New webpage at klavinslab.org. Please update your links.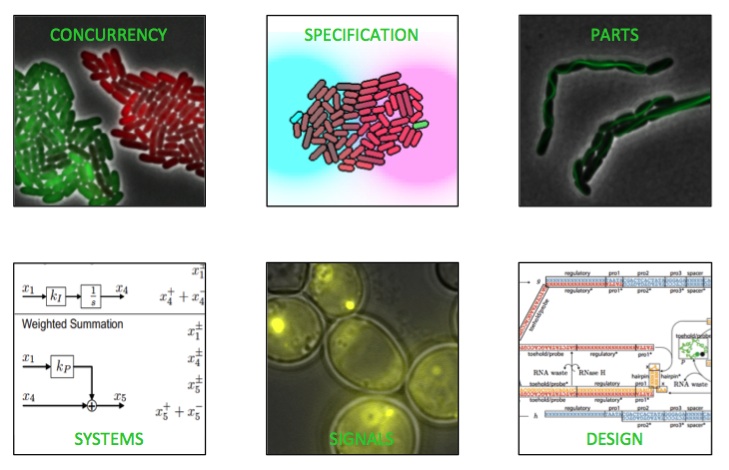 News
New grant from the Semiconductor Research Corporation (SRC) as part of the new Semiconductor Synthetic Biology program (SSB): finite state machines in living cells.
New NSF grant with Georg Seelig on Molecular Programming, in a big project led by Erik Winfree at Caltech. (9/2013)
UW's Center for Synthetic Biology gets a new look. (9/2013)
Eric speaks at the Queen Anne Science Cafe. (8/2013)
The Klavins Lab bids farewell to Rob Egbert, who is now a postdoc in Adam Arkin's lab at UC Berkeley. (7/2013)
Congratulations to Kyle Havens who is now at Pregenen. (7/2013)
Undergraduate student David Zong wins a Mary Gates Scholarship! Congratulations David!! (3/2013)
Keywords: Control; Synthetic Biology; Robotics; Verification; Engineering; Self Assembly; Feedback.