From SOSwiki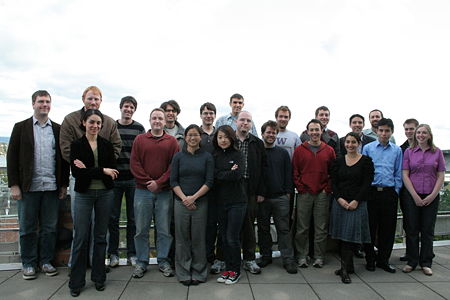 Dear Prospective Student or Postdoc,
If you are interested in engineering self-organization, control theory, stochastic processes, and biology, then you have come to the right place! We want to figure out how to engineer systems as complicated as living organisms. The SOSLab is an exciting place to think about such very difficult and future-oriented engineering problems. We are idealistic and theoretical, yet we build things to keep ourselves grounded in reality: each student typically works on something theoretical and some experimental demonstration of the theory.
If this sounds good to you, take a look at our papers and read about our research. Make sure what you want to do matches what we want to do. If it does, please contact me.
Cheers,
Eric Klavins
Prospective Postdocs
Send me an email with your CV. I am actively looking for postdocs with experience in any of the following: synthetic biology or genetic engineering with yeast and/or E. coli; systems biology; system identification of stochastic biochemical systems; pattern formation and development.
Prospective Graduate Students
I receive at least one email a day from undergraduates at other institutions wanting to join the SOSLab. I cannot answer all of these emails, but I do look at what you send. I respond to those prospective students who have actually taken the time to make sure their interests are in line with the current research interests of the SOSLab, as portrayed, for example, in our recent publications and funded projects. At this time I am primarily looking for students interested in the experimental and theoretical aspects of systems and synthetic biology. All of the grant proposals I am currently writing are in these areas. Existing robotics and controls projects are already staffed with research assistants.
If you email me and 40 other professors from around the globe with your interests, I will not respond to you. I am only interested in students with a strong mathematical background (e.g. in control systems or theoretical computer science) and a background or rabid interest in chemistry, physics or biology. Note also that I cannot guarantee you a position among the graduate students at UW. For that you need to apply to EE, ME or CSE through the regular channels. See the web pages of those departments for specific instructions on how to apply.
Prospective Undergraduate Researchers
If you are a UW student, please consider working with the SOSLab. The best bet is to take one of my courses and get an A. Then, talk to me about how you can get involved, go to the group meetings, and talk to the other SOSLab students.
Another way to get involved is to join UW's iGEM team. See http://soslab.ee.washington.edu/igem/index.html for more information!
Prospective Interns
I very rarely respond to unsolicited requests for internships.