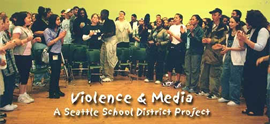 The Violence and Media Project is a violence prevention effort directed to middle and high school students.The heart of the project is a curriculum unit developed by Teen Futures' Marilyn Cohen Ph.D. and Jennifer Slack M.Ed., in collaboration with key middle and high school teachers in Seattle.
Using media as the hook to engage students in discussion, this enthusiastically received curriculum provokes students to analyze, evaluate and reflect on the meaning of violence in their own lives, their schools and the broader community. The material engages students in serious deliberations on the topic of violence and leads them to develop their own approach to violence prevention in their schools.
Students and teachers alike welcome the opportunity to work with this critical topic. Several teachers have reported that although they had planned to work with the material for a limited time, their students' responses have led them to double or triple the time devoted to the topic. Parents have expressed amazement and delight when their usually reluctant students become totally engaged in their work on violence and the media. Students admit that before working with the curriculum they had not noticed violence in the media. After working with the material, they not only recognize media violence, they also understand its purpose in keeping an audience engaged.
View some student work from this project.
The curriculum material is presented in a 6 lesson micro unit. Lessons offer the choice of interactive activities and creative projects. Teachers from a wide spectrum of subject areas including health, art, drama, language arts and social studies have incorporated the curriculum into their classes.
Read some comments from teachers about the curriculum.
The focus of each of the 6 lessons is as follows:
Lesson 1: Defining Violence
Students begin to grapple with the concept of verbal violence and to clarify and discuss their own definitions of violence.
Lesson 2: School Safety
Students look at the effects of violence on people, particularly at how it makes us feel like victims. Students also look at the role media play in making us feel like victims, analyzing their own feelings and behaviors.
Lesson 3: Old Brain vs. New Brain
Students examine the use of violence in engaging an audience for the purpose of marketing products and how that appeals to the 'Old Brain'. They are also encouraged to consider how the media can appeal to logic and reason and can be used as a tool in contributing to violence prevention.
Lesson 4: Conflict Resolution
Students examine the language of violence prevention and consider how media can help promote that language. They generate ideas that can make them become part of the solution on an individual level.
Lesson 5: Making the Familiar Strange
Students analyze the ways the media hooks the viewer and then they generate ideas that make use of the media as a tool for promoting violence prevention.
Lesson 6: Taking the Next Step
Students join in designing, promoting or supporting a violence prevention project in their school and continue to think about ways they as individuals can contribute to violence prevention efforts.
Written by:
The Teen Futures Media Network, College of Education, University of Washington
Marilyn A. Cohen, Director and Jennifer Slack, Project Coordinator
and the following Seattle School District Teachers: Lisa Becerra, Washington Middle School, Maggie Everett, Whitman Middle School, Bill Levin, Hamilton Middle School, Roberta Johnson, Whitman Middle School, Cora Mackoff, Summit High School, Anne Scott, McClure Middle School, Bev Zanetti, Washington Middle School
Important background and resources for this micro unit were provided by the following curricula: Creating Critical Viewers Unit: Media and Violence written by Lisa Becerra and Bev Zanetti, WebQuest written by Roberta Johnson, Creating Critical Viewers, Second Step, Flashpoint, Beyond Blame, AdBusters, The Media Foundation
©Teen Futures Media Network, University of Washington
Funding provided by the Governor's Juvenile Justice Advisory Committee, State Juvenile Violence Prevention Program and The National Academy of Television Arts & Sciences, Seattle Chapter