Spring 2014 | Issue No. 26
UW VIRTUAL TOUR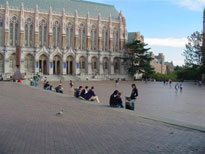 TRANSFER THURSDAYS
Thinking about transferring to the UW? If you are,
Transfer Thursday is your gateway to transfer information
. At a Transfer Thursday session, you can speak to an admissions counselor who will tell you all about applying to the UW. You can also meet with an undergraduate academic adviser who will help you prepare for your intended UW major. Bring your questions and your unofficial transcript(s). It's one-stop shopping for the prospective transfer student.
Where:
University of Washington
141 Mary Gates Hall
When:
Every Thursday afternoon.
Click here to view the scheduled activities
.
For more information:
(206) 543-2550 or click
here
.
CREDITS
Donna Sharpe
Editor
Jennifer Stock
Web Producer
Contributors:
Srey Chea
Janice DeCosmo
Janet Germeraad
Millissa Hare
Julie Johnson
Monick Keo
Heidi Norbjerg
Mona Pitre-Collins
Nancy Sisko
Teri Thomas
Michelle Trudeau
Mel Wensel
Carlos Williams
The Transfer eNewsletter is a project of UAA Advising.