Welcome from the Editor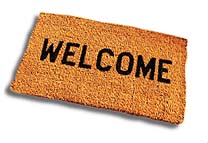 Planning is a crucial element for success in most ventures. Oh, don't get me wrong—I'm a big fan of serendipity, too. But the problem is no one ever knows when they can count on serendipity, whereas planning is very reliable. Read more...

Upcoming UW and Departmental Application Deadlines

Admissions: Sometimes, Timing is Everything
I am frequently asked about the "best time" to apply to the University of Washington Seattle. Without the ability to predict the future with certainty, my answer most often is, "when an applicant is prepared to move into his or her intended major." Read more...

2007 Admissions Update
I am pleased to share with you news of positive outcomes and trends for students who have entered the University of Washington Seattle from Washington community colleges. Read more...

New Major in American Indian Studies
Starting this year, UW students will be able to major in American Indian Studies for the first time. Although courses in American Indian Studies have been available at the UW since 1970, students had the option to obtain only a minor in the field, or a General Studies major with a concentration in American Indian Studies. Read more...

Change in Spanish & Portuguese Studies
The Spanish and Portuguese Studies Program has announced an important change in the requirements for the Spanish major. Starting Winter 2008, students will be required to complete a study abroad in a Spanish-speaking country OR to complete 50 hours of experiential learning in the Spanish-speaking community as part of their degree. Read more...

Upcoming Scholarship Deadlines and Information

The Top 5 Reasons to Start (and Finish?) your Foreign Language Early!
Need any encouragement to start your foreign language now, and if possible complete through the first year? Consider these reasons... Read more...

Transfer Student Interview

Interview with Transfer Student Rob O'Brien. Read more...

Advisers: Have You Met Your Gateway Liaison?
The Undergraduate Gateway Center at the University of Washington is home to a cadre of academic counselors who primarily serve undeclared or undecided students. We are also the host of Transfer Thursday, where prospective students come to find out more about programs of interest at the UW as well as admission procedures. Read more...

New Email Listserv for Pre-health Students
Are you interested in medicine, dentistry, pharmacy, nursing, physical or occupational therapy, optometry, veterinary medicine or other health careers? Read more...

Outside the Classroom: The Ethnic Cultural Center/Theater
Open, comfortable, and friendly are just a few words that students use to describe the Ethnic Cultural Center/Theatre. Students exude strong feelings of connection and warmth when they refer to it. As a division of the Office of Minority Affairs & Diversity, the ECC/T is a facility that is used to promote an inclusive and educational environment by providing programs and services which enhance the communication and exchange of multicultural perspectives and values. Read more...

New Options in ESRM
The ESRM program now offers FOUR transcripted options (and these options are optional — students can pick one, but don't have to!). Each option required 35 credits of coursework. Read more...