Welcome from the Editor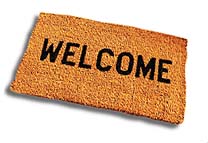 Welcome to UW's Transfer eNewsletter. Whether this is your first time reading, or whether you've followed us for years, we're glad to have you.
Read more...

Meet Namura Nkeze, Transfer and Commuter Programs Coordinator
The University of Washington has deepened its commitment to transfer students by redefining a position in the office of First Year Programs. The title of this new position is Transfer and Commuter Programs Coordinator. Read more...

International Transfer Students: F-1 and J-1 advising at UW
The Office of International Students and Scholars (ISS) assists over 2900 F-1 and J-1 students in maintaining their visa status. Services include advising on travel and visa related issues, requirements for maintaining F-1 and J-1 status, and employment authorization, as well as helping new international students navigate the university at large. Read more...

Finnish Gets a Degree
For nearly two decades, Finnish language courses have been offered at the UW. But students wanting to major in Finnish were out of luck—until now. Read more...

Admission to Economics major will become competitive beginning Autumn 2009
Starting Autumn quarter 2009, admission to the major in Economics will become competitive. These changes are due in part to the increase in the number of students in both the BA and BS majors. Read more...

The Certificate of International Studies in Business Program: Developing Global Business Leaders
The Certificate of International Studies in Business (CISB) Program is an award-winning, nationally-ranked program of the UW Foster School of Business. Read more...

Transfer Student Interview

Interview with Transfer Student Chris Paredes Read more...

UWT: Milgard School of Business no longer admitting spring quarter
Students interested in business take note: the Milgard School of Business at UW Tacoma will be accepting applications for only Autumn and Winter quarters beginning in the 2009-2010 academic year. Read more...

Global Honors Program at UWT
The UW Tacoma Global Honors Program serves students in all undergraduate majors who wish to enter careers directed toward the real needs of our region and our world at a time when global interactions are transforming our planet. Read more...

College of Architecture and Urban Planning becomes College of Built Environments
CBE houses the departments of architecture, construction management, landscape architecture, and urban design and planning, and devotes its resources to the tangible improvement of built and natural environments. Read more...

The Civil and Environmental Engineering Major
What do the Concrete Canoe, Seismic Structures, and Steel Bridge competitions have in common with environmental research? These are just a few ways in which undergraduate majors in the Civil & Environmental Engineering (CEE) program are preparing for their profession and engaging in the world around them. Read more...

Students Become Teachers at UW's Twelfth Annual Undergraduate Research Symposium
On May 15, 2009, the University of Washington brimmed with the energy of nearly 700 talented undergraduates, including several from local community colleges, showcasing their contributions to innovative and groundbreaking research at the Twelfth Annual Undergraduate Research Symposium. Read more...