Welcome from the Editor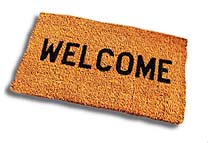 A national debate has simmered, in the midst of the long and deep economic downturn the country has faced, about the value of a college degree. Back in June 2009, SmartMoney writer Jack Hough argued that "the four-year college degree has come to cost too much and prove too little," asserting it was now a "bad deal for the average student, family, employer, professor and taxpayer." Read more...

Admissions Update
The Seattle Campus of the University of Washington has been in the news of late. We all heard of the cutback in the number of resident freshmen and the increase in the number of non-resident freshmen. Read more...

Begin planning now to study abroad while at UW
Have you thought about studying abroad during your time at the UW? Studying abroad allows students to gain marketable skills to gain an edge in the job market as well as develop self-awareness and a broader perspective on world and local issues. Studying abroad is also fun! Read more...

Changes to the Law, Societies, and Justice major at the University of Washington
So, you are interested in majoring in Law, Societies, and Justice at the University of Washington? Well, starting with the Autumn 2011 major admission cycle, it will be easier to complete the prerequisites to apply to LSJ. Read more...

Informatics growing its admission numbers
The UW Information School is pleased to announce that, due to growing demand, the Bachelor of Science in Informatics Program will be increasing enrollment in the major. Effective immediately, we will begin admitting 105 students each year for an autumn quarter start. The application deadline for this admission cycle is June 15, 2011. Read more...

New BioLink Seminar offered this Fall

Look out for the Autumn 2011 BioLink Seminar. This seminar will explore majors and research areas in the biological sciences at UW, including Biology, Biochemistry, Microbiology, Global Health, Bioethics and Humanities, Environmental Health, Medical Technology and more! Read more...

Transfer Student Interview

Interview with Materials Science Engineering student Lisa Carlson. Read more...

UW Bothell Updates
Would you like to Transfer into UW Bothell? Come to our Transfer Fair for more information! Read more...

Summers at UW Tacoma
Spend the dog days of summer learning about what it is like to be a dawg. Visit UW Tacoma this summer and see what all the bark is about. Read more...

UW Tacoma-Direct Transfer Agreement
As a transfer student, you may qualify for the Direct Transfer Agreement (DTA) at UW Tacoma. UW Tacoma guarantees admission to transfer students with a minimum 2.75 cumulative GPA, who meet the requirements for the DTA and are transferring from a Washington State community college. Read more...

Scholarships for Future Huskies: Martin Family Honors Scholarship
THE MARTIN FAMILY FOUNDATION offers financial awards to community college students and graduates interested in eventually obtaining baccalaureate degrees from the University of Washington, Seattle. Application Deadline: Tuesday, July 5, 2011. Read more...

ACMS becomes competitive major
Applied and Computational Mathematical Sciences, a multidisciplinary Bachelor of Science degree program offered jointly by the Departments of Applied Mathematics, Computer Science & Engineering, Mathematics, and Statistics, has changed from being a minimum requirements major to being a competitive entrance major effective Autumn quarter, 2011. Read more...

Blogging for Science and Math
The Science and Math (SAM) Link has officially started a blog to post opportunities for science and math interested students. This is a great way to learn about major information sessions, course offerings, career events, research opportunities, scholarships and so much more! Read more...