Welcome from the Editor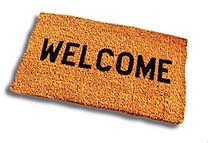 Zippy the Clown asks, "Are we having fun yet?" In this issue of the Transfer eNewsletter, and often in life, I want to follow his lead. Read more...

Running Start: Freshman or Transfer?
The Running Start Program allows academically qualified 11th- and 12th-graders the opportunity to enroll in certain Washington colleges for college credit. Running Start can be a great opportunity for students to gain college credit while still in high school and gain academic preparation for university study. Read more...

2010 Health Graduate and Professional School Fair
Do you want to head to graduate or professional school in the health sciences? Then you won't want to miss this fair, where recruiters from over 50 health-focused graduate and professional programs will be on hand to talk to YOU about opportunities for attending their programs. Read more...

Undergraduate Research Symposium Slated for May 21, 2010
The Annual Undergraduate Research Symposium is a chance for undergraduates to present what they have learned through their research experiences to a larger audience. The Symposium also provides a forum for students, faculty, and the community to discuss cutting-edge research topics and to examine the connection between research and education. Read more...

Annual Community College/University of Washington Advising Conference Happening March 26, 2010
The theme this year, "Linking to the Future," reflects the planning committee's goals to strengthen the linkages between colleagues at the community colleges and the UW; to highlight and reflect upon the common linkages in the ways we serve our students; and to present to the community college audience the UW's new model of collaborative advising, the Academic Learning Links. Read more...

Transfer Student Interview

Interview with Transfer Student James Keblas, '01, director of Seattle's Office of Film and Music. Read more...

New programs at UW Bothell for 2010
The University of Washington Bothell continues to develop innovative new programs to serve the changing needs of our students and region. Read more...

New Math Minor: Crunch Numbers at UWT
The goals of the minor include strengthening student quantitative analysis skills in their field of study; preparing students for jobs in areas such as finance, engineering, medicine or law; and preparing students for graduate studies in Education. Read more...

College of Engineering Updates
NAE Grand Challenges Summit, Discovery Days, Fall Applications and more. Read more...

For Advisers: Reconnect at the 2010 WAAC Conference
The Washington Academic Advising Coalition presents Student Populations: Advising the Spectrum on Friday, April 16th at Edmonds Community College. We're excited to present a conference with a continental breakfast, Ata Karim as our keynote speaker, three opportunities to attend workshops and time to reconnect with advisors from other colleges. Read more...

Outside the Classroom: Cheap Fun in Seattle
When you're from a fairly small town – or even a big town that just happens to be in one of Washington's many rural areas, your Friday nights "out on the town" probably leave much to be desired. Read more...