Master Plans and History
The University of Washington, the City of Seattle and the Arboretum Foundation are working together on the implemention of the Arboretum Master Plan. Examples projects are Japanese Garden Entry Structure, the Gateway to Chile, Cascadia Forest, New Zealand Forest and the Irrigation Mainline Project.
Plans and Policies
History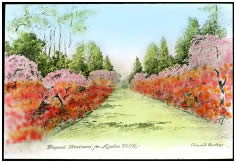 UWBG was established in 2005 to unite the gardens and programs of the Washington Park Arboretum, founded in 1934 and the Center for Urban Horticulture, opened in 1984. The Gardens are located around the shoreline of Union Bay on Lake Washington.
Last modified:
Friday, 02-Oct-2015 13:42:08 PDT