Family Walks and Tours
Fiddleheads
Nature + kids + parents = fun!
Join us for a class this spring of nature connection activities and outdoor play. Preschoolers and their caregivers will explore the Washington Park Arboretum using their senses. Learn More!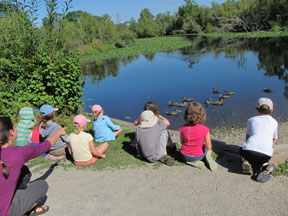 Tours for Scouts, Camp Fire kids and Clubs!
We offer after school and weekend programming for your group or troop. All of our walks include hands-on learning, fun games and activities. Our walks are 2 hours long, cost $8 per student (Adults are FREE!) and require a minimum of 10 and a max of 25. Call or email today to find out more - (206) 685-8033 or uwbgeduc.uw.edu
Park in the Dark at the Arboretum --- June-October 2014
Night time is special at the Arboretum – the people and cars are gone, and the nocturnal animals move about. Night hikes are a chance for us to explore our senses, search for crepuscular and nocturnal movements in the forest and learn about night-related animal adaptations.
2014 Dates

| | |
| --- | --- |
| June 14th | 8:00 - 9:30pm |
| June 28th | 8:00 - 9:30pm |
| More dates to follow | |
Cost is $8/person. We will meet in front of the Graham Visitor Center.
Last modified:
Thursday, 20-Mar-2014 10:57:11 PDT