Seattle Garden Club Fragrance Garden

The Seattle Garden Club Fragrance Garden greets visitors with tantalizing smells and colorful flowers at the entry to the Center for Urban Horticulture. Robert Chittock's design transformed the former Entry Shade Garden to the Fragrance Garden in 2007.
This is a garden for the senses. Come sit on one of the garden's five benches and feel the afternoon light on your back. Watch songbirds splash in the basalt birdbath. Close your eyes and listen to the Soest Garden fountain cascade into its basin. Breathe deep and take in the garden's rich, diverse aromas.
Did you know?
Winter flowering plants, such as Sarcococcca and Edgeworthia, tend to be small-flowering. The low temperatures and low relative humidity of temperate climates (like Seattle) make it a physically punishing time to be a flower. You'll find that the visual cues on a small flower aren't so strong as on large-flowered plants like hibiscus. Plants use fragrance as a tool to overcome small flower size.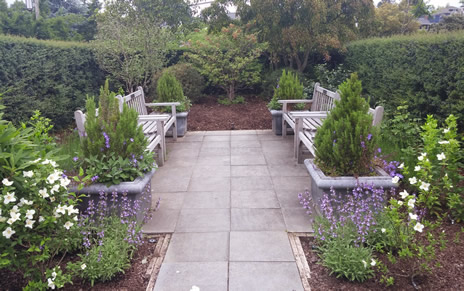 Fragrance Garden seasonal highlights
Winter
Sarcococca species
Azara microphylla
Camellia sasanqua cultivars
Viburnum species and cultivars
Daphne bholua
Daphne odora 'Marginata'
Abeliophyllum distichum
Edgeworthia chrysantha
Hamamelis cultivars
Spring
Rhododendron species and cultivars
Viburnum species and cultivars
Narcissus
Hyacinthus
Summer
Daphne 'Summer Ice'
Gardenia cultivars
Hosta plantaginea
Lilium species and cultivars
Clethra
Itea virginica
Trachelospermum asiaticum
Fall
Actaea racemosa
Osmanthus fragrans
Camellia sasanqua
Itea virginica
Last modified:
Friday, 22-May-2015 15:41:48 PDT