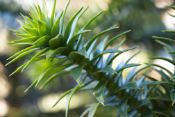 "Uno, dos, tres, cut!" cried Paige Miller, the Arboretum Foundation's executive director. Armed with garden shears, dignitaries clipped the bamboo ribbon, officially opening the Gateway to Chile in Washington Park Arboretum's Pacific Connections Garden. Bathed in sunshine, and on the heels of the Chilean miners' safe return above ground, the Oct. 17 Gateway to Chile celebration was triply joyous.
Watch a 2 1/4-minute video
.
Can't wait until the monkey puzzle trees and other fascinating plants mature so you can stand immersed in a Chilean forest? Join Dr. Sarah Reichard, professor at UW Botanic Gardens, and Plantsman Dan Hinkley for a breathtaking tour of Chile's national botanical gardens, parks, nurseries and private estate gardens Jan. 15-30, 2011.