Oral History of Washington Park Arboretum, the Arboretum Foundation and the Center for Urban Horticulture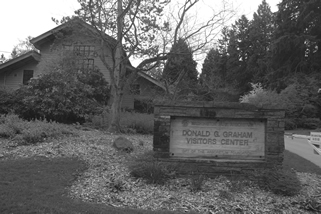 In 2010, a combined effort of many donors, led by John Wott, funded an oral history project, administered by the Miller Library. Carrie Bowman is supervising the project; Shelly Leavens was hired last November and spent the past ten months conducting research and interviewing people. People with long term associations with the Washington Park Arboretum, the Arboretum Foundation, and/or the Center for Urban Horticulture were invited to participate. Carrie, with the help of many others, looked for narrators who fulfilled multiple roles within these organizations, as well as seeking narrators from outside them.
The collection of interviews is an open door to our history. The intent of this phase of the project was to collect a variety of interviews, index them so that people can determine what was discussed, and organize them so that materials relevant to each interview are gathered in one place. Research materials, field notes, indexes, and narrator data sheets are all included with the interviews. This collection will remain in the Miller Library and will be available for public use. Arboretum Bulletin article.
The public is invited to a presentation of the project on Tuesday, November 1, from 5 – 7 pm in the Miller Library. Several displays will showcase the interview collection and will remain on exhibit in the library from Oct 21 until the week of Nov 20. The displays include audio clips from the interviews, set up so that people can browse at 5-10 different "stations." Light refreshments will be provided.