Graham Visitor Center at the Washington Park Arboretum

To help you visualize your wedding or social event at the Arboretum take a look at these beautiful images from photographers Nataworry and Cory Parris.
Our Pinterest boards

The Graham Visitors Center, which is located on the north end of the Arboretum, not only serves to welcome the public, but also offers rental spaces that are available for meetings, classes, conferences, exhibitions, weddings, and other social gatherings. Nestled within 230 acres of beautifully maintained collections and in close proximity to downtown Seattle and the University of Washington, the Graham Visitors Center is an ideal venue for any type of event.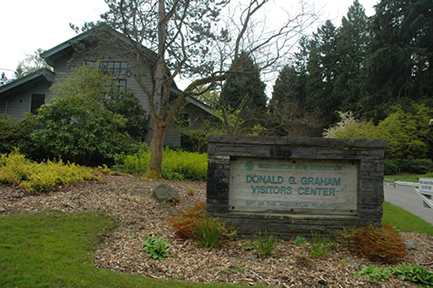 Reservation Process
Call or email the Rental Program Office to inquire about date availability: 206-221-2500 or uwbgfac@u.washington.edu.
Submit a GVC Room Reservation Request Form to the Rental Program Office via mail or fax.
Once your reservation is approved, you will receive a written confirmation/invoice of your reservation. We must receive the 25% partial payment deposit 14 days after your confirmation/invoice is sent to continue reserving your space.
The remainder of your quoted rental fee and damage deposit is due 14 days prior to the beginning of your reserved date.
In the case of last minute reservations (30 days or less, if space is available), full payment is due at time of booking.
At any time during the reservation process, please feel free to call or email us should you have any questions.
Forms & Additional Rental Information
Please contact the UWBG Rental Program Office at 206-221–2500 for reservation information. To schedule a tour of rental spaces at the Graham Visitors Center, please call 206-616-3994.
Facilities & Services
There are several spaces available for rent at the Graham Visitors Center:
| | |
| --- | --- |
| Large Meeting Room (capacity 95) | Patio rented with large meeting room (capacity 150) |
| | |
| Small Conference Room (capacity 10) | |
| Greenhouse West Wing | |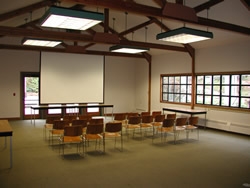 Large Meeting Room seats up to 80 with tables and chairs, or holds up to 95 standing. Capacity is significantly increased with rental of the adjacent Patio; however, inclement weather requires tenting to accommodate additional guests since the Patio is open-air.
Rental of the Large Meeting Room includes:
14 rectangular tables (6' x 2.5')
80 chairs
Projector screen
Kitchen: oven, two burners, refrigerator (no freezer), dishwasher, and restaurant-style coffee machine
Garbage and recycling receptacles (including plastic liners)
Cleaning supplies and rags
Ethernet connection or WiFi
We also have available for rent:
LCD Projector
Laptop
Slide Projector
TV Monitor and VCR
Podium with built-in microphone
Renters are responsible for supplying all other materials: tents for the Patio, silverware/plates/cups, coffee filters, tablecloths, and any additional furniture.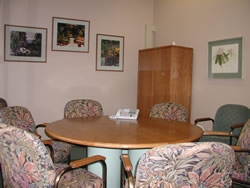 The Small Conference Room seats up to 12 people. A round conference table accommodates seating for 8 and a telephone is available for use. This space is ideal for small meetings or it can be rented with the Large Meeting Room to provide additional private space (e.g., as a changing room for a wedding).
Usage Restrictions
Event ending time: Premises must be vacated by 11 p.m.
Alcohol: Renters may serve alcohol only with a permit from the office of the Superintendant of Parks (City of Seattle). This is a simple process and we can advise you on the procedures for obtaining this permit. Most caterers are also familiar with this process.
Parking: The public is allowed to park in any designated parking area throughout the Washington Park Arboretum, including the Graham Visitors Center parking lot on a first-come, first-served basis.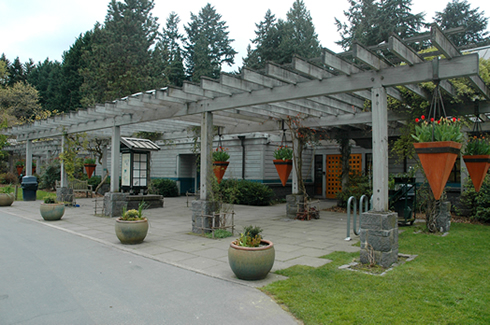 Rental Fees
All rental fees are quoted per event and are determined primarily by the type and length of event.
A partial payment deposit in the amount of 25% of the total rental fee is due 2 weeks after receipt of confirmation/invoice.

The remaining 75% of the rental fee and a refundable damage deposit are due 14 days prior to the day of the reserved date.
Cancellation policy:
All cancellations are subject to a $75 cancellation processing fee.
The room use fee is refundable (minus cancellation fee) if cancellation is made more than 60 days prior to the reserved date.
The room use fee is 50% refundable if cancellation is made 31-60 days prior to the reserved date.
Room use fees are non-refundable for cancellations made 30 days or less prior to the reserved date.
For all social events, the 25% deposit is nonrefundable.
Rental Information for the Center for Urban Horticulture
Last modified:
Wednesday, 15-Jan-2014 12:20:46 PST