Graham Visitor Center at the Washington Park Arboretum
Visualize your wedding at the Arboretum
The Graham Visitors Center, which is located at the north end of the Arboretum, not only serves to welcome the public, but also offers rental space that is available for meetings, weddings, bar/bat mitzvahs, memorials, retreats, parties and other social gatherings. Nestled within 230 acres of beautifully maintained collections and in close proximity to downtown Seattle and the University of Washington, the Graham Visitors Center is an ideal venue for any type of event.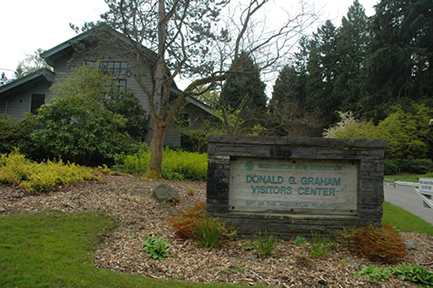 Reservation Process
Call or email the Rental Program Office to inquire about date availability: 206-221-2500 or uwbgfac@uw.edu.
Once your reservation is approved, you will receive a written confirmation/invoice of your reservation. We must receive the 25% partial payment deposit 14 days after your confirmation/invoice is sent to continue reserving your space.
The remainder of your quoted rental fee and damage deposit is due 14 days prior to the beginning of your reserved date.
In the case of last minute reservations (30 days or less, if space is available), full payment is due at time of booking.
At any time during the reservation process, please feel free to call or email us should you have any questions.
Forms & Additional Rental Information
Please contact the UWBG Rental Program Office at 206-221–2500 for reservation information. To schedule a tour of rental spaces at the Graham Visitors Center, please call 206-616-3994.
Facilities & Services
There are several spaces available for rent at the Graham Visitors Center:
Wisteria Hall can accommodate up to 80 guests seated and up to 95 guests for a reception style event. Capacity is significantly increased with rental of the adjacent patio. Combined, Wisteria Hall and Patio can accommodate up to 150 guests seated and by itself, the Patio can accommodate about 90 guests for a ceremony. The Patio is uncovered, but the space can be tented (tents not provided by venue).
Wisteria Hall

(click to see larger image)

Patio (click to see larger image)

West Greenhouse
Rental of Wisteria Hall includes:
20 rectangular tables (6' x 2.5')
95 chairs
Projector screen
Kitchen: oven, two burners, refrigerator (no freezer), dishwasher
Garbage, compost and recycling receptacles (including plastic liners)
Cleaning supplies and towels
Ethernet connection or WiFi
Please inquire about audio visual items available for rent.
The Boardroom can accommodate up to 10 guests seated around the conference table. This space is ideal for small meetings or it can be rented with Wisteria Hall to provide additional private space (e.g., as a changing room for a wedding).
Usage Restrictions
Event ending time: Premises must be vacated by 11 p.m.
Parking: The public is allowed to park in any designated parking area throughout the Washington Park Arboretum, including the Graham Visitors Center parking lot on a first-come, first-served basis.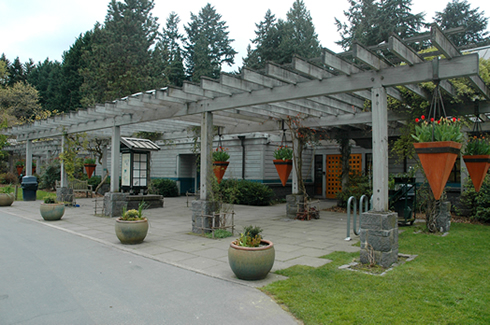 Available for Additional Charge:
Audio Visual and Wi-Fi must be requested before your event begins. Please request these items on the Room Reservation Request form when reserving space. Wi-Fi is free and available upon request at CUH and GVC.
LCD Projectors
Laptops
Wireless microphone
UW 10' x 10' pop-up tent (2 available)
Cancellation policy
All cancellations are subject to a $75 processing fee.
If cancellation is made more than 60 days prior to the event date, the room fee is fully refundable.
Cancellations 31-60 days prior to the event will be charged 50% of the room fee.
Cancellations 30 days or less prior to the event will be charged 100% of the room fee.
Deposits for weddings and all social events are non-refundable.
Rental Information for the Center for Urban Horticulture
Last modified:
Thursday, 16-Jul-2015 11:46:40 PDT