2015-2016 Magnuson Scholars Announced
April 6, 2015
On behalf of the University of Washington six Health Sciences Schools and the Magnuson Scholar Program, I am pleased to announce the 2015 – 2016 Magnuson Scholars. Each scholar was nominated by their respective Health Sciences School on the basis of outstanding academic performance and potential contributions to research in the health sciences. We appreciate your support of these scholars and our efforts to fully recognize their achievements while acknowledging Warren G. Magnuson's extraordinary public service career.
David M. Anderson, DVM
Executive Director
Health Sciences Administration
The 2015-2016 Magnuson Scholars are:
Atriya Salamati
School of Dentistry
David Roach
School of Medicine
Jungyoun (Claire) Han
School of Nursing
Alenka Jaklic
School of Pharmacy
Anjuli Wagner
School of Public Health
Sharon Borja
School of Social Work
---
Scholar Profiles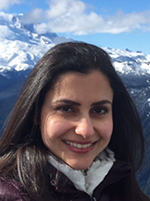 Atriya Salamati
School of Dentistry
After earning her Doctor of Dental Surgery degree at the University of Washington School of Dentistry in June 2013, Dr. Salamati is now focusing on completing her Ph.D. studies in Oral Biology. Her research areas focus on measuring functional and stimulatory tooth mobility in health and disease. Dr. Salamati's thesis addresses the fundamental question of tooth mobility during function. Diseases as well as genetic and environmental factors contribute to periodontitis, which loosens teeth, often leading to loss or extraction of an otherwise health tooth. Her research will potentially impact how clinicians develop a prognosis and establish treatment plans for children and adults who are prone to diabetes, periodontal disease, and other conditions leading to mobile teeth. Dr. Salamati's mentor Dr. Susan Herring noted, "Atriya has impressed all of us with her persistence and intelligence in pursuing these difficult experiments." Dr. Salamati states, "My ultimate goal is to be a pediatric dental scientist. Doing research is a privilege and after graduating from Ph.D. and pediatric residency, I would like to pursue my goal in an academic environment where I can actively perform research, teach, and collaborate with other scientists, as well as practice dentistry."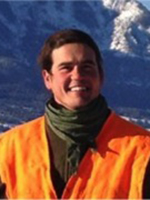 David Roach
School of Medicine
David Roach is a third year M.D. student in the University of Washington School of Medicine. In addition to his clinical studies, his pursuits have included a fellowship from the Howard Hughes Medical Institute, extensive research in the field of human and microbial genetics. His long-term career objective is to focus on the intersection of infectious disease and genetics to improve understanding of molecular epidemiology. He hopes to synthesize his two pursuits of scientific advancement and patient care by working as a physician-scientist. As described by Dr. Jay Shendure, Associate Professor of Genome Sciences, "These are bold, cutting-edge projects, and I would characterize this level of productivity and commitment to research as truly exceptional for a medical student. In my view, David's attributes, both in terms of his scientific aptitude as well as his personality, are such that he has very strong potential to develop in to a highly successful and productive physician-scientist…David is also an incredibly thoughtful and kind person, and as such has the makings of a compassionate physician."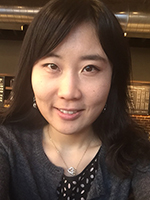 Claire Han
School of Nursing
After earning her Masters of Nursing Degree in adult health at the Seoul National University, School of Nursing, and six years of providing clinical care, Jungyoun "Claire" Han was accepted as a Ph.D. student at the University of Washington School of Nursing. Ms. Han has considerable experience providing symptom management in clinical care and it was this passion that led her to pursue her Ph.D. Her principal interest is providing symptom management for patients with chronic diseases such as liver failure, breast cancer, gastrointestinal disease, diabetes mellitus, and stroke. One of Ms. Han's mentors, Dr. Margaret Heitkemper noted, "In everything she does, she demonstrates a strong desire and passion to succeed. This will take her far in addressing the health disparities that exist in terms of developing strategies to enhance patient self-care. I see her as a potential future leader in the area of behavioral therapies for self-management of chronic illness." Ms. Han's long-term research goal is to extend her dissertation research experiences for underserved populations with diabetes mellitus and breast cancer. She expects this approach will improve cancer disparities and reduce the burden of symptom management for patients with breast cancer in Seattle and across the country.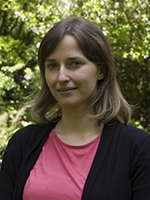 Alenka Jaklic
School of Pharmacy
Alenka Jaklic is a third year Ph.D. student at the University of Washington School of Pharmacy. Ms. Jaklic has had the unique opportunity to join the start-up of an NIH-funded project aiming to develop a novel microphysiological system (MPS) that recapitulates key aspects of human kidney function, including drug transport and excretion. This research expanded her understanding of proximal tubular epithelial cells (PTEC) in drug excretion, and she realized the critical need to develop predictive models of renal tubular transport in healthy and diseased kidneys in order to improve drug dosing decisions and clinical outcomes. Dr. Danny Shen, of the Departments of Pharmaceutics and Pharmacy, noted that Ms. Jaklic "has demonstrated outstanding academic performance and the ability to engage in challenging research work. Alenka is showing all the signs and promise to become a superb research scientist… Alenka's thesis will represent a nice blend of basic and clinical research that is truly translational with potentially high and long lasting impact." In the future Ms. Jaklic hopes to continue to pursue her passions for research and education through a career at an academic institution or clinical and translational institute.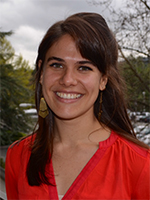 Anjuli Wagner
School of Public Health
After receiving her B.S. from Tufts University and her MPH from the University of Washington, Anjuli Wagner was accepted to the University of Washington's School of Public Health Ph.D. program. One of her principal areas of interest is pediatric HIV testing, specifically the linkage to care and using implementation science to scale up efficient treatment strategies. In pursuit of this interest, Ms. Wagner has traveled to Kenya and worked in the District Maternal Child Health Clinic, to determine ways to improve the experience for mothers. She has also been involved in creating and implementing several studies including the Counseling and Testing for Children at Home (CATCH) study, Developing Adolescent Strategies for HIV Testing (DASH), and Simulated Patient Encounters to Promote Early Detection and Engagement in HIV Care for Adolescents (SPEED). In nominating Ms. Wagner, Dr. Grace John-Stewart praises her dedication and leadership, "Anjuli's remarkable competence, selfless dedication and industriousness, highly organized meticulous approach, compassion, diplomacy, and analytic skills make her an ideal candidate for the Magnuson Award." Ms. Wagner is dedicated to the long-term career goal of implementing and scaling up treatment in this field. She plans to use her research to help close the gap between what is known to work from extensive research and what is routinely done in practice.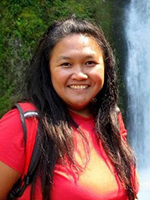 Sharon Borja
School of Social Work
Sharon Borja entered the University of Washington School of Social Work in 2011 to pursue her Ph.D. Ms. Borja's recent pursuits have included completing a two-year tenure as a National Institute of Mental Health (NIMH) Prevention Research doctoral trainee, the NIMH Prevention Training Program, and the NIH-funded Yearlong TL1 Clinical Research Training Program. Borja's current research focus is centered on adverse childhood experiences (ACEs). ACEs research can contribute to advancing understanding of key pathways affecting individuals in early childhood that compromise later health and social pathways. As described by one of Borja's advisors, Dr. Paula Nurius, "I have been impressed with Sharon's talent and tenacity in research…Sharon recognizes the inextricable link between physical and mental health and is establishing a research agenda focused on cumulative adversity and the prevention of its negative impact on development and health statuses." Borja's career goal is to seek a tenure-line faculty position at a research university and establish a practice-based research program focused on parent mental health and the promotion of child wellbeing. She also hopes to create collaborative partnerships with child welfare service agencies and public health agencies.