John R. Hogness Symposium on Healthcare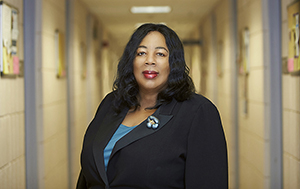 2017 Hogness Speaker, author Harriet Washington
Event: The 23rd John R. Hogness Symposium on Healthcare
Date: Tuesday, November 14
Time: 3:00 p.m.
Location: Hogness Auditorium, Warren G. Magnuson Health Sciences Center
Harriet Washington is the author of the best-selling book, Medical Apartheid: The Dark History of Medical Experimentation on Black Americans from Colonial Times to the Present. In her work, she focuses mainly upon bioethics, history of medicine, African American health issues and the intersection of medicine, ethics and culture.
Medical Apartheid, the first social history of medical research with African Americans, was chosen as one of Publishers' Weekly Best Books of 2006. The book also won the National Book Critics Circle Nonfiction Award, a PEN award, 2007 Gustavus Myers Award, and Nonfiction Award of the Black Caucus of the American Library Association. It has been praised in periodicals from the Washington Post and Newsweek to Psychiatric Services, the Economist, Social History of Medicine and the Times of London and it has been excerpted in the New York Academy of Sciences' Update. Experts have praised its scholarship, accuracy and insights. Medical Apartheid is now the #1 best-seller in medical ethics on Amazon.
In her newest book, Infectious Madness, Washington looks at the connection between germs and mental illness. Infectious Madness was released in October 2015.
For more information or questions, e-mail uwmevent@uw.edu.
Past Hogness Symposium Speakers
Date
Speaker
Title
2017
Harriet A. Washington, Author
A Conversation With Harriet A. Washington
2015
Nancy Krieger, Ph.D.
Health Equity: An Ecosocial Analysis
2013
Brian Wansink, Ph.D.
Slim by Design: Scientific Approaches to Eating
2011
David R. Williams, Ph.D., M.P.H.
Making America Healthier
2009
David Cutler, Ph.D.
Health Care Reform: The Real Story
2007
Faye Wattleton
Life on the Line – Fair Treatment is an Unfinished Agenda
2005
Harold P. Freeman, M.D.
Poverty, Culture and Social Injustice: Determinants of Health Disparities
2003
Paul E. Farmer, M.D., Ph.D.
Jonathan D. Moreno, Ph.D.
Global Health and Justice
2001
Laurie Garrett, Author
The Critical Issues in Global Health Care
1999
John Eisenberg, M.D., M.B.A., and Mark Pauly, Ph.D.
Beyond Consumer Protection: Appropriate Public and Private Roles in Quality of Care
1997
Edward H. O'Neil, Ph.D.
Health Professional Education and Regulations: Policy Considerations for the 21st Century
1995
David Satcher, M.D., Ph.D.
Targeting Prevention to Youth: Opportunities and Challenges
1993
Reed Irving Tuckson, M.D.
The Healthy Inner City: Why Not Now?
1991
Irving Kenneth Zola, Ph.D.
Here Today, Where Tomorrow? Aging, Disability and the So-Called Home Care Revolution
1990
Robert Evans, Ph.D.
From Here to Eternity: Ethical and Political Choices for the Well-Lived Life
1989
Dr. Molly Joel Coye
Staying Alive in America: Poverty, Race, and Health
1988
David Rogers, M.D.
Heart Strings vs. Purse Strings: AIDS in the Balance
1986
Donald A.B. Lindberg, M.D., and John E. Wenneberg, M.D., M.P.H.
From Black Bag to Black Box: Information Technology and Ensuring Quality Health Care
1983
Jack A. Meyer Ph.D., and Frances Fox Piven, Ph.D.
A Debate on Priorities: Can We Afford to Provide Health Care to Everyone Who Needs it? (How High the Tax?)
1982
Bruce C. Vladeck, Ph.D.
Barriers to the Reform of Long-Term Care
1981
Alvin R. Tarlov, M.D.
National Health Manpower Policy: Controversies in the Wake of the Graduate Medical Education National Advisory Committee
1980
Merlin K. DuVal, M.D. and David A. Hamburg, M.D.
Health Policy Development: The Roles of the Federal and Private Sectors